Austin What is offal, you say? Well, it refers to meat -- specifically internal organs, entrails or... just the "leftovers". Either way, when prepared by a skilled chef, it can become "I don't care WHAT this is"-level delicious. We've rounded up a few options for those of you who aren't afraid to broaden your horizons...
Recommended Video
Ghost Kitchen: How This NYC Restaurant Is Responding to Coronavirus
Sweetbread Croquettes
Parkside
Downtown
It's not bread, it's not sweet, IT'S A THYMUS GLAND! This delicate meat is prepared masterfully at Parkside, served with a tangy bonito tonnato sauce, tomato confit, and fried capers. Also, check out their happy hour, it's one of the best in town.  Continue Reading
Oxtail Waffle
Noble Sandwich Co.
Rosedale
Try the tender, juicy oxtail served on a potato & leek waffle with a beautiful fried egg placed on top. It's served with fat potato wedges and a nice little pile of pickled accoutrements. 


Pork Scrapple
Épicerie Café & Grocery
Rosedale
Épicerie's scrapple is made by simmering a pig's head until the meat falls off the bone, then grinding it with pork blood. Buckwheat, grits, and spices are added, and it's served on top of brioche toast with a perfect fried egg. Mmm...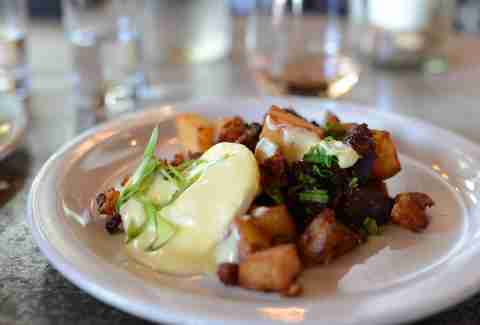 Beef Tongue Hash
Contigo
East Austin 
Savory beef tongue, tossed with perfectly crisp potato cubes, topped with a poached egg is what you're getting into when you order this. Pair it with a Bloody Mary and BOOM: all the food groups.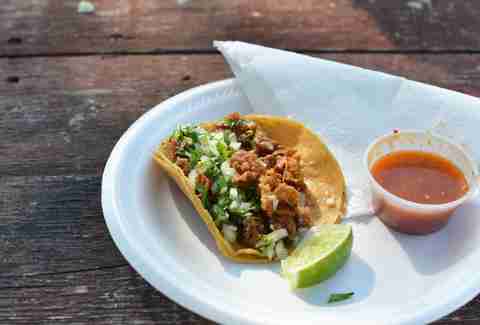 Tripa Tacos
Las Trancas
East Cesar Chavez 
Las Trancas serves authentic Mexican street tacos, and the most popular offering is their Tripa Taco, made from beef intestines that are thoroughly cleaned and fried until crispy. Pair that with their tomatillo sauce and you're a happy camper.