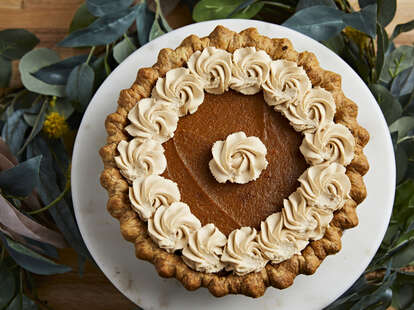 Courtesy of Tiny Pies
Courtesy of Tiny Pies
Turkey itself, as well as the full cornucopia of sides, can step to the back, respectfully. We all know the true star of holiday feasting has to be the dessert table. After all, it has to be the best part of the meal if you're willing to fight that tryptophan-induced food nap in order to partake. And, when it comes to the Thanksgiving banquet, no sucrose-laden sensation feels more like the headlining star than the pie. To satiate your sweet tooth, we've compiled the list of eight pie shops serving up the best sugar rushes in all of Austin. Whether you want to wow the folks at a family gathering, or curl up on the couch with a flaky pie crust and a fork, we got enough butter-drenched goodness to make your heart happy (although, perhaps, not your cholesterol levels).
Various locations
The saying, "good things come in small packages," could very well have been written in reference to Tiny Pies. This spot specializes in, you guessed it, miniature versions of everything sweet and savory that comes wrapped up in pie crust. And, with three shops around Austin, their Key Lime and Chicken Pot pies may be small, but their presence is certainly not. For the upcoming holiday season, they are offering twelve packs of tiny pies in Thanksgiving flavors, such as Turtle Pecan, Apple, and Pumpkin, as well as "Not So Tiny" pies: 9" dessert dishes including Apple Crumb, Pumpkin Chai, and Chocolate Cream.
Chestnut
Iconic comfort food restaurant, Hoover's Cooking, has been lulling Austinites into food comas for over 20 years. Despite the temptation to eat your fill of their fried chicken, it would be a mistake to not save room for dessert when dining at Hoover's. Their gut-busting options, which include cobblers, cheesecakes, puddings, and pies, are all made in-house and from scratch. And the pies Hoover's serves up, in flavors such as Buttermilk and Sweet Potato, carry their signature style of down-home decadence.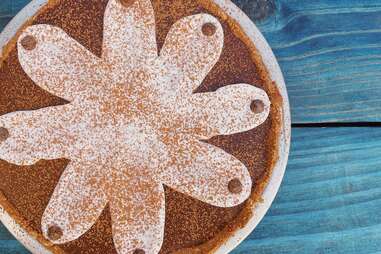 East Cesar Chavez
Too often the words "gluten free" are thought to be synonymous with "tasteless." But, get ready for your carb-loving mind to be blown when you pick up a pie at delicious East Austin bakery and ice cream shop, Gati. You won't miss any of the grains in their desserts that never miss the mark, selections which include Pecan Pie, Apple Crumble Pie, and Pumpkin Cheesecake. If you want to go full à la mode as well, be sure to grab a pint of their vegan, coconut milk-based, ice cream for the perfect pie topper.
Hyde Park
A neighborhood as Gilmore Girls-idyllic as Hyde Park has to have a cute, welcoming bakeshop—it's canon. And, that bakeshop just happens to be the wonderful Quack's, which has been providing java and treats to nearby, hungry UT Austin students since the early 1980s. While their joe and homemade pop-tarts will satisfy that morning fix, Quack's pies are also certainly something to squawk about. For Thanksgiving, you can go classic with one of their Mixed Berry, Pecan, or Pumpkin Pies, or switch it up with a flavor like Key Lime or Apple Rosemary.
Dripping Springs
The 40-minute ride out to Hill Country is well worth the trip for snagging one of Abby Jane Bakeshop's dough and sugar-filled sensations. While their savory pastries, such as the ham and cheese croissants, are enough to "mmm" over on their own, their sweet offerings really take the cake (literally). And their holiday lineup pie, which puts a modern twist on beloved flavors, is no exception to that rule. Level up your usual dessert game by grabbing one of their Pumpkin Cheesecake Pies, or Chocolate Orange Tarts.
Highland Hills
A serious sweet-tooth is almost a requirement for dining at West Austin's Chez Zee. An old-school city hang, the family-owned restaurant feels like the home of your aunt who just happens to make the best pies ever. Of their varied selection though, the Coconut Creme pie stands out for if only for the sheer amount of whipped cream swirls standing on top of the dessert itself. Made from scratch with local ingredients, the creamy custard filling has flakes of coconut both embedded within it and sprinkles toasted on the top.
Bouldin Creek
For those of us whose parents were — to put it lightly — less than skilled in the kitchen, there's at least one mother we can turn to for mouth-watering baked goods: Sugar Mama. As winner of the Food Network show, Cupcake Wars, and go-to local spot for birthday cakes, Sugar Mama's may be more well known for what is under their icing. However, their pies are equally as scrumptious as their genoise sponge, and come in flavors such as Pumpkin, Bourbon Chocolate Pecan, Chocolate Cream, and gluten-free Dutch Apple.
The Domain
San Antonio-sensation-turned-Austin-transplant Bakery Lorraine, is already famous across the nation for their exquisite pastries, macarons, and other buttery treats. Don't believe us? They've been honored by no less than foodie bible, Food & Wine, in 2020 as one of the best new bakeries in the country. Experience the hype for yourself this Turkey Day with one of their signature pies, which include the shortbread maple leaf-topped Roasted Pumpkin, and the Jack Daniels-flavored Whisky Pecan.
Molly Moltzen is a writer living in Austin, TX. You can find her on Instagram at @molsquared.