Walks of shame don't happen only in the morning. When the bars on 6th St close at 2am, even the most discerning eater will compromise their standards and lock lips with a second-rate slice of pizza. At that point almost any warm body will do, but some slices are so horrendous they can't be saved by even the most forgiving of beer goggles.
So to help navigate the wealth of late-night pizza options, we power-ranked every to-go slice slinger on the block. We chose pepperoni slices because they're the most universal topping, excluded shops that only sell whole pies (The Backspace and Due Forni), and for shops with multiple locations (Pizzaria Paparazzi, Roppolo's), we made like any normal person and went to the closest location with the shortest line. Here's our list -- commit it to memory for a much happier morning after.
Price: $5
Cheese: My slice had a lesion of hard cheese so terrifying that it momentarily distracted from how bad this tasted.
Crust: There was some nice sponginess inside, but the outside was burnt and chalky.
Sauce: Hints of plastic lunch lady gloves.
Pepperoni: Totally flavorless.
Grease: N/A. Bone dry.
Overall: Hoeks prides itself on its don't-give-a-damn attitude, which applies to more than just its customer service, high prices, and terrible music. It also means it could care less if it's serving slices of pizza with cheese that looks like the face of an elderly man who never used sunscreen. Avoid at all costs.
Price: $4
Cheese: Unsettlingly uniform. Looks and tastes like it was created for scientific purposes.
Crust: Probably the best part of this pizza, but still tasted like an Amazon Prime box coated in garlic salt.
Sauce: Nearly non-existent. The thin lacquer is reminiscent of Spanish tomato toast, without the tomatoes.
Pepperoni: Toxic. The spice from eating one of these by themselves lingered for five minutes.
Grease: Disturbingly low
Overall: Truly last-resort pizza.
Price: $4.50
Cheese: It's there by the mouthful, which is unfortunate because it reeks of spoiled garlic.
Crust: The spongy interior texture is satisfying, and this is hands down one of the most substantial crusts, but even so it can't support that pound of mozz.
Sauce: Tastes more like the color red than it does an actual tomato. Akin to day-old spaghetti sauce.
Pepperoni: Scary-level savory.
Grease: Moderate
Overall: You won't find a cheesier slice in town and that isn't an endorsement, but Downtown's most ubiquitous pizza monopoly has one saving grace: the substantial calorie-to-price value.
Price: $4.25
Cheese: Total fail. Burned on the top, not cooked enough on the bottom, and overly stringy to the tooth.
Crust: Satisfyingly doughy.
Sauce: Extra sugary. Leads to a sticky, blistery quality.
Pepperoni: Well-rounded and spicy.
Grease: Stagnant
Overall: Its tagline is the best pizza you'll never remember eating, which is generous, but relatively accurate.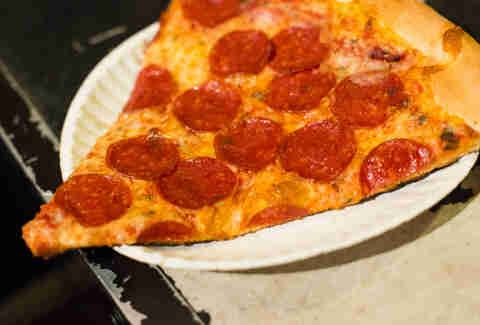 Price: $4.25
Cheese: Totally flavorless. Could easily have been non-dairy cheese.
Crust: High points on the crunchiness scale.
Sauce: It's like they put sauce on, then took all of it off, leaving only a shadowy reminder.
Pepperoni: Very little taste, like paper sprinkled with red pepper flakes.
Grease: Low
Overall: This is the widest and most pepperoni-loaded slice in town, but tastes the least like pizza. This lack of flavor is both a gift and curse, nearly landing this in the top half of the list.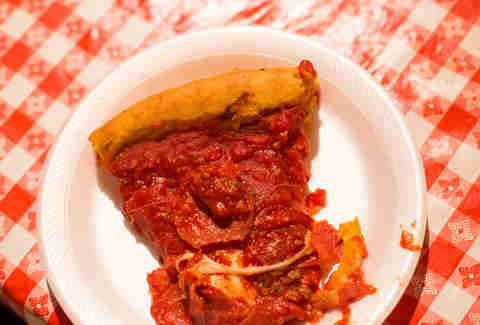 Price: $6
Cheese: Rich dairy flavor, chewy but well-cooked, loaded with oregano.
Crust: In a league of its own. This is truly a pie, and although the outer crust was hard as a stale baguette, the first few bites tasted like oven-fresh bread.
Sauce: The star of the show. Gino's sauce gets top billing here literally and figuratively; it's gloriously chunky and saccharine, closer to a stew than a sauce.
Pepperoni: The pepperoni is hearty and has real meat flavor, but is hard to taste because it's drowning in tomato soup.
Grease: N/A
Overall: Gino's admirably keeps slices ready on Friday and Saturday nights, but this just isn't 2am-friendly pizza. It's a solid reproduction of the legendary Chicago-style, but the knife-and-fork girth demands more motor skills than most people on Dirty 6th have readily available.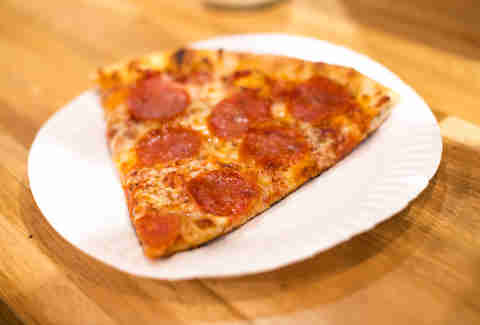 Price: $3.50
Cheese: Lightly distributed, but tastes very fresh.
Crust: Perfect char on the bottom, and the texture is consistent throughout. The only slice on the list whose crust you want to finish.
Sauce: Astronaut friendly, which is to say, very tangy.
Pepperoni: Just enough heat, great well-rounded flavor. Legitimately mouthwatering.
Grease: Medium
Overall: This is the smallest slice on the list and not necessarily the most exciting, but what it lacks in size and spectacle, it makes up by dodging the pitfalls of other slices.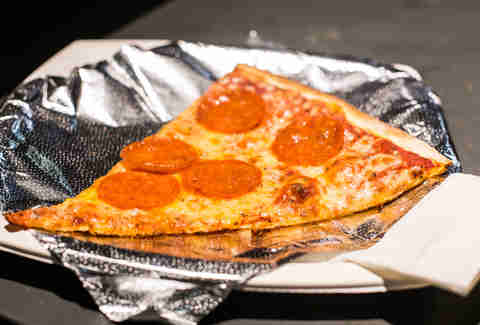 Price: $3.50
Cheese: Bright dairy flavor, complemented by a ton of grease.
Crust: Nice flakiness, satisfying dough bubbles, and a crisp-but-not burnt texture. Demands to be folded.
Sauce: Very little sauce, but what is there does some heavy lifting.
Pepperoni: High points for beef flavor.
Grease: Very high
Overall: Expect to squeeze off a tablespoon of grease, but once you've patted it down, this is one of most satisfying slices in town, even when reheated at a convenience store.
Price: $3.75
Cheese: Blast of dairy flavor, stringy pull, substantial layer of cheese, but never feels like a mouthful.
Crust: Via 313's crust is basically a national treasure. The crisp caramelized exterior and the pillow-soft sponginess can't be beat.
Sauce: Just chunky enough. Very sweet, but with flecks of oregano to offset the sweetness.
Pepperoni: The pepperoni packs a savory meat flavor, but gets lost due to the richness of the other ingredients.
Grease: High
Overall: Via 313 might just be the best pizza in the city, but it doesn't take top honors here because it loses some of the magic when served by the slice. Devouring one of its square pizzas is an exercise in gluttony, and a single slice is simply gone too soon for the caramelized crust to properly grab hold of the pleasure center. Also, without the second type of pepperoni used for its signature Detroiter, the topping couldn't stand up to the pizza's other elements.
Price: $3.75
Cheese: The reserved sprinkle of mozzarella has a remarkably natural quality to it, which is crucial for it to be able to hold up to the insane amounts of grease.
Crust: Thin almost to a fault, but a light char gives it just enough structural integrity and flakiness.
Sauce: While others on this list suffer from a whisper of sauce, Hoboken nails a near perfect ratio. It's not overflowing, but you don't have to go searching to find it, and it has the bright sweetness of an actual tomato.
Pepperoni: The best processed meats don't taste processed, and Hoboken succeeds on this front as well. The pepperoni are rich, chewy, and have a strong, but not overwhelming spice.
Grease: Sopping wet
Overall: It doesn't have the special effects of Via 313 or Gino's, and perhaps a freshly baked pizza from East Side Pies might beat it, but overall, Hoboken takes top slice because it achieves a careful balance of extreme greasiness and great flavor. The nuts and bolts of the pie are purposeful and well-executed enough that the grease actually amplifies them rather than tanking this into regrettable territory. You'll need an extra napkin, but it's worth it.

Sign up here for our daily Austin email and be the first to get all the food/drink/fun in town.

Dan Gentile is a staff writer at Thrillist. He gained 5lbs in the writing of this story. Follow him to long-form magazine articles and treadmills at @Dannosphere.