Leaves are falling, the temperature is dropping, and pizza season is upon us... no, wait, every season is pizza season! Here's a rundown of the best pizza spots in popular ATX 'hoods. From New York to Neapolitan, there's an imported 'za style to satisfy every taste. Now, make like a Ninja Turtle and... actually, don't make like a Ninja Turtle, they live in sewers. But DO eat these pizzas.
Editor's Note: We've excluded chains with locations in multiple 'hoods, such as East Side Pies and Austin's Pizza, but know that we have mad respect (and cravings, often) for both.
East Cesar Chavez
Bufalina (address and info)
It's one of the newest kids on the block, and it already has a (relatively modest) line most nights of the week. Bufalina's oven is heated to 1000 degrees and it takes only 60 seconds for each pizza to cook. The result is a lightly crispy, thin crust with bubbly edges, topped with classic and inspired Italian toppings. The service is great, and the space is modern, cozy, and buzzing with energy. The best move? The Fresca (prosciutto piccante, arugula, lemon, mozzarella, olive oil).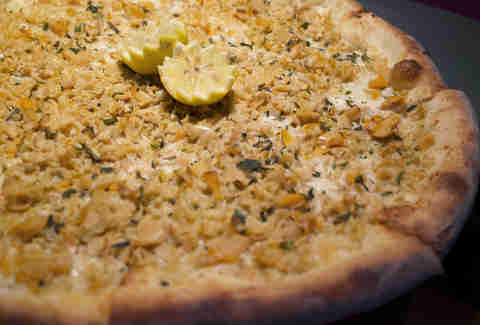 Bouldin Creek
Home Slice Pizza (address and info)
Wait a bit for a table at Home Slice "proper", or scoot next door for a slice (or three!). Thin, crispy NY-style crust and high-quality toppings keep townies and tourists alike coming back for more. Try their White Pie with spinach, olive oil, garlic, ricotta, and mozzarella.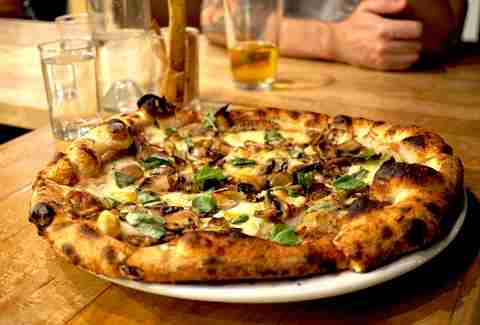 North Loop
House Pizzeria (address and info)
House has nice dim-lighting (aka good for dates), a cool jukebox, and perfect Neapolitan-style pizza. Delicious crust, a rotating seasonal pie, and local brews on tap make this a neighborhood top pick. Try the Subterranean (caramelized onion, fontina, mushrooms, rosemary roasted potatoes, basil).
East Central Austin
Via 313 (address and info)
Thick, chewy, cheesy heaven is an apt description of Via 313's pizza. Nothing fancy here; just the most indulgent pizza in town made by your local, friendly metal enthusiast. Thank Detroit for these food-coma-inducing square slices of paradise.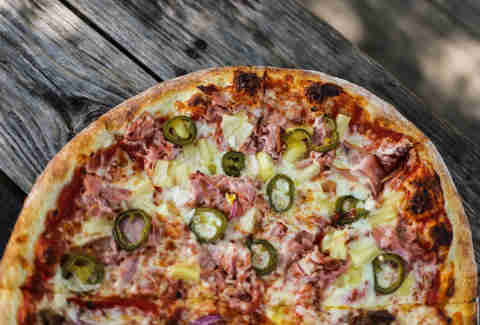 Crestview
Little Deli (address and info)
Always hopping and with a distinct mom-and-pop vibe, LIttle Deli may be known for their subs and sandwiches, but they've got a more than respectable NY-style pizza. Regulars rave about the Spicy Hawaiian (ham, pineapples, and jalapeños) and the Bacon Blue pizzas (bacon, Gorgonzola, and roasted red peppers).
Rosedale
Pinthouse Pizza (address and info)
Pinthouse combines the best of two worlds: pizza, and lots and lots of beer. Their meat-tastic "The Works" pie is loaded with Canadian bacon, sausage, pepperoni, red onions, garlic, green peppers, and mushrooms. Pair that bad boy with a Pinthouse specialty brew.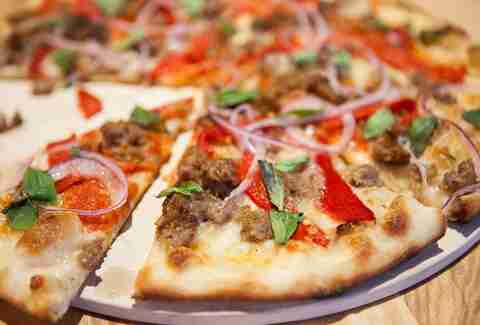 Sunset Valley
St. Philip (address and info)
St. Philip, named after the patron saint of baking, has been one of the most highly anticipated openings of the year. The crust is at once crunchy and chewy and slightly charred. Check out the sausage pizza, topped with fennel sausage, piquillo peppers, and shaved red onion over house-blend mozz and red sauce. Also worth noting: they have a full-on sweets bakeshop and 20+ beers on tap!
South Lamar
Aroma Italian Kitchen & Bar (address and info)
Another new spot on the list is Aroma, (finally!) hooking up South Austin with made-from-scratch, authentic Neapolitan pizza and handcrafted cocktails. They use Italian San Marzano tomatoes and mozzarella from West Texas, for the perfect Italy-meets-Texas mashup.
Campus
Salvation Pizza (address and info)
Fresh, local toppings and crispy crusts are New Haven-style Salvation Pizza's signature move. One of their most popular pies is the White Pie with chicken, fresh garlic, prosciutto, red onion, and dried sage. AND get this: their daily lunch special is only eight bucks and includes two slices, a salad, and a drink!
Travis Heights
Southside Flying Pizza (address and info)
There's a no frills, homey-neighborhood vibe here, and the cooks put on quite a show with their dough-tossing antics. Neapolitan-style pizza, gluten-free options, and local ingredients make this a South Austin go-to.
South West Austin
Pieous (address and info)
Located on the outskirts of Austin (almost to Dripping Springs), is Pieous, whose owners are hardcore about their from-scratch philosophy. Rustic Neapolitan pies made with sourdough crust and local meats & veggies make Pieous a major stand out. The House-Smoked Italian Pie is a go-to move.
Downtown
Due Forni (address and info) and Hoboken Pie (address and info)
We decided on a tie for downtown because "different strokes". Due Forni covers those who want to si down and have a cocktail and some appetizers. They've got both Neapolitan and Roman-style crust to pick from -- get the Prosciutto e Rucola (prosciutto San Daniele, affumicata bufala mozzarella, arugula, vincotto). Hoboken Pie deserves a spot on this list because, despite being lumped in the 2am pizza category, they're actually really good -- even when your tastebuds aren't impaired. Classic pepperoni is the jam.
Sign up here for our daily Austin email and be the first to get all the food/drink/fun in town.