Fries: when they're good, they're addictive. When they're bad... you're still eating them anyway. When they're pizza crust? Honestly that's kind of off topic.
But when they're truly great? That's when you start giving fellow tablemates death stares for trying to sneak one and wondering if it's socially acceptable to order fries as both an appetizer and a main course. These are Austin's distinguished dozen examples of the highest level of achievement in the art of fried spuds.
Southwest
At Jack Allen's, they spike their Idaho-potato french fries with red chile, scallions, lime juice, cotija cheese, cilantro, and garlic aioli. You may have trouble with the "shareable" aspect of this appetizer.
 
Multiple locations
An Austin favorite for over 30 years, these babies are hand cut, dipped in creamy buttermilk and rolled in flour before being fried to perfection. Actually, perfection comes in when you dip them in their tangy, super-secret sauce.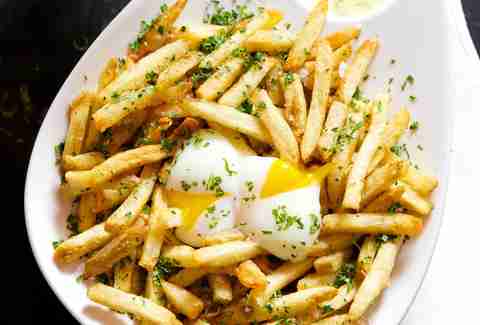 Manor Road
If you find yourself at Salty Sow for their killer Happy Hour or dinner, look around at the other tables and you'll notice a common thread. Absolutely everyone is eating the triple-fried duck fat fries. They come served with a 110-minute egg and a side of Béarnaise, accompaniments you will soon wish were available on all fries, everywhere.
Rainey St
So, Banger's hand-cut fries are outstanding and eye roll-inducingly delicious on their own... but when you upgrade to the chili cheese fries (with diced red onion and house-pickled jalapeño, so it's kind of like a salad, right?), you're tasting a Rainey St institution.
 
Multiple locations
The Original Kimchi Fries are probably Chi'Lantro's most popular menu item, and if you've had the pleasure of eating them, you get it. Perfect, golden fries topped with your choice of ribeye bulgogi, spicy pork, spicy chicken, soy-glazed chicken, or marinated tofu -- plus caramelized kimchi, cheddar & monterrey jack, onions, cilantro, magic sauce, sesame seeds, and Sriracha. Phew. Yes, order this ASAP at their new brick-and-mortar location on South Lamar. 
Downtown
Perfectly crisp, thick-cut frites and a respectably-sized portion puts Second Bar's black truffle pomme frites at the top of our list of snazzy bar snacks. The truffle-tinged aioli is a perfect complement. Feeling indulgent? Add seared foie gras for a measly... $14.
 
Sixth Street
The seasoned waffle fries they serve at your local punk-rock bar are fried to crispy perfection, juuuust past golden. The huge basket is enough for two buddies to make a meal out of. Try the waffle fry nachos -- they're "smothered in chili, cheddar, onion and jalapeños."
Campus
Cozy and inviting, Hopfields is also home to some killer pomme frites — made from Kennebec potatoes, tossed with salt & fines herbs, and served with a little jar of house-made aioli. A suggestion for those craving fries at brunch: try the Maya: poached eggs, jambon de Paris (aka ham!), and hollandaise served on... a huge bed of frites!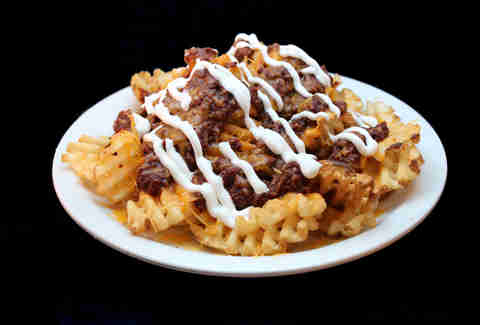 Downtown
Chili cheese waffle fries, Canadian waffle poutine, queso fries... even the very unique Rueben waffle fries (corned beef hash, Swiss, Thousand Island dressing) -- whatever your thing, Frank's consistently kick-ass fries are a solid foundation for whatever unhealthy-toppings-schematic you want to pursue. 
 
North Lamar
The English-style seasoned chips at Black Star are known by patrons for being highly addictive, thanks to the intense, garlicky flavor and the amazing texture -- you know... soft inside, crispy edges. Go get them!
Multiple locations
Made in-house, the Parmesan Truffle Fries are worthy of your love. In addition to being served in a super-fun cone, and being a huge portion you won't mind splitting, the truffle sauce that accompanies them is highly recommended. Top that off with a Caramel Sea Salt shake. Mmmm, salt.
 
Sixth Street
Casino's verde fries are a damn good reason to brave "Dirty Sixth, the Theme Park."  You get a whole basket of crispy fries covered with tangy tomatillo sauce that does not skimp on the garlic and gooey, melted white cheese.
Sign up here for our daily Austin email and be the first to get all the food/drink/fun in town.