Paid Content For
10 Stellar Places for Gameday Eats (& Drinks) Near Austin FC's Q2 Stadium
¡Viva los Verdes!
Paid Content For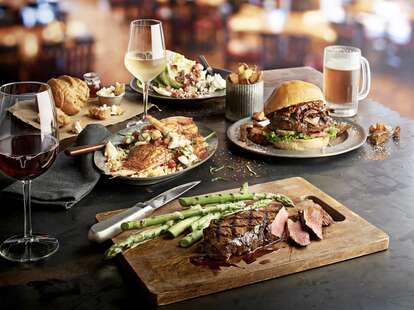 Saltgrass Steak House

| Photo courtesy of Saltgrass Steak House
Saltgrass Steak House

| Photo courtesy of Saltgrass Steak House
It's official: Austin has gone green… not to mention black and white. It's been tough to ignore the growing legions of footie fans decked out in YETI-branded jerseys lately as everyone gears up for the biggest event of the sporting calendar year: The grand opening of the sparkling new Q2 Stadium, home to our very own Austin FC. And it's coming in hot. First, the palatial arena hosts a warm-up of sorts on June 16 with an international friendly between the uber-famous and uber-talented US Women's National Team and Nigeria before kicking off Austin FC's home opener against the mighty San Jose Earthquakes on June 19 (yep, just in time for Father's Day—hint, hint).
The soccer stadium is stashed away in the North Burnet section of North Austin, a stone's throw from The Domain, leveling up already sought-after real estate. "Q2 Stadium is located in the center of the metro area's population," Austin FC President Andy Loughnane explained. "North central Austin has evolved into a readily accessible lifestyle hub that has attracted some of the most respected companies in the world that now reside alongside some of the best entertainment, retail, and residential features in the region. The strength and volume of nearby restaurants, breweries, and retail options will only continue to grow as planned development evolves in this vibrant part of Austin."
Full-capacity events will welcome 20,500 guests, and though the stadium itself will house a range of food and beverage outlets, the surrounding area is lined with quality bars and restaurants eager to meet the needs of visiting sports fans heading to, coming from, or just trying to soak up the atmosphere of the game. Whether you're aiming to cheer on our boys, impress a hot date, or simply feast on some tasty local grub, here's everywhere to get your gameday fill near Austin FC's Q2 Stadium.
This colorful food truck is one of the most trusted for authentic Thai cuisine. Bangkok native, Thai Changthong, brings self-proclaimed "O.G. Thai street food" to Austin, racking up rave reviews (both from local media and local eaters) and multiple awards in the process. Alongside pad Thai and green curry, the team whip up amazing dishes that you don't typically find in western Thai restaurants, such as Khao Moo Dang, a homemade BBQ pork full of juicy meat slices in gravy with Chinese sausage, boiled egg, and jasmine rice.
How to book: Stop by for first come, first served seating or order take-out via Toast.
Scored a couple of gameday tickets for date night? Why not go all out and wine and dine them while you're at it? Barley Swine is a semi-upscale meets rustic-hipster situation, serving inventive small plates made with seasonal local ingredients. It's classy without veering into stuffy territory, so don't worry about changing out of your team jersey. Spring for the tasting menu complete with wine pairings if you're feeling adventurous, with dishes including Muscovy Duck Breast with sunchoke beet puree and dry-aged Akaushi ribeye.
How to book: Reserve via Resy.
Just off Burnett Road sits the taproom of champions. Gather the gang and enjoy their speciality—craft beer in a can—and while there are plenty to try, never sleep on the signature Dale's Pale Ale, AKA the one that started it all. The large industrial space has both indoor and outdoor seating, rotating food trucks, live music, pre-game bashes, and watch events (with the sound on!). Get there early to snag yourselves one of the leather couches and let the good times roll.
How to book: Stop by for first come, first served seating.
Paid For By
When you're checking out the best spots in the city, the last thing you want to worry about is staying connected. Ball out on a budget with your friends with Visible. With Visible, you get unlimited data, powered by Verizon, for as low as $25 a month, and when you bring a friend, you both get a month for $5. Now all of your faves can stay in the loop for the next party move.
Terms apply.
The Barton Springs restaurant was such a hit with Austinites that a second location has opened at the Arboretum, and it's perfect for pre-match revelry. The menu features housemade pasta, meatballs, hand-tossed pizzas, and a variety of delicious cheese and meat cuts. A daily happy hour runs from 3 pm to 6 pm with $6 cocktails (Aperol Spritz, anyone?), draft beers, and wine by the glass, as well as deals on antipasti and pizza. Weekend brunch stars a feast of classics alongside brunch-y beverages like mimosas, Bloody Marys, and Bellini's.
How to book: Reserve via Resy or order via Toast.
The Park at the Domain is where to go for all things sports-fueled fun. There are over 40 HDTVs for you and the crew to take in all the action while tucking into cocktails, beers, and other viewing essentials (i.e. craft pizzas, farm fresh wings with a huge choice of sauces, and Tex-Mex staples like tacos, chips, guac, and queso). Look out for events like the Mutha Effin Bingo, Gong Karaoke, and their sporty twist on Sunday Brunch. Prices are affordable, so you can let loose without breaking the bank.
How to book: Stop by for first come, first served seating or order take-out online.
With many boycotting anti-LGBTQ+ fast food giant Chick-Fil-A, the good news is that the alternative options are way better anyway, and welcome all colors of the rainbow. It's only a matter of time before Flyrite becomes the national obsession it deserves to be. They promise all-natural meat raised without antibiotics plus zero artificial ingredients, no MSG, no high fructose corn syrup, and no trans fats, proving you don't need all that crap to make outrageously delicious fried chicken. Gluten-free and vegan options are also available.
How to book: Stop by for first come, first served seating or order take-out online.
If wine is your gameday drink of choice, make a beeline for CRÚ. They were among the first in Texas to offer 30+ wines by the glass alongside 300+ international bottles at every price point, so the choices are massive and quality is assured. Wines are paired with California-style bites in an elegant yet unpretentious environment (it is Texas, after all). The recurring events are wildly popular—don't miss Pizza Monday (buy a bottle of wine and get a free pizza), Champagne Thursday (50% off bubbles), and a tasty weekday happy hour. All that plus a brunch menu spanning bubble-based cocktails and mains like the Napa burger and steak and eggs.
How to book: Reserve via OpenTable.
You can't have an Austin restaurant roundup without a taco joint. Velvet elevates the humble taco with over twenty different internationally inspired varieties prepared in-house. Top fillers include spicy chicken tikka, chicken and waffles (with bacon and maple syrup), Korean pork fried rice, and the very British fish and chips. But to be fair, pretty much everything on the menu is bound to blow your mind.
How to book: Stop by for first come, first served seating or order take-out online.
This celebrated steakhouse and perennial Dad favorite serves chargrilled meat that recaptures the flavor of an open campfire. Expect generous portions of beef, comforting sides like mac and cheese, mashed potatoes, and juicy grilled shrimp. The more casual No Bull Lounge doles out cocktails like their famous Grilled Pineapple Margarita plus draft and bottled beer and wines by the glass while soccer graces the big screen.
How to book: Call (512) 340-0040 to reserve or order take-out online.
Nothing like a soulful bowl of bubbling hot ramen to cap off the post-match madness. And Jinya, known for twenty-hour simmered broths jam-packed full of flavor, certainly has your back. The Tonkotsu Black, brimming with pork chashu, vegetables, seasoned egg, and spicy sauce, tops the list. The restaurant also offers a slew of cold summer specials should night temperatures fail to drop, including a particularly appealing cold ramen as well as salads.
How to book: Stop by for first come, first served seating or order take-out online.