Hey Austin! Time to eat poutine.
Austin According to the current season, we should probably be eating heirloom tomato salads and prosciutto-wrapped melon. But come on, listen to your gut. Then make it bigger with fried stuff. Specifically poutine, ensuring you have your proper allowance of the three food groups: cheese, French fries, and gravy. Here are five ways to get it in Austin.
Banger's
Rainey Street
Thick-cut fries, perfectly seasoned brown gravy, and chunks of curd make Banger's traditional take on poutine the choice for a serious hunger. Pair that with one of their 100-plus beers on tap -- we like the Austin Beerworks Heavy Machinery English IPA. Continue Reading
Haymaker
Manor Road
On top of very generous daily drink specials, sports bar Haymaker features two types of poutine: a traditional version with country brown gravy and a Southern-style one with a peppery white gravy. And don't be shy, add that bacon.


Frank
Warehouse District
While they're known for their unique sausage recipes, Frank's Canadian Waffle Poutine stands out thanks to their signature thick waffle fries, which are smothered in brown gravy and topped with cheese curds. And love. Pro tip: they have a secret off-menu item called a Canadian Tuxedo which is essentially a poutine hot dog!
Wingzup
East 41st Hancock
Wingzup is a go-to for game viewing and wings, but interestingly also has four types of poutine. Our favorite is the Wingzup Style, which is topped with onion and mushrooms.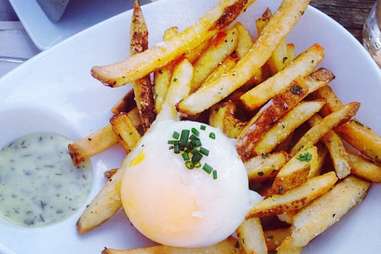 Salty Sow
Manor Road
OKAY… so technically this isn't poutine, but it has fries and fattening French sauce, so it feels like a spiritual cousin. Salty Sow has triple-fried duck fat fries served with a very specific 110-minute egg and cold Béarnaise sauce. if you're seeking more spuds, try their always-popular fried smashed potatoes with neck bone gravy.