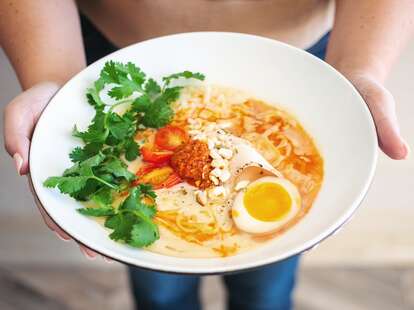 Courtesy of The Velox Standard
Anyone who's experienced an August in Texas knows that the days you want to warm up with a bowl of broth are few and far-between. However, with temperatures dropping to the 60s (don't throw this fact in the faces of your Northeast friends), it's time to break out that moderately warm jean-jacket and indulge in one of the best cold-weather comfort cuisines: ramen. Lucky for you, we've updated our list with all the current guidelines and ordering procedures, so you don't have to risk missing out on those sweet, sweet noods. Now the only thing you have to worry about is whether to add an extra ajitama or not (yes, the answer is always yes).
West Anderson Lane
Haru Ramen (formerly Hanabi) breaks the mold for ramen shops in Austin, in that it's also an izakaya serving skewered grilled meats, seafood, and shareable appetizers. However, Haru's ramen is the main attraction thanks to a great selection of broths and styles including vegan and tsukemen, cold noodles served alongside hot dipping broth. Craving something a little different? Build your own bowl starting with Haru's extra-rich black broth—made with black garlic oil, black sesame and topped with garlic chips and nori—then load up on toppings. We like to add ajitama (marinated egg), wood ear mushrooms, bean sprouts, pork chashu, and a lemon yuzu bomb for spice and brightness.
How to order: You can order online, or make a reservation for in-person dining.
Shadow Oaks
From the outside, Kanji Ramen may seem like a small, nondescript place, but the moment you enter their cartoon-decorated walls, you understand why it has become such a local gem for all things ramen. While many claim Kanji's Signature Ramen, which features a creamy pork bone broth with ajitama, wood ear mushrooms, grilled corn, and fried garlic, as the must-have, no one should sleep on their veggie offerings either. The key to their excellent veggie ramen is the marinated tofu they serve with it—order it spicy for the perfect kick, one that will give your broth some bite without being overbearing.
How to order: Dine-in service is available, and you can also order online for take-out.
Various locations
Back in the days before COVID, RT would pack ravenous ramen junkies into its small, bustling space daily. Although CDC guidelines ensure it's not the same type of crowded it used to be, the demand for their tasty ramen is as high as ever. The amazingly rich broth of the tonkotsu original sets the foundation for encouraged add-ins, like a Spicy Bomb or extra garlic (or even more noodles if you're super hungry/noodle-obsessed). Try the Sweet & Sour Yodas (Brussels sprouts). Disappoint you, they will not.
How to order: You can order online for pick-up at any of their locations, or make a reservation to eat in person at their East Austin location.
Hyde Park
While these two sister restaurants normally operate separately, the current times have caused them to work together to crank out the delicious ramen you expect from them. Although both are closed for dine-in, you can order Daruma Ramen's delicious takes on the meal for pick-up from the Komé location. The broth here is chicken-based and has a light flavor and texture—go for the miso Ramen if you want a little more bite—but there are also two vegan ramen options, including the veggie ramen with its soy, fruit, and vegetable broth, and rainbow of fresh produce.
How to order: You can order online for pick-up.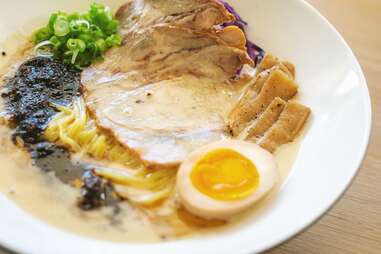 Highland
Even though Sazan may be the newest addition on this list, it has already made a splash in the Austin ramen scene. The restaurant's new executive chef, Kris Hammond, boasts a list of credentials from some serious foodie havens—including Michelin-starred GreenRiver in Chicago. At Sazan, they specialize in the thick and creamy paitan-style of ramen (think a cloudy soup), which they make from a mixture of chicken and pork broth. But the stand-outs may be their constantly updating, seasonal specials—like the current, brightly-flavored Chicken Chintan Shoyu ramen, which has a clear broth and is served with chicken chashu, menma (aka fermented bamboo shoots), scallions, sliced radishes, lemon, and house-made yuzu-kosho.
How to order: The restaurant is take-out only for now, but you can place an order online.
Various locations
For those who the rest of the ramen accessories play second-fiddle to the noodles, Xian may be the place for you. Xian means "fresh" in Chinese, and they are all about the freshness—which is why they hand-pull all their own noodles, not just for their ramen, but for their various other dishes on their menu too. But we're here to talk ramen: Their Shoyu comes with the standard clear beef broth, white radish, cilantro, and bean sprouts, the simplicity of which allows the delicate, chewy noodles to stand out even more.
How to order: All their locations are open for take-out, which you can order online. Additionally, their Mueller and Lakeline locations are open for dine-in.
Multiple locations
The main draw of Michi Ramen is the large selection of ramen types, add-ons, and the choice of broth thickness—light, original, or stout (for ramen fans who like a rich broth). While we understand the traditionalist POV, the appeal of Michi's Jungle ramen is undeniable: Your choice of lean pork, pork belly, spicy ground pork, or chicken, loaded with crunchy bean sprouts, earthy wood ear mushrooms, green onions, fresh chilis, a lime wedge, and cilantro in a lemongrass tonkotsu broth. As a happy little bonus, Michi serves a nicely curated selection of Japanese and local beer.
How to order: All orders for pick-up and delivery can be placed online.
Sign up here for our daily Austin email and be the first to get all the food/drink/fun in town.