Where to Slurp the Best Ramen Bowls in Austin
Austin's weather is bipolar to say the least; one minute you're rocking shorts, and the next you're breaking out a puffy vest that rarely sees the light of day. Aside from getting some use out of your winter wardrobe, though, chilly days are the perfect excuse to slurp down a giant comforting bowl of Japanese ramen. Austin's ramen scene may pale in comparison to cities like Houston or LA, but our small selection of shops are doing it right. When the thermostat (on your phone) dips below 60, do yourself a solid; insulate your core and choose one of Austin's standout, ramen-centric spots for aromatic broths, thick noods, and unexpected toppings. Leave the 12-cent noodle bricks for later use as post-apocalyptic currency.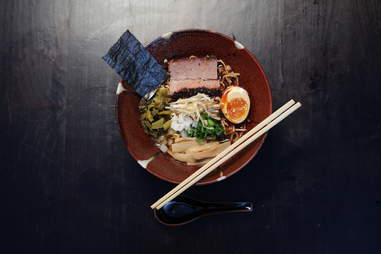 Jody Horton
East Austin
Kemuri has earned a lot of buzz and critical acclaim for its fusion of Japanese pub fare, Texas BBQ, and Tex-Mex… and rightfully so. From the chefs behind Ramen Tatsu-ya, Kemuri boasts two noodle dishes that reflect the restaurant's unique mashup approach. The Texas ramen deviates from classic ramen with the addition of a thick beef broth and a slice of smoked brisket, and the super-spicy BBQ tsukemen is served as a bowl of gravy-thick broth peppered with brisket, scallion, hierbas de Tejas, smoked jalapeño, and lime with cold dipping noodles on the side.
West Anderson Lane
Haru Ramen (formerly Hanabi) breaks the mold for ramen shops in Austin, in that it's also an izakaya serving skewered grilled meats, seafood, and shareable appetizers. However, Haru's ramen is the main attraction thanks to a great selection of broths and styles including vegan and tsukemen, cold noodles served alongside hot dipping broth. Craving something a little different? Build your own bowl starting with Haru's extra-rich black broth -- made with black garlic oil, black sesame and topped with garlic chips and nori -- then load up on toppings. We like to add ajitama (marinated egg), wood ear mushrooms, bean sprouts, pork chashu, and a lemon yuzu bomb for spice and brightness.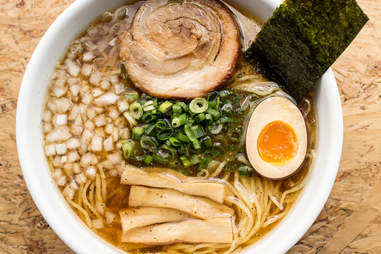 Ramen Tatsu-Ya
North Austin/South Lamar/East 6th
RT packs ravenous ramen junkies into its small, bustling space daily; there's always a line out the door, but fear not, as it moves along quickly. The amazingly rich broth of the tonkotsu original sets the foundation for encouraged add-ins, like a Spicy Bomb or extra garlic (or even more noodles if you're super hungry/noodle-obsessed). The only thing audible over the upbeat soundtrack and slurping are the consistently happy patrons exclaiming, "Omigod, this is SO good." Tip: try the Sweet & Sour Yodas (Brussels sprouts). Disappoint you, they will not.
Burnet Road
We all love The Peached Tortilla for their Asian fusion, and they've brought their sensibility for crave-worthy comfort food to ramen. Every Thursday, the restaurant's brick-and-mortar location on Burnet hosts Ramen Nights with weekly specials that range from traditional chicken shoyu to funky fusions. Check out the upcoming mapo tofu-inspired mazemen (aka brothless ramen) with mapo sauce made of ground pork and tofu kicked up many notches with Sichuan peppercorn. And, because The Peached Tortilla has a killer cocktail program, each weekly ramen special has a suggested boozy pairing.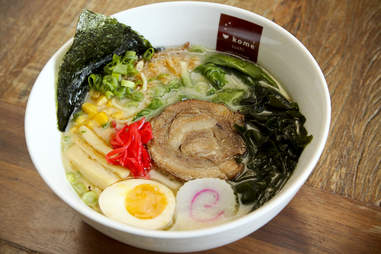 Komé
Hyde Park
This Japanese mainstay gets its ramen on during lunch hours, ensuring that you're much more inclined to nap than work for the rest of the afternoon after you maul a bowl of the spectacularly porky tonkotsu bone broth. You'll find it swimming with pork belly, bamboo shoots, corn, red ginger, naruto (cured fish paste in the form of swirled pink and white slices), spinach, green onions, nori (seaweed), and aji-tama (marinated soft-boiled egg).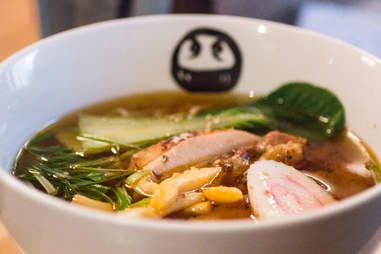 Dan Gentile/Thrillist
Downtown
The folks at Komé wisely anticipated downtown Austin's need for light lunch ramen, and bestowed Daruma upon Sixth Street. The broth here is chicken-based and has a light flavor and texture -- go for the miso Ramen if you want a little more bite -- but there are also two vegan ramen options, including the veggie ramen with its soy, fruit, and vegetable broth, and rainbow of fresh produce. The seating is communal, so besides having a warm, satisfying bowl of ramen that won't send you straight to naptime, you'll end up with a couple of new friends... or at least the opportunity to eavesdrop.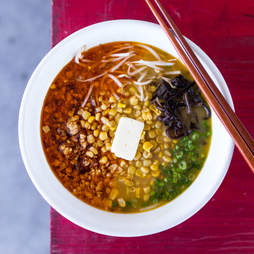 Michi Ramen
Multiple locations
The main draw of Michi Ramen is the large selection of ramen types, add-ons, and the choice of broth thickness -- light, original, or stout (for ramen fans who like a rich broth). While we understand the traditionalist POV, the appeal of Michi's Jungle ramen is undeniable: your choice of lean pork, pork belly, spicy ground pork, or chicken, loaded with crunchy bean sprouts, earthy wood ear mushrooms, green onions, fresh chilis, a lime wedge, and cilantro in a lemongrass tonkotsu broth. As a happy little bonus, Michi serves a nicely curated selection of Japanese and local beer.
Sign up here for our daily Austin email and be the first to get all the food/drink/fun in town.
Anastacia Uriegas is a food and cocktail writer in Austin, Texas who always brings home ramen leftovers. Follow her adventures in collecting free Tupperware at @anaurie.