Because eating two slices of bread with nothing between them just doesn't make any sense, everyone pretty much does it the stuff-in-between-them way. The ATX has a wealth of delicious choices, from nationally lauded eats like Noble Pig's beef tongue, to unstoppable forces of sustenance like FoodHeads, to the everyman's weekly special at Thundercloud. Since a list like this could easily become Dagwoodian in size if we included every awesome deli (Tam Deli! Little Deli! Fricano's Deli!), we've narrowed it down to five totally awesome sandwiches that everyone's mouth should become familiar with.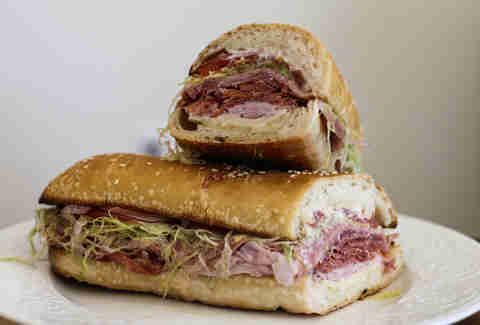 The Italian, Home Slice
South Austin
Austin's best pizza slinger also packs a secret weapon: the Italian sandwich, a monstrous belt-buster loaded with a smorgasbord of Italiano goodness (ham, dry salami, capicola, Genoa salami, Prov) that melts into a toasted sesame roll layered with mayo, oil, and vinegar to help wash down all that meat.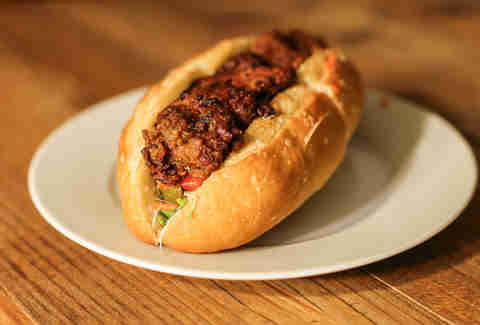 Popcorn Tofu Po-boy, Wheatsville Co-op
Guadalupe
Fear not meat-lovers, Wheatsville's popcorn tofu is beloved by carnivores and overly ethical eaters alike for its deep-fried, crispy-battered texture and satisfyingly savory flavor. Topped with cashew-tamari dressing and a boatload of veggies, it's a sleeper sandwich that deserves a place amongst the city's meatiest hoagies.
Prosciutto Tartine, Blue Dahlia
East Austin
Sometimes, you don't want a sandwich to punch you in the gut, but, instead, the thigh. Or the left arm. Blue Dahlia's prosciutto tartine does just that (well not just that, more like metaphorically that) -- the delicately cured meat, tanginess of the pesto and sun-dried tomatoes, and hearty slice of fresh mozzarella make this a must-consume.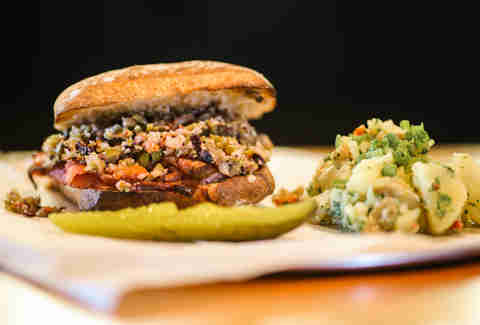 Muffaletta, Austin Beer Garden Brewery
The newcomer sudsmiths at ABGB are also boasting one of the best new sandwiches in town: a muffaletta served on Easy Tiger bread that dodges the pitfalls of the iconic New Orleans bread-bomb. The tapenade tastes fresh and not overpowering, while the flavor of each meat shines instead of coalescing into a slimy hurricane.
Connecticut-Style Lobster Roll, Garbo's
Roaming
This roaming truck does lunch at different office parks throughout the week and bars on the weekend, but it's worth tracking down for the super-rich lobster rolls, which use pinchers overnighted from the owner's family, who're long-time Northeastern trappers.