5 must-eat Austin sandwiches
Austin Who doesn't love a good sandwich? That question was rhetorical, but if you happen to be one of those poor souls, you won't have any interest in these five must-eat sandwiches all over Austin... including standbys and freshly dropped instant classics. As for everyone else, get your napkins ready.
The Rabbit, Luke's Inside Out
South Lamar
Luke's is special for a few reasons. One: they have had three new specials EVERY DAY for the last 3.5 years. Two: they come up with those specials every day at precisely 4:20pm. Three: their sandwich, The Rabbit (Korean BBQ'd rabbit, kimchee, tater tots) is amazing (Guy Fieri's fondness for it notwithstanding). Four: they are the only food truck with an adjoining air-conditioned dining room. We're in. Continue Reading
Dang Banh Mi
Oxtail Banh Mi, Dang Banh Mi
North Austin
A new go-to for your Vietnamese cravings, Dang Banh Mi is kicking out an oxtail banh mi made with 12-hour braised oxtail, homemade pate, mint, cilantro, white onion, cucumber, tomato, char siu sauce, saté, Japanese mayo, pickled papaya, and carrots. Oh, it's also topped with a fried egg. This is a sandwich that took a lot of research to perfect.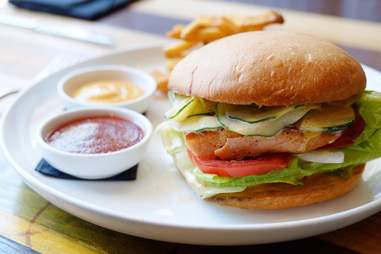 Mettle
Fish Sandwich, Mettle
East Seventh
East Side restaurant Mettle has added a fish sandwich to their lunch menu -- it's light and fresh, because mid-day food comas can be debilitating. Fresh salmon, cucumber, and miso aioli are the perfect Summer lunch trifecta.
El Pescador, El Sapo
Manor Road
Manor Road's hippest burger joint has many proteins to choose from, and one of our favorites is El Pescador -- a filet of buttermilk-battered Texas black drum (that's so large it sticks out of either side), lemon serrano aioli, lettuce, tomato, and onion. And because it's fish, it's practically health food.
Fried Bologna, Noble Sandwiches
Rosedale
Burnet Road's popular sandwich joint is satisfying taste buds with their fried bologna sandwich (it's actually house-made mortadella, but bologna is more fun-sounding) that's stacked with griddled onions, olive oil pickles, house-made sweet yellow mustard, cheddar, and garlic mayo.