Order Austin's Best Sandwiches Right Now
The perfect picnic food.
Gone are the days of questionable deli meats and spreadable neon cheese slapped together by a hasty parent. You're an adult. And you deserve to have the most glorious sandwich this city can provide. You're also an adult who's likely working from home, so skipping the sad desk lunch is the least you can do to keep your psyche healthy. Any of these sandwich shops are guaranteed to raise your spirits -- and all of them make the perfect picnic food.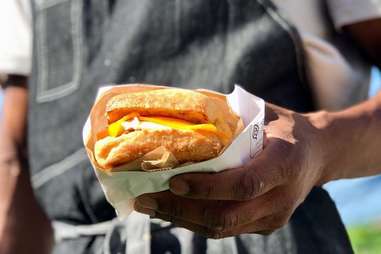 Manor Road
Bird Bird Biscuits little shop off Manor Road knows that the world is better with biscuits, and their breakfast and lunch sandwiches are nothing short of spectacular. Try a Bird Bird Bacon with bacon, a free range egg, cheddar, and bacon-infused chipotle mayonnaise. Get there mid-day for a Queen Beak with a fresh fried chicken thigh sweetened up by cayenne black pepper honey. There's limited seating outside, but you can always get takeout or delivery.
Call 512-761-4922, or order online with delivery via Uber Eats, Postmates, DoorDash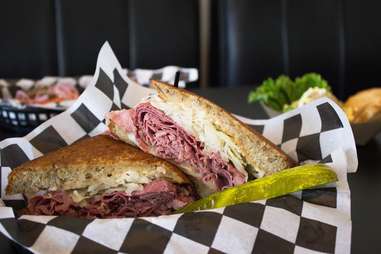 Far West and Westlake
When Biderman's opened their first location, they filled in the hole that Katz's left when they closed. Of course, they're rockin' a righteous Reuben. But don't sleep on their other offerings. Piles of pastrami with swiss, coleslaw, and russian dressing adorn crispy grilled rye in their Clevelander. Beef salami battles it out with corned beef, bologna, swiss, and vinaigrette atop toasted sourdough in the Jewish Italian. For something simpler, try bagel with nova lox and schmear.
Call 512-340-1404 or order online, or hit up Postmates, DoorDash, Favor, Grubhub, Uber Eats
West 34th
FoodHeads has been holding down a lovely little spot on 34th Street for 20-plus years which probably indicates they're doing something well. The family-owned eatery dishes up creative twists on sandwiches and salads, plus Zapp's chips, housemade sweet tea, and limeade. Pick up a pork tenderloin on toasted ciabatta with smoked gouda cheese and spicy apple pico or go veggie with a grilled squash & fresh mozzarella with spinach, tomato, basil pesto & balsamic reduction. Sit under a bright umbrella on their front patio or pick it up to go.
Call 512-420-8400 or order online, get it delivered via Postmates, Favor, Seamless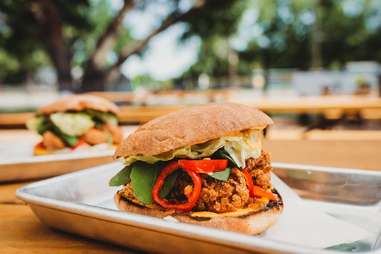 MLK, South Lamar, East Cesar Chavez
With a new option on South Lamar, you're never too far from a tantalizing torta from ADP. Each of their locations is a bit different, so choose from a sweet spot outside or a beer and a sammy at Lavaca Street South. Far from your traditional torta, their inventive sandwiches feature ingredients like lemongrass braised pork shoulder with escabeche, aji amarillo aioli, and ginger chimichurri and cauliflower chorizo with grilled carrots, pickled onion, and goat cheese yogurt. They also serve tacos, snacks, and salads.
Call to place an order or get it delivered via Uber Eats, Seamless, Favor, Grubhub, DoorDash
South First
Blink and you'll miss it, but G's Dynamite Deli feels like a cornerstone of the sandwich scene in Austin. The tiny shop has South Austin vibes to the max with band posters and bumper stickers papering the walls and a punk rock staff. Of course, because of the pandemic, you'll only be able to glimpse them through the walk up window but still stop on by for a hot sandwich, a panini, or a cold sub. Crowd favorites are the Asian Chicken Salad Sandwich, the Texas Dip and the Carly's Hot Mess, a concoction that includes turkey, bacon, provolone, cheddar, swiss,jalapeños, chipotle mayo, homemade dijon, spring mix, red onions, sweet and spicy pickles, kosher pickles, avocado & pepperoncinis served on toasted Jalapeño Cheddar bread with jalapeño ranch.
Call in an order 512-520-9810 or get delivery via Postmates, Grubhub, Favor, Seamless
Webberville
Bellying up to the bar at Gourmand's and having a sandwich and soup in a bread bowl is just about a perfect lunch. You can still do the latter part of that by picking up or dining in on their still-open patio. Plus the sandwiches are just fun to order. Sink your teeth into a Second Deadly Sin with smoked turkey, bacon, swiss, and fried avocado or get wild with an Orgy featuring hot peppered pastrami, swiss cheese, coleslaw, and house-made dressing on pumpernickel rye. Pair it with a mystery 6 pack, some potato chips, and some broccoli cheese.
Call in an order at 512-610-2031, order online, or get delivery from DoorDash or Postmates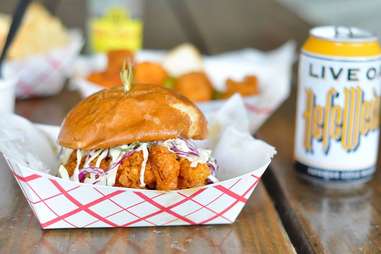 Burnet, Cedar Park, Lake Austin
Sometimes you only have to do one thing really really well, and that's Tumble22's game plan. Their "as hot as you wanna go" chicken preceded the great fast food fried chicken wars. Sure, you can do tenders or bone-in chicken, a salad or bitty bites but what you need to know about the menu is that OG sandwich. You won't regret a moment of that hot, juicy, all-natural chicken breast topped with coleslaw, bread-and-butter pickles, and Duke's Mayo. As for spice, that's your preference, but the cluckin' hot isn't just a name.
You can dine in, call in an order for curbside, or order delivery from Favor, Grubhub,or DoorDash
Burnet Road
Austin's blessed with an abundance of banh mi shops but Le Bleu has taken them to the next level. Sure, this strip mall offshoot of Saigon Le Vendeur offers the standard grilled pork and the tofu and the spicy chicken. Those sandwiches are fantastic, topped with pickled carrots & daikon, cucumber, jalapeño, cilantro, and aioli on soft, fresh bread. But the real standouts are the Shaken Beef, marinated cubed ribeye, watercress, cherry tomatoes, watermelon radish, and the Garlic Butter Prawn, batter fried prawns, scallion-garlic butter, and kewpie.
Call them in at 512-770-1100, order online, or get delivery from Postmates, Uber Eats, and Grubhub
Mueller
The deli sandwich has gotten all kinds of fancy in the past decade and Rebel Cheese fully embraces that... except all of their sandwiches are vegan. Somehow, through the miracle of science, they're slinging sandwiches that taste amazing and make you feel pretty good about eating them. The Bacon, Brie, and Me, with aged brie, crispy pig-less bacon, caramelized onions, peppery arugula, and sweet fig jam is great to the last bite. And their Philly Cheesesteak with sautéed "steak", mushrooms, bell peppers and caramelized onions on a toasted baguette will convert the fiercest meatatarian. Leave room for dessert!
Their dine-in isn't open but call 512-382-0048 or order via DoorDash, Grubhub, and Favor
Bryker Woods
If you want to drool over sandwiches, just take a look at the pictures of Otherside Deli's offerings. There's a true sandwich artist at work putting together Instagram-worthy subs. All the cold and hot sub classics are here -- patty melt, the stacked club, a cheesesteak, ham and swiss, meatball -- plus more. They're locally owned and have been doing their part by donating and making food for Seton Medical. Make sure to check in their specials because you don't want to miss out on a new creation.
Call them at 512-407-9702, order online, and get it delivered via Favor, DoorDash, Grubhub, Postmates, and Seamless
Sign up here for our daily Austin email and be the first to get all the food/drink/fun in town.