The 10 Best Steakhouses in Austin
Ready to get the meat sweats?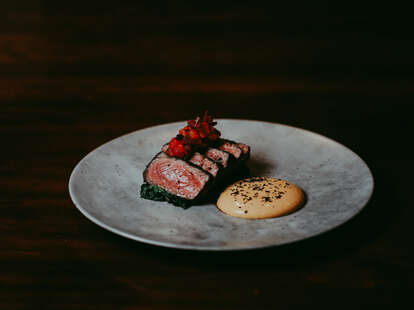 It goes without saying that Texans consume a lot of cattle. In fact, the state wouldn't be the same without cows. If we're not chomping on red meat, then we're downing the dairy, wearing leather boots, or watching the rodeo. There's no getting away from bovines here!
For those selecting a steak, the decision is a mighty one. You want to indulge in the treat once in a while to save those arteries, but with the slew of options available, where to make such an important decision? Good news. We've uncovered 10 restaurants that know how to cook a steak to perfection. And if you're still craving another hit or dining with a vegetarian, many of these fantastic places even have vegan steaks which we can verify are just as delicious as the animal varieties. Here's where to get the meat (and some plant) sweats in Austin.
Steak plus celebration equals J Carver's on West Sixth. Owner and chef John Carver offers a classic fine dining chophouse experience that incorporates shellfish (you can't miss the fresh oysters). The steaks here are specially aged by Fred Linz, Chicago; cut in-house daily, and served with roasted shallot butter. Order up a monster slab from their wood-burning grill, big enough to share, including tomahawk, porterhouse, and bone-in filet, and finish with the most lavish of steak accompaniments like lobster, fried oysters, or foie gras. Make sure to note the fancy dress code.
This West Anderson Lane restaurant serves American fare in a cozy, brick-and-wood environment, making it a perfect winter warmer. Its steak options include a hardwood grilled filet mignon with a side of wilted spinach, and a 100-hour marinated rib-eye served with baked potato (call ahead due to limited availability). Not to lure y'all away from the meat, but Barlett's also has a huge and delectable salad list to add some fiber into the experience.
How to book: Get takeout on Toast.
If Ciclo's steak were a person, she would be a drag superstar, because this one is extra. The Flambéed Texas Wagyu Tomahawk has a menu section all to itself, and when ordered, is presented by the kitchen in a theatrical manner (spoiler: with fire and a lot of "oohs" from patrons sitting around you). Get it with sides like the pork belly mac 'n cheese, and ask the sommelier to pair it with a good bottle of red.
An impressive 30 years in the business means there's no BSing around here when it comes to quality steak. This dad favorite serves chargrilled meat that recaptures the flavor of an open campfire. Options are wide and varied, including Texas T-bone, New York strip, bacon-wrapped filet, and Wagon Boss Center-Cut Top Sirloin. Sides are a must, too, and afterward, be sure to wander the adjoined lounge where many a sports buff is known to congregate.
How to book: Call 512-340-0040 to reserve a table.
We've been raving about Garrison for years, but that's because it's never failed to wow on all accounts. Its boudoir is a winner for romance, its wine cabinet is stellar, and chef de cuisine Jakub Czysczon is the resident master behind Texas post oak flame-grilled steak. Splurge on a seven ounce Akaushi Wagyu Eye of Rib with grilled baby gem, roasted garlic, and black pepper bearnaise; or if you fancy swapping the cow then try their delicious Pork Tomahawk, with fermented turnips, wilted farm greens and smoked peaches. Steak aside, Garrison is of the best and most popular restaurants in all of downtown, so every kind of eater should certainly leave happy.
Fleming's isn't your traditional old-school joint, but rather, a more inclusive, dietary restriction-welcoming establishment where carnivores and herbivores can chop it up in harmony. The prime steaks are broiled at 1600 degrees for the perfect sear and crust, so don't miss the buttery filet mignon or the Prime bone-in ribeye, a beautifully marbled cut teeming with bold umami flavor. A gluten-free menu is available and there are a range of vegetarian specials on rotation year-round.
How to book: Reserve via SevenRooms.
This longstanding Austin legend has never gone out of style, as locals return over and over for delicious classics. These are aged and cut by Lone Star Meats, grilled and roasted over local live oak, and finished in a 1200-degree broiler. Consider balling out with the 42-ounce Porterhouse, which has been dry-aged for 32 days, and go ahead and add on the Foie Gras Butter and a slice of Roquefort—you're worth it.
Vince Young Steakhouse blends exceptional service with a wide variety of aged prime cuts like The Perfect Ten, a whopping 14 ounces of exquisitely seared Texas Akaushi steak that cuts like butter. And even though you're entering the steakhouse as a mature adult, the ridiculously rich and creamy mac 'n cheese complete with house-cured bacon will be impossible for your inner child to pass up.
With locations all over Texas, Perry's tricks out its Austin outpost with a vintage vibe and an attentive waitstaff that's always on point with the drink recs. The Fried Asparagus with Jumbo Lump Crabmeat is a signature for a reason (as well as a clever way of getting you to eat your vegetables). Try the Prime New York Strip smothered in herb-garlic butter. Vegans have a reason to love this place, too—the vegan steak is one of the best we've tried. It comes smothered in cremini mushroom gravy and is served with a chargrilled vegetable trio.
Salt & Time is not technically a steakhouse—and admittedly, it's only half a restaurant. The skilled and passionate crew source meat from local farms and butcher it in-house. Come for dinner when the menu features a Dry Age Feature; a hunk selection of meat served alongside your choice of two sides and sauces (pro tip: You want the Beef Fat Fries). And if you're ready to up your at-home grill game, Salt & Time's onsite butcher shop is stocked with fresh and aged steaks ready to be wrapped and weighed.
James Wong is a Libra who spends his time pretending to be a vegan, watching wildlife clips, and booking plane tickets. Born in London, lived in Tokyo, and now residing in Austin, his greatest achievement is giving Posh Spice a hug in 2016.