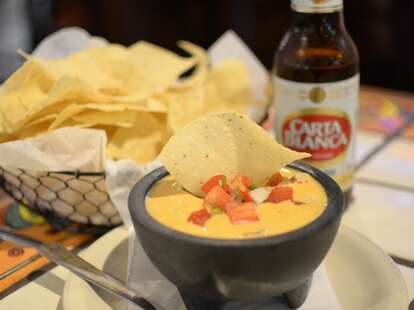 Austin loves its barbecue, but Tex-Mex comes a close second. Having grown up with grandparents who ran their own Tex-Mex restaurant, I am particularly opinionated when it comes to that style of food. Some of Austin's better-known restaurants around town aren't necessarily the best bets when it comes to flavor and the bang-for-your-buck-factor. Thankfully, these places are:
East Austin
Tamale House East is run by the family of the late Robert "Bobby" Vasquez, who owned the long standing location on Airport Blvd. While "tamale" is in the name, it's the tacos that are the biggest draw. The recipes came from Bobby's Mom, and they are still cooking them true-to-form today. Most of the breakfast tacos will set you back less than a dollar, but if you're extra hungry, the migas is your move. Eggs are mixed with tortilla chips, onions, and pepper, then drenched in gooey queso. They toss in a side of beans and potatoes to make the meal complete, but to really complete it, ask for a carne guisada taco on the side.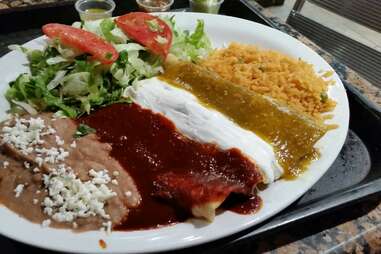 Oltorf/East Riverside
Be on the lookout, because if you aren't paying attention, this place is easy to pass. The menu is short and sweet, but everything you need is there. They have a standout selection of tacos, enchiladas, and quesos, all for an impressively cheap price. The enchiladas are especially great. You can either pick your favorite, or be greedy and try them all with the verde, sour cream, and roja sauces. It looks and tastes so delicious, it will have you saluting the Mexican flag. If you want to add a little heat, hit up their salsa bar.
Travis Heights
Curra's Grill is known for their avocado margaritas and delicious food. Wait, avocado margarita? Damn right. It's a creamy and savory margarita that's incredibly refreshing with just the right amount of sweetness. Pair it with their amazing carnitas, cochinita pibil, or sizzling fajitas. They constantly have tequila events happening, so you might be walking into some free shots.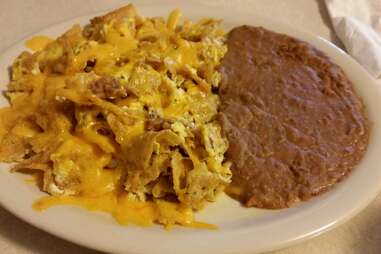 East Austin
For more than 50 years, the Avila family has been serving up some of the best Mexican food in Austin. Walk in and be greeted by display cases of Mexican sweets and the smell of soon-to-be-devoured deliciousness. If you want to get a taste of this place, you're going to have to get there early. This isn't a tourist destination, but those in the know keep it plenty busy. While everything on the menu is amazing, breakfast is king. The Joey Rocha Plate will keep you full all day; you get a generous portion of pork carne guisada with eggs, beans, potatoes, and deep-fried bacon (what's wrong with a little taste of America thrown in?). Good luck staying up for the rest of the day.
Multiple locations
This is another Tex-Mex secret in Austin. With five locations spread out across the city, they are serving up some of the cheapest and most delicious food in town. A majority of the plates will only set you back about $8 (more money for beer!). The waitstaff is also incredibly welcoming. The biggest problem you'll have at Taquerias Arandinas is deciding what to order. Make it simple: go for a carne asada with a side of rice, beans, and cactus and chase it down with a beer.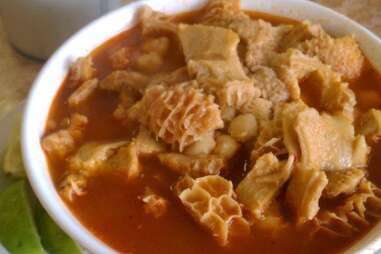 South Austin
This old-school Southside joint draws people in big numbers for both its bakery and restaurant. Austin is a party town, which means you sometimes need a little recovery, and "hair of the dog" just makes you feel worse sometimes. The old Mexican cure is menudo, and Casa Maria does it right. The soup is greasy and delicious, just like it should be, with parts of a pig that are better left unmentioned. Just down a big bowl of that, and you will be back to Sunday Funday before you know it.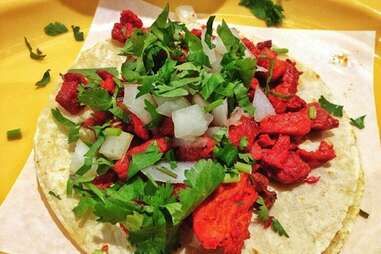 Oltorf/East Riverside
Austinites love tacos, and Taco More keeps them simple and top-notch. However, I like to think of them as a side dish or compliment to a meal. It's not because they aren't good, it's just that there are so many menu standouts, and there's always room for a side taco. With the colder months coming up, they made some amazing consome de cabrito (goat soup) that will knock out a cold and a hangover at the same time. It's spicy and filling, so it does wonders in the cold.
Multiple locations
Texican Café is not your average chain restaurant -- the food here is cheap and legit, and even cheaper on Tuesday nights, when they have half-priced enchiladas. Their San Antonio enchiladas cannot be praised enough. You get two stuffed cheese enchiladas that are buried under a layer of carne guisada, and topped off with melted queso. You can be both a cheap date and get two for the price of one, or go big and order two for yourself. No judgment here!
South Austin
How can you can tell a restaurant is amazing? If Kanye has been there, of course! Fine, maybe he isn't the leading Tex-Mex expert, but he did stop by for a bite during SXSW. Ironically, Habanero's got its start in Oregon, where there aren't exactly a lot of Mexicans. Thankfully, the Ibarra family eventually moved down to Austin, where they have been impressing the locals for more than 10 years. Their "Zack Attack" (Sounds authentically Mexican) is what keeps me coming back. This tortilla is the size of Texas, and stuffed with your choice of meat and beans, then coated in a ton of queso. Make sure there's some nap time built into your day.
Sign up here for our daily Austin email and be the first to get all the food/drink/fun in town.