After leaving his previous post on South 1st in late October, polarizing fire-starter John Mueller has re-emerged in a trailer behind East-side dive Kellee's (his watering hole of choice for 10+yrs) to smoke the same meats that, despite his personal struggles, have kept him on the shortlist of guys with personal struggles on shortlists most skilled pitmasters in Texas.
Recommended Video
Why Haven't You Made Yourself Korean BBQ Tacos Yet?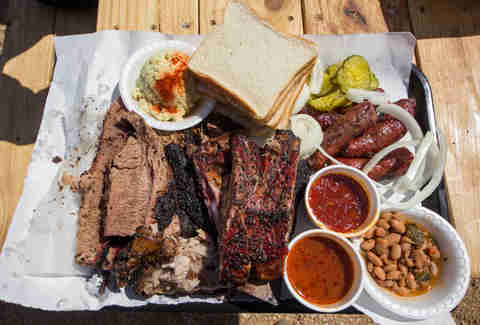 Previous Venue
Next Venue
Venue Description
1. John Mueller Meat Co
2500 E 6th St, Austin, TX 78702
Located behind Eastside dive Kellee's, long time fire-starter John Mueller serves some of the best barbecue in Texas at this trailer eatery. Grab some BBQ pork ribs or fatty brisket, and feast in blissed-out peace at the picnic tables under blue-and-white tent. While Mueller's meats get top marks, his menu's side dishes are not to be missed-- get munching on cheesy squash, sriracha coleslaw, and more.