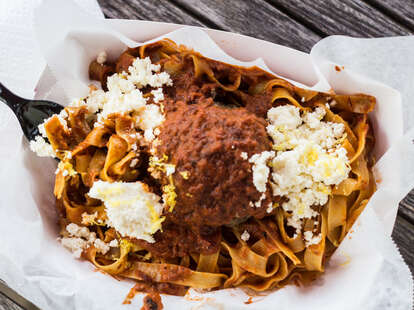 If you ask people about finding good pasta in Austin, the response will likely be to head to Enoteca or just fugettaboutit, but then once you both finish cracking up, you can let them know there's a new paesano in town: Patrizi's.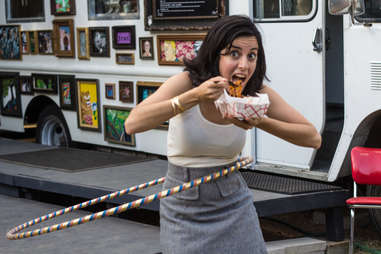 Transplanted from Beaumont by the grandson of the original owner, Patrizi's is the trailer reincarnation of a 60yr Italian institution that's now posted up behind the Vortex & Butterfly Bar, where, in addition to expanding one's hips, you can also shake them.
Some family members were hesitant to give up their age-old recipes (if they were French, giving up would have been no problem), but in the end they supplied them (as you can see), and they've even been updated with local touches like microgreens grown by the owner's girlfriend and bone marrow sourced from Salt & Time.
The dishes run the gamut from traditional old country to new-school NY fare, with every serving of pasta freshly noodled to order. The traditional pomodoro sauce (made with 100 Roma tomatoes per batch!) is topped with a meatball made less dense by way of a heavy dose of bread crumbs, spiced up with a dash of cinnamon.
This Carbonara Alessandra's loaded with a coddled egg, cream, bacon, and lemon zest, then topped with an optional Milanese of either pork or chicken thighs, which is also what you'd call someone who's afraid to hula hoop.