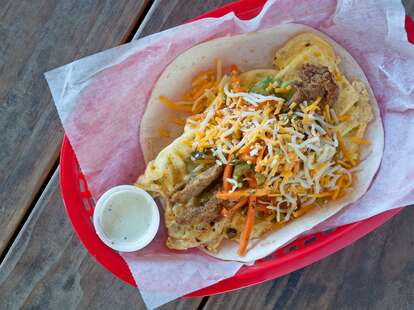 In honor of football, drinking, America, and YOU, we proclaim the Monday after the Super Bowl shall henceforth be known as National Hangover Day. It's a day for hangovers to be celebrated, embraced, and combated in the most enjoyable of ways -- namely, eating delicious food, and possibly drinking more. The ultimate goal? Getting the entire country a day off work, a beautiful dream you can help make happen by signing this petition to our sports-loving President right here and tweeting it..
The immediate goal? Fixing that hangover, which is why we've assembled some of Austin's best cures.
Dirty Sanchez
Torchy's Tacos, South Austin
If the first words out of your mouth are "need" and "tacos", the Dirty Sanchez is the move. Ugh, not that kind. We're talking the kind that's filled with scrambled eggs, fried poblanos, carrot escabeche & cheese, then finished with more poblanos in sauce form, all lovingly wrapped in a fresh flour tortilla. Tip from Torchy's founder Michael Rypka: pair it with a Topo Chico and never fear a Monday again.

Michelada
Frank, Downtown
Their Bloody mix is house-made and spicy enough to, as owner Daniel Northcutt puts it it "kick you in the teeth and get you rolling." Actually kicking anyone in the teeth is not recommended as a hangover remedy. But, additional recommendations DO include pairing this bad boy with their waffle fry-based poutine and some chocolate covered bacon.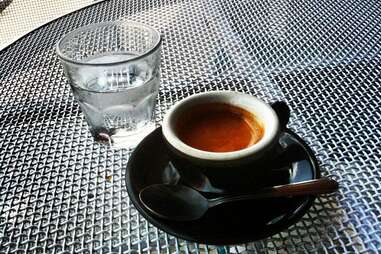 Twofer
Houndstooth Coffee, Multiple Locations
No, you aren't fighting your hangover with a fictional TGS writer. You're attacking it with each of Houndstooth's espresso options side-by-side and a bottle of San Pellegrino. Houndstooth's Paul Henry advocates pairing it with a couple of Ottos (that's a black bean & avo-laden breakfast taco) from Taco Deli. Wouldn't that make it a fourfer?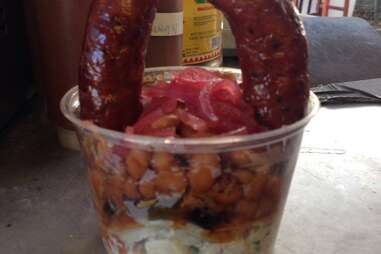 Brisket & More
La Barbecue, East Side
Sweating out your hangover with exercise? Not that much fun. Sweating it out with meat sweats? Awesome. La Barbecue's moist, delicious brisket is a great way to get them started. Owner LeAnn Mueller likes to pair it with some buttermilk potato salad and a Texas Hotgut and wash it down with some Big Red, or, if you're a hair of the dog type, one of their free Lone Stars.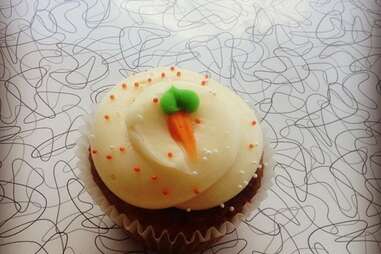 Champion Carrot Cake
Sugar Mama's Bakeshop, South Austin
Some people crave sweets for booze-soaking, and the Champion Carrot Cake from Sugar Mama's means you're totally getting your fill of vegetables, too. Co-owner Olivia O'Neal suggests throwing a cup of coffee into the mix, because you know what you did last night and you need to attack this thing on multiple fronts.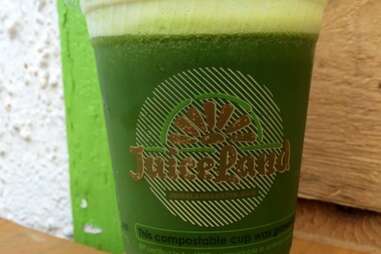 Cocolilly
JuiceLand, Multiple Locations
If carrot cake doesn't meet your threshold for a healthy cure, try hitting up Juiceland. Ninja (there should be more juice ninjas) Casey Willson recommends the Cocolilly, which brings together coconut water and a bunch of healthy green things (kale, parsley, cucumber, celery, etc...) that're nice and blended up because you ache too much to chew.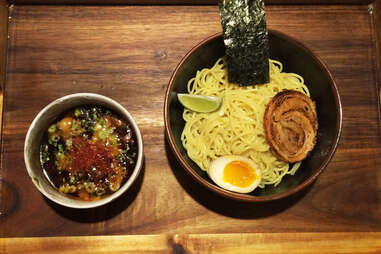 Ol' Skool
Ramen Tatsu-Ya, North Austin
You really can't go wrong with ramen for a hangover (well don't get the cheap packaged stuff, you're better than that). You really, really can't go wrong with Tatsu-Ya. Director of Operations Shion Aikawa recs the Ol' Skool, a chicken-based Tokyo-style number. Get it with extra garlic. Aikawa says the combo of whiskey and raw garlic on his breath has served him well.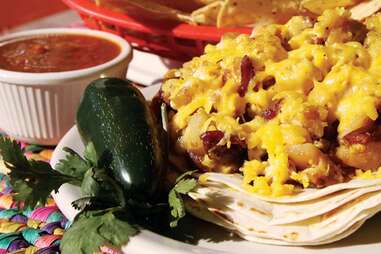 Don Juan
Juan in a Million, East Austin
There can never be enough breakfast tacos. Especially if they're this massive heap of potatoes, eggs bacon, and cheese piled into a tortilla. Pair it with... lots of salsa. Pro tip: if you can't get off the couch, have Favor Delivery bring you one. Or several.
Charlie's Lunch Special
El Chile, Muitliple Locations
Two cheese-stuffed enchiladas. Grilled fajitas. Some refried beans. There's nothing like a heaping plate of Tex-Mex to set you right, especially when you follow owner Carlos Rivero's advice and throw a spicy Michelada into the mix. Actually, maybe you should have two. Because that would work even better, right? Just be careful you don't end up in a never-ending Michelada cycle.