Banger's just launched a new late-night menu of dishes that will literally blow your mind, man.
Recommended Video
This Fried Chicken Sandwich With Sushi Rice Buns Is the Best of Both Worlds
So in the spirit of investigative journalism, we enlisted these four in-need-of-munchies (hint!) taste-testers to devour one of the kushiest after-midnight menus in town and tell us just how awesome it was at destroying said munchies.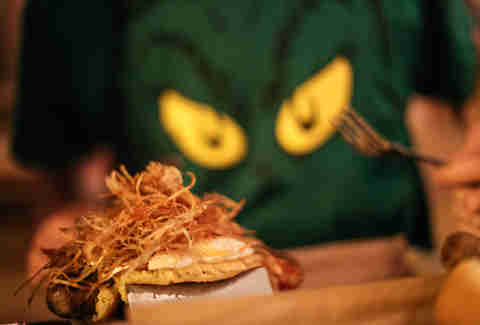 The Stoner (banger wrapped in a bacon-stuffed pancake, topped with a fried egg, shoe-string potatoes, and Sriracha maple syrup)
The Deets: "It combined every essentially breakfast element." -Jerry
Tastes Like: "Breakfast. It should be renamed 'breakfast' to... appeal... to a larger audience." -Barry
Moment of Clarity: "You could get the stoner sausage... without the sausage... if you're a vegetarian." -Jerry
High Points: "These are the best hash browns I've ever tasted." -Larry
Pro Tip: "Let's eat this pancake while it's still hot." -Jerry
Verdict: "The last pancake I had was from Denny's. Comparing this would be like apples to rotten oranges." -Mary
"If I came here, I would get the Stoner every time." -Jerry

Fried Bacon Mac & Cheese Balls
The Deets: "A lot of times, when you fry something, it isn't cooked all the way through. This was cooked alllll the way through." -Barry
High Points: "If I had to put it somewhere between Kraft and Velveeta, it would go on the other side of Kraft..." -Jerry
Bummer: "If this were a city, it'd be somewhere in Nebraska." -Mary
Verdict: "Delicious, but I couldn't taste the bacon." -Larry

Boudin Balls
Moment of Clarity: "These have mac & cheese in them?" -Barry
Tastes Like: "If it were a city, it'd be somewhere in Southeast Asia." -Mary
Pro Tip: "It's like the Ken's Doughnuts' samosa, which is a GIANT compliment. You should always order their samosas." -Jerry
Deets: "Both soft and crunchy. It's more of a cake-like texture, rather than meat." -Larry
Bummers: "I could taste the tuna, but there wasn't any tuna." -Larry
Verdict: "It was the same temperature, flavor, consistency, all the way through. Everything that was supposed to happen, happened." -Larry

Chicken-Fried Chicken Biscuit
The Deets: "It's a giant biscuit." -Larry
Moment of Clarity: "It's like an inverted Whataburger chicken biscuit sandwich. The pancake turns into a biscuit, the sausage turns into chicken, and the syrup becomes gravy." -Jerry
Tastes Like: "It tastes the way you would expect. But not in a bad way." -Barry
Verdict: "The chicken-fried biscuit gets an honorable mention for its size." -Larry
Pizza Bagel Bites with andouille, sauerkraut, and house-made cheese
High Points: "I ate most of my bagel bite before I remembered to think about what it tasted like." -Larry
Tastes Like: "I thought of things you put in the microwave." -Jerry
Verdict: "Bagel chip-like tenderness, with a strong marinara." -Barry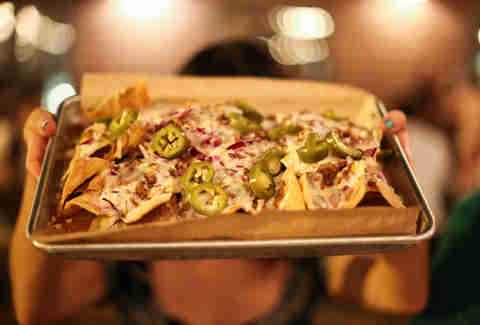 Chili Cheese Nachos
The Deets: "It's something you would eat at a ballgame. I've never really been to a baseball game, though." -Barry
High Points: "The tortilla chips... were great." -Larry
Bummer: "It's really greasy." -Mary
The Verdict: "The great American nacho!" -Barry
Fried Bologna Sandwich
The Deets: "What is bologna? Is it part of the cow?" -Larry
Moment of Clarity: "I'm not really sure what it is, but I drove through it in Italy." -Barry
Tastes Like: "It's like between salami and Spam. But it's pretty good!" -Mary
Bummer: "The leftovers look really sad on the plate." -Larry
Verdict: "You know this Joe Walsh song, "Life's Been Good"? I always thought it was a Steve Miller song. They play it at Jimmy John's a lot. -Jerry
Gummy Bear Brat
The Deets: "What's that? They brought it! A wolf in sheep's clothing!" -Barry
Pro Tip: "The spice of the mustard balances the sweetness of the... gummy bears." -Larry
Moment of Clarity: "Are there gummy bears inside as well????? I put some on top just in case." -Barry
Tastes Like: "I have to eat this?" -Jerry
Bummer: "If I had to choose candy to put in a sausage, it would be butterscotch." -Mary
Verdict: "I could see the kids liking this one. Bring them down to Banger's at 2am!" -Barry
Turkey Bacon Avocado Sausage, drizzled with Tabasco
Moment of Clarity: "All of my BLT sandwiches have been missing sausage. And all my SLTs have been missing bacon." -Larry
Tastes Like: "The black sheep of the menu." -Barry
High Point: "The best part of the sausage was the presentation." -Larry
Bummer: "This is exactly what my doctor told me not to do. Well, except that this has lettuce. And bacon. It's actually the healthiest thing on the menu." -Barry
Verdict: "It's healthy. This is like, hey, could I get a Diet Coke?" -Jerry