The Banger's late-night menu just totally BLAZED these dudes' munchies
Banger's just launched a new late-night menu of dishes that will literally blow your mind, man.
So in the spirit of investigative journalism, we enlisted these four in-need-of-munchies (hint!) taste-testers to devour one of the kushiest after-midnight menus in town and tell us just how awesome it was at destroying said munchies.
The Stoner (banger wrapped in a bacon-stuffed pancake, topped with a fried egg, shoe-string potatoes, and Sriracha maple syrup)
The Deets: "It combined every essentially breakfast element." -Jerry
Tastes Like: "Breakfast. It should be renamed 'breakfast' to... appeal... to a larger audience." -Barry
Moment of Clarity: "You could get the stoner sausage... without the sausage... if you're a vegetarian." -Jerry
High Points: "These are the best hash browns I've ever tasted." -Larry
Pro Tip: "Let's eat this pancake while it's still hot." -Jerry
Verdict: "The last pancake I had was from Denny's. Comparing this would be like apples to rotten oranges." -Mary
"If I came here, I would get the Stoner every time." -Jerry

Fried Bacon Mac & Cheese Balls
The Deets: "A lot of times, when you fry something, it isn't cooked all the way through. This was cooked alllll the way through." -Barry
High Points: "If I had to put it somewhere between Kraft and Velveeta, it would go on the other side of Kraft..." -Jerry
Bummer: "If this were a city, it'd be somewhere in Nebraska." -Mary
Verdict: "Delicious, but I couldn't taste the bacon." -Larry

Boudin Balls
Moment of Clarity: "These have mac & cheese in them?" -Barry
Tastes Like: "If it were a city, it'd be somewhere in Southeast Asia." -Mary
Pro Tip: "It's like the Ken's Doughnuts' samosa, which is a GIANT compliment. You should always order their samosas." -Jerry
Deets: "Both soft and crunchy. It's more of a cake-like texture, rather than meat." -Larry
Bummers: "I could taste the tuna, but there wasn't any tuna." -Larry
Verdict: "It was the same temperature, flavor, consistency, all the way through. Everything that was supposed to happen, happened." -Larry

Chicken-Fried Chicken Biscuit
The Deets: "It's a giant biscuit." -Larry
Moment of Clarity: "It's like an inverted Whataburger chicken biscuit sandwich. The pancake turns into a biscuit, the sausage turns into chicken, and the syrup becomes gravy." -Jerry
Tastes Like: "It tastes the way you would expect. But not in a bad way." -Barry
Verdict: "The chicken-fried biscuit gets an honorable mention for its size." -Larry
Pizza Bagel Bites with andouille, sauerkraut, and house-made cheese
High Points: "I ate most of my bagel bite before I remembered to think about what it tasted like." -Larry
Tastes Like: "I thought of things you put in the microwave." -Jerry
Verdict: "Bagel chip-like tenderness, with a strong marinara." -Barry
Chili Cheese Nachos
The Deets: "It's something you would eat at a ballgame. I've never really been to a baseball game, though." -Barry
High Points: "The tortilla chips... were great." -Larry
Bummer: "It's really greasy." -Mary
The Verdict: "The great American nacho!" -Barry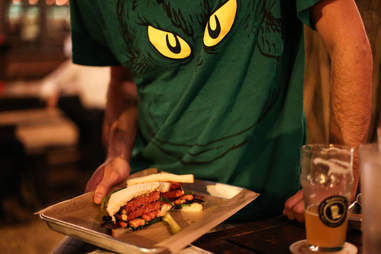 Fried Bologna Sandwich
The Deets: "What is bologna? Is it part of the cow?" -Larry
Moment of Clarity: "I'm not really sure what it is, but I drove through it in Italy." -Barry
Tastes Like: "It's like between salami and Spam. But it's pretty good!" -Mary
Bummer: "The leftovers look really sad on the plate." -Larry
Verdict: "You know this Joe Walsh song, "Life's Been Good"? I always thought it was a Steve Miller song. They play it at Jimmy John's a lot. -Jerry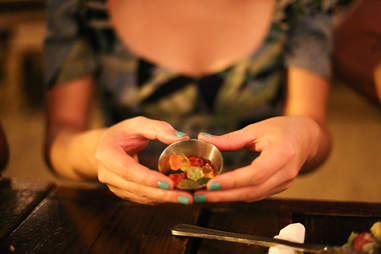 Gummy Bear Brat
The Deets: "What's that? They brought it! A wolf in sheep's clothing!" -Barry
Pro Tip: "The spice of the mustard balances the sweetness of the... gummy bears." -Larry
Moment of Clarity: "Are there gummy bears inside as well????? I put some on top just in case." -Barry
Tastes Like: "I have to eat this?" -Jerry
Bummer: "If I had to choose candy to put in a sausage, it would be butterscotch." -Mary
Verdict: "I could see the kids liking this one. Bring them down to Banger's at 2am!" -Barry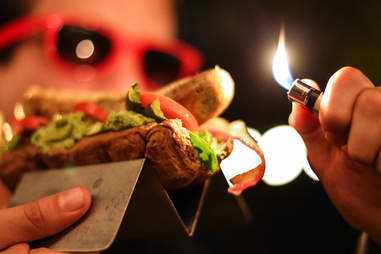 Turkey Bacon Avocado Sausage, drizzled with Tabasco
Moment of Clarity: "All of my BLT sandwiches have been missing sausage. And all my SLTs have been missing bacon." -Larry
Tastes Like: "The black sheep of the menu." -Barry
High Point: "The best part of the sausage was the presentation." -Larry
Bummer: "This is exactly what my doctor told me not to do. Well, except that this has lettuce. And bacon. It's actually the healthiest thing on the menu." -Barry
Verdict: "It's healthy. This is like, hey, could I get a Diet Coke?" -Jerry