Because a round-up of the most sensible salads Austinites ate in 2013 wouldn't be nearly as much fun, we decided to take a look back at the most exciting, heart-stopping fatness that graced Austin's collective palate during the past year. Not surprisingly, beef and bacon were heavily involved.
Recommended Video
Get Your Pizza & Cinnamon Roll in One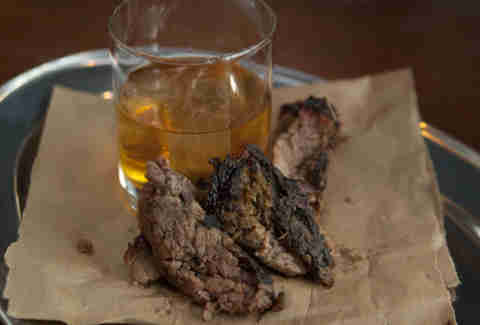 Brisket-Flavored Bourbon
CU29 Cocktail Bar, Downtown
Approximate Calorie Count: 266
Okay, so this is a drink, so it might not have ALL of the calories from the brisket, but the mad scientists at CU29 soaked 2lbs of moist brisket from none other than Franklin BBQ, which makes some of the best in the country, in six liters of bourbon for over a month, combining two of the greatest tastes ever produced by mankind. Ever.
Deep-Fried Bacon Balls
East Side King, East Austin
Approximate Calorie Count: 360
Balls of bacon, breaded in Panko, then deep-fried. Because nothing says "delicious" like hot (yay!)... balls (wait a second!)... of bacon (okay cool, yay!). Served with a sweet and sour dipping sauce as a happy hour treat that costs just $3, this is one Summer special that hopefully makes a return. You know, during that time of year when balls start heating up.
Chorizo Four Ways
Barlata Tapas Bar, South Austin
Approximate Calorie Count: 409 -- bread included!
You know those times when you're presented with a fancy schmancy antipasto spread, but all you really wanna do is push all the frou-frou veggies to the side and get to the chorizo? Barlata does the work for you, giving you exactly what you want, and nothing that you don't. Four different kinds of chorizo, and the teensiest bit of bread. That ratio seems about right.
Chorizo-Topped Fried Deviled Eggs
School House Pub, Central East
Approximate Calorie Count: 706
Because, more chorizo! Truly the devil's work, these bad boys are essentially kinda like Scotch eggs, except COMPLETELY INSANE. Coated in breadcrumbs and then fried, the eggs're topped with whipped-up yolks, mustard, and mayo, and then dotted with spicy crumbled chorizo for good bad measure. Get it? Because they're deviled.
The Stoner
Banger's Sausage House & Beer Garden, Downtown
Approximate Calorie Count: 870
This masterpiece consists of a banger (naturally) wrapped in a bacon-stuffed pancake, topped with a fried egg, shoestring potatoes, and Sriracha maple syrup. The origins of the name are a complete mystery.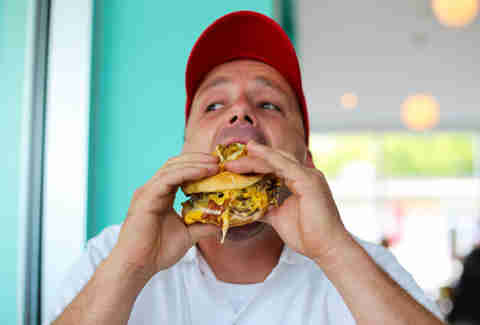 The P. Scary Burger
P. Terry's, South Austin
Approximate Calorie Count: 1233
For one glorious week in September, our favorite burger slinger in Austin offered up this insane four-patty behemoth. The burgers were charred on the grill, alongside off-menu jalapeño peppers and onions cooked in bacon fat (bacon included), then topped with American cheese, mustard, and special sauce before being stacked on a warm bun. Will it make a 2014 return? Only time will tell.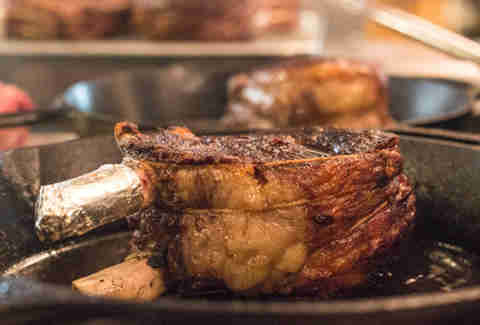 3lb Cote du Boeuf
Qui, East Austin
Approximate Calorie Count: 3680
This beast is Texas Wagyu ribeye, and it's served with sea salt, fish salt, Yuzu Kosho chili paste, mushrooms in vinegar, and an entire peach to cleanse your palate between bites, which only proves the wisdom of the advice your doctor gave you: "Fruit is great, but it should ALWAYS be used in service of enormous hunks of meat."