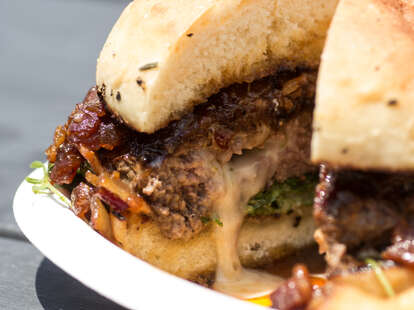 "If you can see it, then you can be it. If you just believe it, there's nothing to it." The mantra originally penned by Robert Sylvester Kelly to inspire the Looney Tunes in an intergalactic basketball game is just as relevant 17yrs later thanks to the guys behind Svante's Stuffed Burger, who've recently relocated from New Jersey to sling grass-fed beef in a signature burger named after the only film with the power to unite Michael Jordan, Larry Bird, Bill Murray, Wayne Knight, and Bugs Bunny for a round of golf: Space Jam.
But first, a little more on the trailer: it was named after the owner's really-great grandfather (b. 1816), who founded the Swedish Hill neighborhood and later established a cattle herd in West Texas that, almost 200yrs later, serves as the source of Svante's grass-fed beef [cue "Circle of Life" Lion King song].
Here it is, the Space Jam Burger. As big as a regular-sized basketball (when photographed from a certain angle), this stuffed wonder features a 6oz patty jammed full of jalapeno Havarti and topped with bacon, arugula, roasted garlic aioli, plus enough bacon-onion jam to ensure there's no way you'll be scoring anytime soon.