Paul Qui's formidable Austin eating empire is now significantly formidable...er with the opening of his East Austin flagship, Qui, the first solo project from the James Beard winner and the first upscale dining establishment in a zone that's more known for Lone Stars than star chefs.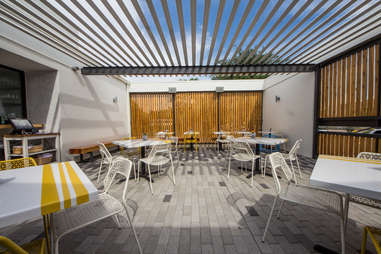 This is their patio. Like a majority of the girls at The Yellow Rose, it has no top.
This is pretty cool: they've got an inspiration board hanging on the sliding doors to the private dining area that's tagged with ideas for (addicting?) new dishes.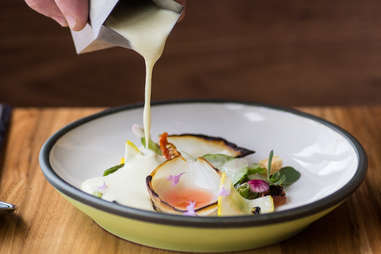 Dishes that make it from the board to your plate include this ode to the pioneer of "tweezer cuisine" (Michel Bras), a meticulously plated array of seasonal veggies doused in chilled garlic dashi, with flavor-bursting bonuses like a shallot boat filled with strawberry vinegar fermented in-house.
This is the Ora King salmon with traditional caviar accoutrements, which you're obviously totally familiar with.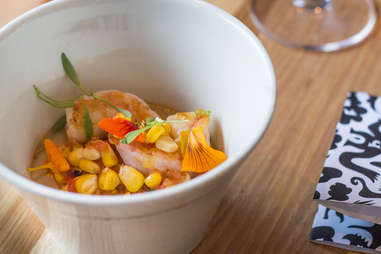 Maybe the most divisive dish on the menu, the Gulf Shrimp rests atop farm egg custard and comes with a menu note from ESK chef Moto: "Do not share."
The Cote du Boeuf is 2-3lbs of Texas Wagyu ribeye served with sea salt, fish salt, Yuzu Kosho chili paste, mushrooms in vinegar, and a peach to cleanse the palate between bites.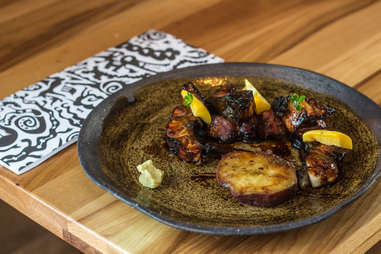 The Catfish Like Unagi flips the kitten of the sea so that it tastes just like a fierce freshwater eel.
The most hyped dish is Rabbit 7 Ways, made using champion show bunnies in everything from pate to belly & confit salad. No, really. Champion show bunnies.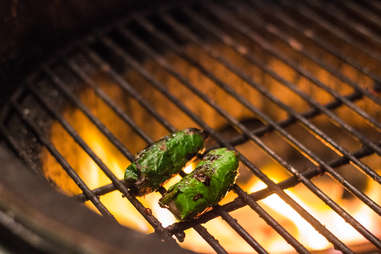 The most accessible version of the rabbit is cooked on a souped-up Coleman grill with shrimp farce stuffed into these green things you definitely recognized as betel leaves.
The rabbit consomme is pretty awesome: a super-savory broth poured from a tea pot and sipped from a tea cup.
Should you be lucky enough to earn a present from the kitchen, they're dishing out a luxe version of cheese and crackers in honor of one of the first dishes Paul remembers from his arrival in America.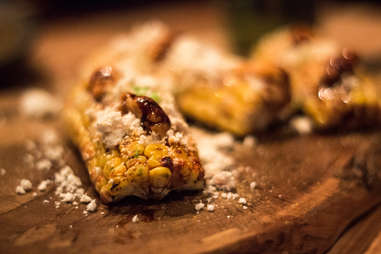 A Japanese twist on Mexican street corn, the Street Urchin is topped with cured roe from the porcupine of the sea.
Qui's taken the ice cream sandwich to new vertigo-inducing heights by loading up crispy waffles with honey and Cabot Clothbound cheddar.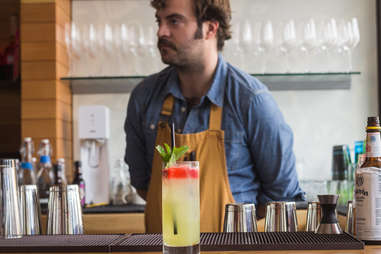 Oh, and the bar program's also totally legit, using the full modernist power of the kitchen to vacuum-cook cocktail ingredients like the sweet falernum syrup in the Moment of Clarity (Fords gin, Chartreuse, lime juice, cucumber kaffir lime juice, creole bitters). Also, spoiler alert: half of the cocktails are Game of Thrones-themed.