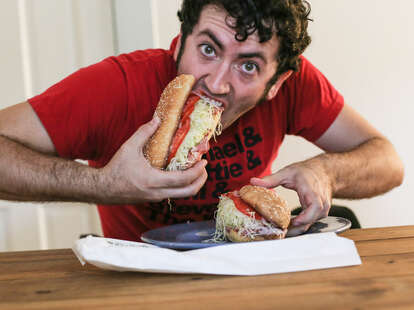 If there's one thing you love, it's going out to lunch. But if there's a second thing you love, it's definitely not going out to lunch, but instead having someone bring you your lunch so you can keep playing Battletoads. Helping you with the latter: Favor, a new service that'll deliver from any restaurant within their target zone (roughly 51st St to Oltorf, Exposition to Pedernales) for a bafflingly cheap fee of just $5 plus tip (until 2a on weekends!). We enlisted their entire fleet of deliverers and challenged them to procure deliciousness from five of the most crowded lunch spots in town. Here's what happened...
Rules of engagement
Save your credit card info into their app, pick your restaurant and food, then fire off a request. The app will keep you updated on the status of your order (received, running, has items, and at your door), and then in generally under 45min, your food will arrive in a very sharply dressed automobile.
Accept no substitutes
Leigh gets bonus points for dressing extremely formal, and also a gold star in strength conditioning for being able to hoist that monstrous 12in Italian sub from Home Slice.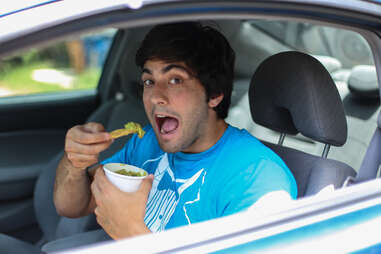 Guac and roll
On the way back from the scorching line of very good-looking hipsters at El Chilito, Bernardo couldn't help but break into their guacamole with one of the crispiest tortilla chips in town.
But we'll forgive him for helping our hungry editor meet his afternoon deadline with a slaw-smothered fish burrito.
Burger fatigue
Next to Franklin, Hopdoddy's lunch line is probably the longest in town, hence Kody is totally exhausted from making small talk with some tourists who just took their photo next to the Jo's Coffee graffiti and love Austin so much.
... this bite of the Llano Poblano burger is dedicated to him.
And resists the temptation of a cold beer...
... to give the type of satisfaction that can only come from a pile of moist brisket.
Taco 'bout a tough job
Last up: the al pastor and akaushi picadillo tacos from one of the town's most notoriously crowded lunch spots, TacoDeli.
A lunch that's well worth a fiver.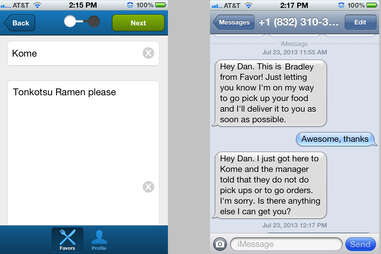 Bonus round!
Favor went 5-for-5 on our lunch challenge, so we sent them one extra-credit curveball. Unfortunately Kome, whose ramen lunch made our editor's best of Austin list, refuses to fulfill take-out orders...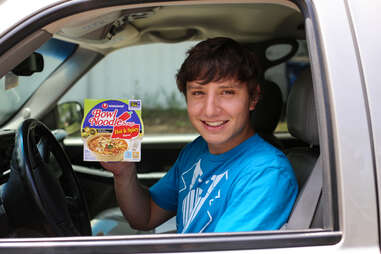 Luckily, Bradley's skilled at improvising. Favor is officially as unbeatable as the Battletoads Speeder Bike level.