10 Women-Owned Restaurants to Support in Austin
Celebrate Women's History Month, deliciously.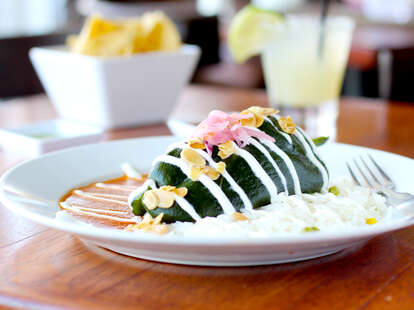 Courtesy of El Alma
Courtesy of El Alma
In honor of Women's History Month, we're highlighting 10 Austin venues where women are dominating the culinary space and demonstrating their excellence. These places in Austin don't just deserve your support on March 8, International Women's Day, but year-round. Each provides the kind of excellent food and service that makes them some of the best places to dine in the city. So, if you want an incredible meal, check out the list below.
When you think of classic South Austin neighborhood spots, El Mesón Tequilería is one of the first that comes to mind. For over 10 years, chef and co-owner Marisela Godinez has been serving up legendary duck carnitas and rich mole sauces which reflect the flavors of her hometown of Mexico City. The environment of El Mesón always feels as celebratory as the dishes—decorated with bright rows of papel picado, all you need is a salt-rimmed margarita to feel like you've jetted south. While COVID restrictions have, unfortunately, suspended their must-go-to Sunday Brunch Buffet, you can still pick their delicious cuisine curbside. We recommend the special, seasonal chile en nogada, a roasted chile poblano stuffed with picadillo, then cooked with fruits, almonds, and white wine, and, finally, topped with a nut and sherry-based sauce and accented with delicate pomegranate seeds.
How to order: You can call either 512-442-4441 or 512-442-4455 to order for pick-up.
One only needs to look at the Riot grrrl-inspired name to know immediately that this vegan, gluten-free, and soy-free bakery is fueled by female power. Owners and bakers, Cece Loessin and Jessica Freda, not only make plant-powered versions of all your favorites, like chocolate chip cookies, brownies, and coffee cake, but also deliver unique desserts that will make your taste-buds head-bang. We're talking Roky Moon Waffle Pies, a better-than-a-Moon Pie sandwich of vanilla cream and cake baked waffle-style, as well as Golden Mylk Cupcakes, a sweet treat version of the trendy turmeric latte. In addition, they also offer cookie and brownie mixes for those punk rock enough to take on the kitchen on their own.
How to order: They are only accepting online ordering on their website during their opening hours (Wednesday - Friday 3 - 8 pm; Saturday & Sunday 10 am - 4 pm), and then contactless pickup from their shop or local delivery. They also offer shipping for their products.
No place in Austin feels more decadently French than Justine's—order a glass of Chardonnay and their mouth-watering, butter-soaked Escargots à la Bourguignonne, and you are transported to the romantically lit cafes of Europe. Justine's is not just the name of the restaurant, but also the name of co-owner, Justine Gilcrease, who opened the spot with her husband in 2009. As that founding story might indicate, Justine's is just where to go when you want to impress your date—sit outside under the twinkling lights in one of their private cabanas, grab one of their famous Royale with Cheese handground Angus beef burger to split, and watch the sparks fly (or, at the very least, enjoy an outstanding meal).
How to order: You can make reservations online or by calling 512-385-2900 for dine-in—both inside or in their outdoor space—or order take-out online.
You'll never find a "Best Breakfast Tacos in Austin" list that doesn't have Veracruz All Natural on it—and for good reason. Their ingredients are amazingly fresh, the corn tortillas are homemade, and their migas, which has just the right amount of spice, is arguably the best in town. Much of this success is due to owners, sisters, and best friends, Reyna and Maritza Vazquez, who learned the ins-and-outs of making great food from their mother and grandmother while growing up in Veracruz, Mexico. While they started with just one trailer in 2008, their reputation for delicious cuisine spread so quickly that you can now enjoy their signature tacos, juices, guac, and queso in five locations around Austin, as well as one in Round Rock.
How to order: All locations are open for dine-in. You can also order online through their website after picking your location.
You could say that LeAnn Mueller has barbecue in her blood—she grew up helping her family operate the nothing-short-of-legendary pit palace, Louie Mueller Barbecue. Despite also having a career as a successful photographer, capturing the likes of Willie Nelson and Jay-Z, she returned to her family roots with the opening of la Barbecue, alongside wife and co-owner, Alison Clem. We could tell you about how their brisket is so good it could make a meat-lover cry from joy, or how their la Frito Loco sandwich, made with pulled pork, chopped beef, chipotle slaw, beans, fritos, cheese, and jalapeños, is one of the best bites on a bun you can experience—but, we think the long lines for their grub, which sells out daily, probably speak for themselves. Be sure to be on the lookout for their new location opening up the first week of May in the building that formerly housed Monger's—we'll be sure to be first in line.
How to order: You can either order in-person or online for pick-up until food is sold-out.
For those who have never had the luck to experience Haitian cuisine, you are in for a real treat when visiting the Kreyòl Korner food truck. Chef and owner, Nahika Hillery, formerly worked in the science field, but now she brings the flavor chemistry to the kitchen, cooking up meals influenced by the ones her mother made when she was growing up. Be sure to try the Poule en Sauce, a stewed chicken dish in a tomato sauce with peppers and onions, whose layers of spice will make your senses soar. Another essential bite is the Akra fritters, made from the Malanga root, which is very popular in Haitian cuisine, and tastes woody and nutty while having the consistency of a potato. They may look like Hush Puppies, but are even better—and just as addicting.
How to order: Kreyól Korner is currently accepting catering orders only, which can be placed directly through their website or via text 512-596-0094, and order can be fulfilled and delivered within 24 hours. Follow them on social media for updates on when they will reopen for walk-up traffic.
If you're in the mood for cold brew, look no further—the coffee at Jo's is as iconic as the "I love you so much" mural that decorates the side of their South Congress spot. No matter what location of Jo's you stop by (and there are four to choose from), you get the full-out Austin community coffee shop experience, complete with prime people-watching, friendly baristas, and, of course, breakfast tacos. Bunkhouse Founder Liz Lambert is as renowned in the city as her coffee spots—she also opened Hotel San José, Hotel Saint Cecilia, and the renovated Austin Motel, which are all great spots to grab a drink whether or not you're staying there as a guest. For Jo's first-timers, we recommended the Belgian Bomber, a half-and-half combination of their cold brew and Turbo coffee which will have you buzzing through the day.
How to order: You can order in-person at any of their locations or go to their website and click on the location you would like to order for pick-up.
While growing up in Thailand, Jam Sanitchat began following her grandmother around the kitchen at five-years-old. That early training served her well—as the chef and co-owner of South Austin's Thai Fresh, Santichat brings brilliance and fresh flavor to all of the dishes she creates. Not only does she do justice to traditional Thai dishes, like the ever-popular coconut soup Tom Kha Gai, or rice-and-chicken street-food staple Kao Man Kai—but her Kaeng Karee yellow curry, which spins together Thai and Indian flavors with a mild kick, showcases her ability to blend cuisines in a delicious and complex way. Don't skip on dessert here either—any Austinite worth their weight knows their bakery turns out some of the best sweets and vegan ice creams you can indulge in.
How to order: Right now, they are only open for curbside pick-up—you can order online through their website.
In its former life, the building that now hosts Launderette was (as you might guess from the name) a former laundromat built in the 1960s. While you may not be able to get a wash-and-fold there now, their Mediterranean-inspired charred octopus, with upland cress, garlic aioli, beluga lentils, and avocado, or their Plancha burger, whose special sauce and challah bun make it one of the best in the city, more than make up for the lack of coin-operated dryers. There's a serious quadruple-dose of lady leadership behind the restaurant as well—in addition to owners, Margaret Vera and Tracy Overath, there is also executive chef, Rene Ortiz, and pastry chef, Laura Sawicki. Speaking of pastry, no meal at Launderette would be complete without one of their birthday cake ice cream sandwiches, which is like the adult-version of funfetti you've always dreamed of.
How to order: You can make reservations online for dine-in or order online for pick-up through their website.
It's hard to beat El Alma when it comes to outdoor patios—their umbrella-decked rooftop deck, which overlooks the greenery of Butler Park, is the ideal place for happy hour people (and dog) watching. Although, to be fair, with enough of their Jacked Sangrias (yes, that's sangria plus Jack Daniel's—we promise it works), almost anyone can get in the "Friday-after-work" mood. Luckily, the food prepared at El Alma, by chef and partner Alma Alcocer, packs as much of a punch as their drinks. While Alcocer's Mexico City roots are firmly planted in the flavors of each dish she creates, it would be a crime to go to El Alma without ordering her signature Crema de Elote soup, a smooth and earthy chowder made of corn and poblano pepper which is topped with queso panela.
How to order: Reservations can be made online for dine-in, as well as for food to-go. There is also a subscription service, El Alma at Home, currently being offered.