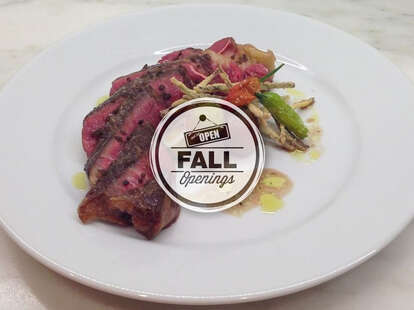 Olamaie
Olamaie
You don't need a thermometer to know that Austin's culinary scene is blazing hot. You also don't need a thermometer to know that Fall doesn't technically start in Austin until November. And you also also don't need a thermometer to get super excited about these soon-to-be-amazing Fall openers. So throw out that thermometer and read on to learn about everything from the Container Bar to In-N-Out.
Name: No Va
Opening on: August 20th
Why You Should Care: Rainey St's newest bar w/ food is from an alum of ChoppedandThe Next Food Network Star, who'll sling a diverse menu ranging from late-night pizza to Cheeseburger Tartare (!!), as well as cocktails like the Lo' Daddy (Sazerac rye, cherry liqueur, Cointreau, bacon bitters, maple syrup).
Name: Haymaker
Opening in: End of August
Why You Should Care: Haymaker's either what you call someone who cuts, dries, and stores grass, legumes, and other herbaceous plants, OR it's Manor Rd's first sandwich shop, an enterprise from the same folks behind Black Sheep Lodge, who're renovating an old auto parts shop and serving poutine (with cheese overnighted from Wisconsin), Chicago-style Italian beef, and a solid selection of beers on tap.
Name: Noble Sandwich Co
Opening in: October
Why You Should Care: Your favorite nationally lauded North Austin sando destination is expanding to a much more accessible Burnet Rd location, where they'll sling a similar menu of meaty delicacies on house-baked bread, with one important addition for cheap beer lovers: a 5-7p happy hour.
Name: Container Bar
Opening in: November
Why You Should Care: The White Whale of Rainey Street, Container Bar has been in the works for a very, very, very long time, but fear not! Ground has been broken, the shipping containers have been purchased, and Austin will soon have a watering hole worthy of a cameo on Shipping Wars/that one season of The Wire with all the dead Russian prostitutes.
Name: Olamaie
Opening in: Fall 2013
Why You Should Care: Boasting experience at one of LA's top restaurants (Son of a Gun), the dudes behind Olamaie are taking over the former Sagra space and setting their culinary laser beams on a style of Southern food that strays from the city's often overly fried options.
Name: Pleasant Storage Room
Opening in: Fall 2013
Why You Should Care: The former East Side Showroom chef is setting up shop in the previous Stack Burger Bar digs on 4th St, where he plans to solve your hunger crisis with a Cuban menu and high-ABV rum punches.
Name: Mean-Eyed Cat
Opening in: Fall 2013
Why You Should Care: One of Austin's most iconic bars is re-launching in the base of the Gables 5th Street Commons with similar "Man in Black"-referencing decor, including wood from the original bar, with the tasty addition of Stubb's BBQ.

Name: Odd Duck
Opening in: Fall 2013
Why You Should Care: The Barley Swine folks will be going back to their roots and reviving the much-loved Odd Duck trailer as a brick and mortar just blocks from its original trailer digs. The food should be similar to the original, but no one's quacking with any details.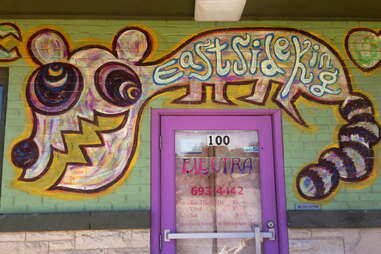 Name: East Side King
Opening in: Fall/Winter 2013
Why You Should Care: Now that Qui has opened its doors, Austin's golden boy's shifted his focus on opening his next spot: a brick and mortar ESK on South Lamar, just a stone's throw from his old Uchi stomping grounds.

Name: LaV
Opening in: Late 2013
Why You Should Care: The same folks who brought you sweet potato donut holes have broken ground on a neighboring brick and mortar where they'll be serving a much-expanded version of diverse trailer favorites, ranging from goat kebab to pulled pork shoulder.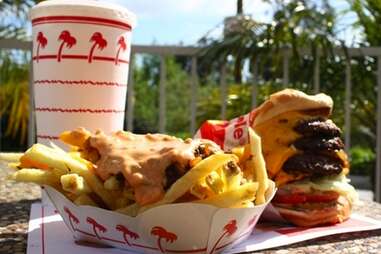 Name: In-N-Out
Opening in: Not soon enough
Why You Should Care: In yet another instance of California Does Austin, P. Terry's is going to be getting some serious not-fast-food burger competition with several outposts of In-N-Out.