The 11 Best Food Trucks in Austin Right Now
Austin's packed with foodies and students, so it makes perfect sense that we have as many quality food trucks as we do. These trucks are a mixture of fun culinary mashups, regional imports, and simple comfort food executed perfectly. We scoured the city, ate a ton of food, and sat at a lot of picnic tables to narrow down the best damn food trucks Austin has to offer -- and here they are.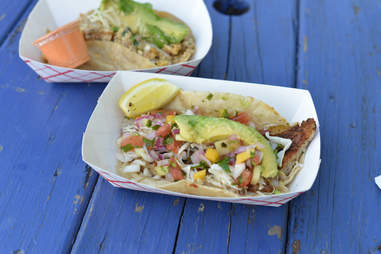 Anastacia Uriegas
Where to find it:
East Cesar Chavez, and at Radio Coffee & Beer
It's tough to name Austin's best taco trailer, but Veracruz might just win out thanks to its homemade tortillas and knock-out-delicious migas taco. The scrambled eggs, pico de gallo, Monterey Jack cheese, avocado, and perfectly crunchy tortilla strips you get in each bite are why Alton Brown declared this the best breakfast taco he's ever had. For lunch, you can't beat the savory-with-a-hint-of-sweet fish taco made with grilled tilapia, cabbage, mango pico de gallo, avocado, Monterey Jack cheese, and drizzled with spicy chipotle mayo. If you get carried away at the fresh salsa bar -- and you will -- cool off with aquas frescas in an array of refreshing flavors, like watermelon, cucumber, and cantaloupe.
Via 313
Where to find it:
Behind Craft Pride/in front of Violet Crown Social Club
Nationally lauded pizzeria Via 313's has expanded its empire from a single truck on East Sixth to now having a truck on Rainey, one brick-and-mortar serving the campus area, and another in the family-oriented Oak Hill 'hood. Whichever location you frequent, we highly recommend The Detroiter: a square slab of pure pizza gluttony, with a thick-but-fluffy crust that's given more love than most (all?) stepchildren, then topped with two types of pepperoni -- yes, there's apparently more than one type of pepperoni. Order your square pie and enjoy a cold pint inside Violet Crown Social Club while you wait.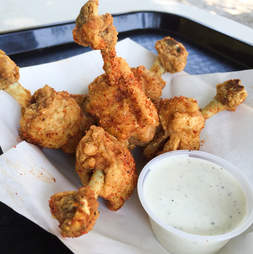 Tommy Want Wingy
Where to find it:
Patio at Lustre Pearl on Rainey Street
Forget squishy, over-sauced wings: Tommy Want Wingy's are lollipopped, battered, and fried to a perfect crisp. There are nine flavors on offer, including spicy pineapple, spicy ranch, and sweet chili, but our favorite is the Chile Limon with zesty lime juice and Tajin seasoning. Pro tip: You've got to order in person, and the trailer's actually in the bar's patio, so make sure you're 21 before showing up.
Nicolai McCrary
Where to find it:
The Patio at St. Elmo Brewing
Led by Chef Teddy Bricker, the team at Soursop have created a small menu of modern Pan-Asian hits that pair perfectly with the brews at St. Elmo Brewing next door. We absolutely love the spicy and sweet jumbo sambal wings, the tiki tteok, and the very new tom kha soup dumplings, but make sure you try the Waterburger: an elevated beef burger that pops with caramelized ranch, marinated cucumber, and garlic pepper.
LeRoy and Lewis
Where to find it:
South Congress, near St. Edwards University
Evan LeRoy, the former pitmaster of Freedmen's, has taken his show on the road with the new-ish LeRoy and Lewis. On weekends, the truck serves the moist brisket LeRoy is known for, but you can also dig into unique daily specials like mac-and-cheese-stuffed quail, and a brisket sandwich served with kimchi and beet BBQ sauce.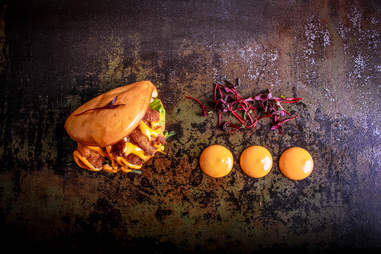 @janellereneematousphotography
Where to find it:
Behind Star Bar on West 6th
The food trailer combines "Japanese and Spanish flavors with street food techniques," to deliver comfort food with a unique twist. You can get mash-ups like the fried soft shell crab, served on a fried bao bun and dressed with bacon, lettuce, cucumber, and spicy bacon remoulade, but we're most excited about the Masa tempura fried chicken with kimchi, cucumber, greens and spicy mayo (it can be served on a fried bao bun or a flour or corn tortilla). Plus, on the first Sunday of every month, Star Bar offers a $30 over-the-top bloody mary which arrives with a bouquet of skewered donuts, cupcake, pickled veggies, AND an entire savory pretzel bun cheese burgers and tempura fried chicken chunks made by Masa.
Where to find it:
On the Patio at Whisler's
Thai-Kun is a favorite for anyone who wants a delicious, tongue-scorching meal and creative cocktails from Whisler's. The brave should try the fiery panang curry beef and the waterfall pork, while the uninitiated would be wise to stick with the crispy Thai-Kun fried chicken, served with chicken fat rice.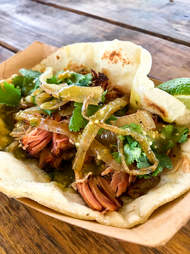 Valentina's Tex Mex BBQ
Where to find it:
South Manchaca Road
This family-owned and operated truck combines the best of Austin's culinary identity: Tex-Mex and BBQ. People line up for the homemade tortillas, smoked carnitas, brisket, pulled pork, fajitas, and more (all topped with fresh salsas) which make up the Tex (sandwich) and Mex (tacos) menu. And because this is Austin, meat by the pound is always available.
Jessica Fradono
Where to find it:
East Cesar Chavez Next to Stay Gold
Dee Dee Thai is THE spot for Northern Thai street food, helmed by co-owner and native Thailander Lakana Sopajan Trubiana. The small menu is packed full of favorites like spicy pork Pad Kapow served with a fried egg, or the aromatic Om Gai: rustic chicken with flavors of dill, lemongrass, chili, spring onions, and Thai Basil served with sticky rice. Make sure to grab a creamy Thai tea while you wait.
Luke's Inside Out
Where to find it:
South Lamar next to Gibson Bar
There are many reasons to love Luke's Inside Out, the first of which is that it's home to one of the best cheeseburgers in Austin: an 8 ounce sirloin/bacon patty topped with melted Cheddar, fixin's, and the pink, secret recipe Love Sauce. Reason number two is that the kitchen team creates new specials every night of the week, including Wednesday steak nights (which usually run around $20). And finally, brunch: Every Sunday from 11:30am to 3pm, you can grab cheesy migas with tater tot hash, Sichuan chicken with waffles and brie, and plenty of other indulgent dishes. Even better, Gibson Bar next door offers $1 mimosas and a $5 Bloody Mary bar!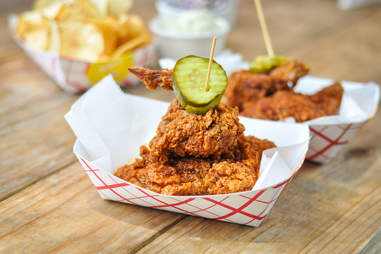 Ashlyn Allison
Tumble 22
Where to find it:
West Fifth Street
From the owner and executive owner of happy-hour haven Salty Sow, Tumble 22 has been an instant success thanks to its juicy, Nashville-style hot chicken. Locally sourced chicken is tumbled in seasoned flour, a "secret blend of spices," fried to a crisp, and dipped into your choice of fiery sauces: Wimpy, Hot, Dang Hot, and Fire in the Hole (the last one needs no explanation). In addition to classic hot chicken, Tumble 22's menu has Nashville-inspired classics like the Southern Chicken Sandwich, a boneless chicken thigh tossed in hot sauce and topped with kale slaw, bread-and-butter pickles, and Duke's Mayonnaise.
Sign up here for our daily Austin email and be the first to get all the food/drink/fun in town.