This Instagram-Based Cookie Shop's Global Flavors Will Blow Your Mind
The pandemic-born, Austin cookie pop-up Galleta draws influences from both Mexican and Filipino family heritages.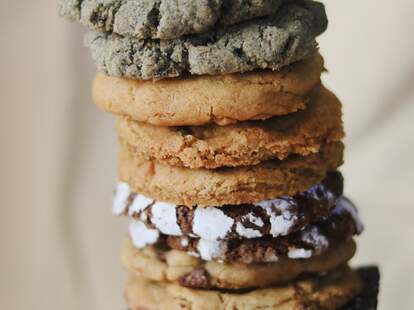 Courtesy of Austin's Galleta cookie shop
From an early age, Joseph Gomez was motivated by all things sweet. His family knew the best way to get him to behave as a child was a sugary distraction. "My grandfather would always have cajeta, which is a goat milk caramel, in a jar in the refrigerator," Gomez says. "So, if I was running everywhere or being really loud, like I normally was, he would scoop some out of the jar and give it to me." When the impact of COVID-19 left him unemployed, Gomez originally planned to open his own taqueria, but instead pivoted to begin baking cookies on the side, and found inspiration in the flavors that drove his culinary passion from an early age.
As a result, Galleta, Gomez's online cookie shop, was born—and quickly became a city-wide obsession. Gomez had no idea when he first started selling his cookies through Instagram, however, that his side hustle would transform into a full-fledged, full-time business. Luckily, his background in the food industry prepared him for opening his own bakery. Gomez's paternal grandfather owned a Mexican restaurant in Brownsville, where Gomez would hang out with his father and help with dishes. He continued to build his kitchen cred throughout high school and college and, when he moved to Austin in 2009, in the kitchen at both the Alamo Drafthouse and Easy Tiger. But until Galleta, baking remained a personal hobby.
The necessity to support his family during the pandemic led him to develop serious recipes from what, before, he considered a part-time activity. And there's no doubt that the magical, one-of-a-kind flavors that Gomez concocts are in large part responsible for the shop's success. You could call him the Willy Wonka of cookies—who else could think to combine the texture of Brazo de Mercedes, a Filipino meringue-based pastry (Gomez's wife is Filipino, and those flavors make a strong showing on the menu), with the home-grown taste of South Texas citrus into a pavlova cookie? He cities the main inspiration for his desserts as "different places that make me happy, I have a good memory of, or always stuck with me."
Courtesy of Austin's Galleta cookie shop
Within that broad spectrum of influences, however, one thread runs through all that Gomez bakes: his Mexican-American heritage. Take, for example, the Cajeta Dream cookie, which is not only inspired by the Mexican caramel treat his grandfather bribed him with back in the day, but is dusted with a bright-pink hibiscus powder based on an agua fresca, Agua de Jamaica, he constantly drank on hot days as a kid. Recently, a customer from Scotland who tried the Cajeta Dream raved to Gomez how the cookie struck a chord with him as his family had goats growing up and they used to caramelize the milk. "It was kind of cool to see how a person from a different part of the world connected with it even though they never had cajeta growing up," Gomez says.
His family's history is not only a key part of his product, but a major influence in his business practices as well. "My mom's side of the family are all migrant workers from Mexico and, when they were in the States, they traveled the country picking fruit and cotton," Gomez explains. "They spent a lot of their life working hard to make money, and they struggled a lot." In recognition of that, Gomez is dedicated to sourcing his ingredients only from farms that treat their workers responsibly and pay them living wages. Noting how the average person takes the immense amount of toil that produces their food for granted, he feels an obligation to contribute to people that really do the work to provide for others.
Courtesy of Austin's Galleta cookie shop
As for advice for those who want to dive into his delicious creations, but don't know where to begin, Gomez recommends two favorites: The first is the previously mentioned Cajeta Dream, and the second is the Café de Olla Crinkle, inspired by the aromatic Mexican coffee beverage. "It's kind of crispy on the outside and super fudgy in the middle," he says.
You can currently order Galleta through their website only. The process is simple—after reviewing their menu, you fill out a form and venmo @thegalletashop to confirm. Then, on either Saturday or Sunday, between 9 am - 3 pm, you pick up your order from Downtown Austin. Don't forget your PPE—as their website states in capitalized letters, "No mask, no cookies!"