Trying to fatten up while also tightening your belt sounds like terrible advice -- and in any other city/state, that would probably be true. But this is Austin, and we are blessed with an abundance of delicious food options for less than the cost of a mere five spot. These are the best in town.
Multiple locations
You bet your local-loving ass P. Terry's burgers are less than $5. Just be forewarned; the "P" stands for petite. When you're finished with your $2.60, 100% all-natural Black Angus cheeseburger, use the change to buy a milkshake and stave off hunger.

Allandale
Burgers are always a good go-to when it comes to cheap, yet filling, food options, but Top Notch on North Burnet takes it up a... notch. There you'll find seven different burger options under $5, plus a full menu of cheap sandwiches ranging from fried fish to chicken salad to chicken-fried steak.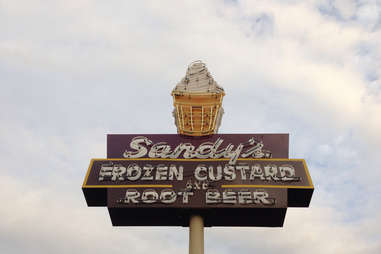 Barton Springs
We know what you're thinking -- more burger options? Look, you're broke, and paupers can't be choosers. But if they could be, they'd still choose Sandy's for the same $4.39 cheeseburger the Austin institution has been serving since 1947.

Rosedale
If poverty/budgeting/just plain cheapness has you feeling down, eat a gyro from Phoenicia Bakery & Deli on Burnet. It's what comfort eating was made for.
East Side
$4.60 for one Don Juan potato, bacon, egg, and cheese taco seems steep. $4.60 for an overflowing mountain of potato, bacon, egg, and cheese served on a platform of flour tortillas seems like the best brunch deal you're ever going to get. They don't call it a taco grande for nothing.

Braker Lane
Don't let the ladies tell you otherwise. Size matters. And at Baguette House you can get a thick, bulging funnel of pork, head cheese, pate, cilantro, and bánh mì goodness. All 10in of it for less than $5.
North Lamar
Good luck finding authentic Indian food for less than $5 South of 183. Honestly, good luck finding authentic Indian food for less than $10 South of 183. If you're up for the drive -- just think of the dosas -- the majority of Swad's ever-changing menu clocks in at five buck-a-roonies.

Braker Lane
Same deal as Baguette House, but Lily's Sandwich (just one, not plural) offers a wider variety of Vietnamese fare including rice noodles, spring rolls, and steamed buns on the cheap. The restaurants are also both located in Austin's Chinatown and, since you're driving so far up North anyway, why not stop at both?
Multiple locations
What goes better with hunger and mild intoxication than weiners? The Hot Dog King food truck usually stationed on Red River has tons of them for under $5. Weiners made with venison? Totally. Weiners made with turkey? Yep. Weiners made with vegan sausage topped with portobello mushrooms and basil? Whoa there. But yes, it's got those too.

East Side
Tamales are $2.50, breakfast tacos are $1.25, and most lunch and dinner plates are at or around $5. Plus this East Side establishment just got its liquor license, which means you can wash down that cheap food with cheaper booze. That is literally almost priceless.
Multiple locations
In Austin, cheap Tex-Mex can be found within a taco-throw of any apartment, but only a lucky few can claim to live so close to a Taqueria Arandas. With more than five Austin locations, the Texas chain has clearly made it its lifework to bring inexpensive gorditas, tacos, quesadillas, taquitos, tortas, and tostadas to the poor and needy. And for that, we thank them and let them keep the change from our $5 bill.

Multiple locations
Dan's your man if you're looking for cheap brunching options in the ATX. Omelets are out of your price range, but anything on the menu involving a biscuit is just your speed, as is the pancake short stack. Stay for lunch and enjoy one of the restaurant's famed burgers for under $5, so long as you don't get too fancy with it.
South Congress
A piece of pizza from Home Slice is never a bad idea, particularly when you've got just enough in the bank account to cover a mushroom and pepperoni slice. Alternatively, you could just get the $3.50 garlic knots with some oh-thank-God-it's-complimentary marinara dip.

Multiple locations
Subway who? At ThunderCloud Subs, $5 gets you access to the Austin institution's monthly special featuring local ingredients and bread that isn't cardboard. It's worth it for the ThunderSauce alone.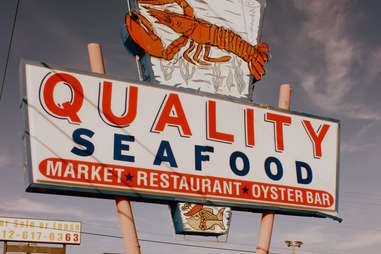 Airport Boulevard
Generally it's a good rule of thumb to steer clear of restaurants with the word "quality" in their name. The Quality Seafood Market on Airport Boulevard is a lone exception. All seafood tacos -- made with gulf shrimp, mahi mahi, or catfish prepared blackened, grilled, or fried -- are $4.99, unless you stop by on Tuesdays when they're sold for $3, leaving you exactly enough cash for one $2 domestic draft, or two $1 Lone Stars.
Sign up here for our daily Austin email and be the first to get all the food/drink/fun in town.