Some people may be calling this "The Great Slowdown," but you wouldn't know it by the packed grocery store parking lots. But the good thing about living in Austin is you have alternatives. Takeout is one, obviously, but you can't do that every night of the week (or can you -- here's our Austin takeout guide if you want to try). Using the major services (like Instacart and Favor) is another one… if you can get a slot. A better solution is to go really local. Homegrown delivery services have quickly gained a foothold, farms are finding a new, devoted audience, and restaurants are selling both pantry staples and gourmet goods for your home cooking attempts.
Runner City was initially created as a cooperative by some furloughed friends to help out immunocompromised people in 78704. Now it encompasses areas like Leander, Johnson City, Kyle, and more. It's essentially a lightly moderated Facebook group where members request and fulfill deliveries, a bit of a free-for-all peer-to-peer service. Need Lysol? Someone will do that. Need something delivered to someone else? They'll do that too. Just post your request and a runner makes their delivery, taking payment via Venmo or other electronic transfer.
Single Moms of Austin Helping and Sharing (SMASH) began four years ago as a community support group for (you guessed it!) single moms and it has since evolved into a non-profit, the Single Mother's Alliance. As members fretted about losing their sources of income, group founder Tracie Kennedy created Corona Mamas, a service connecting members willing to make deliveries with those needing assistance. To get something delivered, submit a request via the website where a small team will connect you with a delivery person. Also, 100% of the "fee" and tip goes to the person delivering your items so tip well.
Farmers markets
Yes, just as grocery stores are still open, so too are the Farmers Markets. The experience won't be quite the same because of social distancing, but you can still get that fresh-from-the-farm flavor at markets around town. The markets currently operating are the Texas Farmers Markets at Mueller and Lakeline, the Sustainable Food Center locations at Republic Square and Sunset Valley, the Lone Star Farmers Market at Hill Country Galleria, Farmer George Market at Gateway and in Round Rock, and Barton Creek Farmers Market. All the markets have put measures in place to ensure minimal contact, have added precautions like hand-washing stations, and you can even pre-order the items you like with "curbside" available at some locations.
Head to Boggy Creek Farm to buy produce that is about as farm fresh as humanly possible. They host a popular market from Wednesday to Saturday between 8am and 1pm and have revamped the process to be Covid-conscious. It's first-come, first-serve so you're likely to get more variety in the morning. In addition to their own goods from the field, they've partnered with other local farms and restaurants. Stock up on milk from Richardsons, eggs from Coyote Creek, coffee from Texas Coffee Traders, bread from Texas French Bread, grass-fed meats, cheeses, soaps, and more.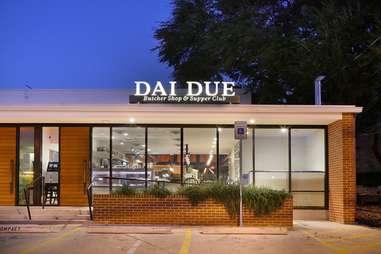 Dai Due has long led the charge on local and sustainable items but they've outdone themselves during the pantry-demic. While you're on the site ordering yourself a dry-aged Wagyu double cheeseburger, browse around the extensive non-prepared offerings. They've got an "as available" range of meats from the butcher shop, local produce, proprietary rubs and spices, pickled and fermented items, and basics like eggs, flour, and milk. And while you're at it, tack on a $5 donation to the Central Texas Food Bank.
Spring evenings in Lenoir's wine garden and intimate dinners in their dining room may not be on the menu but gourmet goods are. Lenoir has also shifted to doing takeout and staples, but they have a more varied menu than most. They are offering the basics -- eggs, milk, butter, housemade Pullman bread -- but home cooks with a more refined palate should load up on their carrot top chimichurri, perfect aioli, tomato masala curry paste, and more. You can also buy from their wine selection, get your knives sharpened, and donate a meal to first responders including APD and Dell Children's.
If there's any place that has access to masses of fresh fruits and veggies, it's Daily Juice. Their online offerings now include a produce-based grocery bag option chock full of carrots, broccoli, sweet potato, lemons, carrots, grapefruits, and spinach, of course. It's not all greens though -- they are delivering goods from other local businesses so you can also get Wholy Bagel, K-TONIC Kombucha, Riser Coffee Cold Brew with your purchase. That partner list will continue to evolve as more sign on. Share three bags with neighbors or donate a bag to the food pantry to get free delivery.
Ditch your mac & cheese for something a lot more delicious. Antonelli's Cheese has been the go-to spot for Austin's cheese needs but like a lot of specialty stores, they've expanded their menu. They're still sharing the best selection of cheese, charcuterie, chocolate, and sundries in town but now you can pick up some broccoli with your brie, some celery with your chevre, and some mushrooms with your manchego. Order ahead for a higher likelihood that they'll have your items. Don't forget the wine.
One of the most recognizable names in the Texas game, Farmhouse Delivery has one of the broadest reaches among the local services. Per their site, they've seen such a huge surge in demand that you'll have to register to get one the waitlist for ordering. Still, it's worth it to know you'll be supporting Texas-based ranchers, farmers, and artisans every time you get a delivery. They have a wide range of options including produce box subscriptions, a meat-heavy ranchers box, meal kits (like steak with blue cheese butter), and individual groceries.
Sign up here for our daily Austin email and be the first to get all the food/drink/fun in town.
Kelly Stocker is a Thrillist contributor.