Recommended Video
The Mexican-Style Grasshopper Tacos You Have to Try When You're in South Beach
The art deco hot pocket mobile is one of the tiniest in town and helmed by a pair of CT improv veterans, so when you ask them if they're open, they'll most likely reply "Yes, and".
The baker behind the pockets also bakes empanadas for Pacha. Here her skills are applied to the Bend It Like Beckham: a samosa served with date and tomato chutney and loaded with posh (!) spices.
The Fromage a Trois is loaded with Antonelli's aged cheddar, local goat cheese, Parmesan, and fresh pear.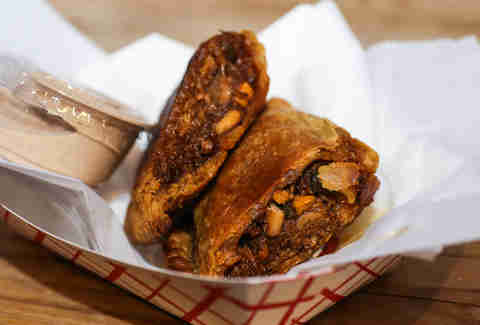 Here's a deep-fried version of the Ancho Villa, stuffed with slow-cooked ancho chicken thighs that didn't spend nearly enough time crossing the road (they're fat. We're saying they're fat).
And for dessert, they've tapped Hyde Park creamery Sweet Ritual to make this lemon ice cream sandwich you'd be bananas not to try.
Previous Venue
Next Venue
Venue Description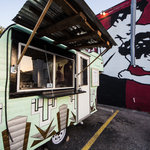 1. Haute Pockets
4803-B Airport Blvd, Austin, TX 78751
A hot pocket trailer (!) right next to ColdTowne Theater, serving up such greatness as a Bend It Like Beckham samosa with date and tomato chutney, a Fromage a Trois pocket with three cheeses and pear, and dessert ice cream sandwiches from Hyde Park's Sweet Ritual.