Houston's Local Foods Opens Its First Permanent Location in Austin
Local Foods' temporary pop-up goes brick-and-mortar in a chic and airy 2nd Street District space.
Mackenzie Smith Kelley/Local Foods
Great news: there's no need to drive to HTX to get your fill of delicious overstuffed sandwiches (or wait for the pop-ups to come back), Local Foods is here to stay. The Houston restaurant finally opened its first ATX brick-and-mortar shop in the 2nd Street District, following overwhelming public demand.
Founders Benjy Levitt and Dylan Murray and partner Martin Berson have been peddling sandwiches since 2011. Their latest addition follows the company's ethos of clean, locally sourced hyper-seasonal ingredients from local farmers and purveyors, with a subsidiary mission to give back to the community. Local collaborators in Austin include Fresh Tofu, Pure Luck Dairy, Antonelli's, Joe's Microgreens, Basic B Chai, and Dos Lunas. "We're still getting our feet wet in the Austin market in a post-COVID world and seeing which local suppliers are a good fit. We've spoken to thirty or forty so far, and have another thirty or forty on our list." Berson tells Thrillist, who adds that the bread, however, will continue to be sourced from Houston. "We partnered with Slow Dough since the beginning, helping each other grow, and we still believe the quality of their bread is unrivaled."
Menu staples and fan-favorites include the Crunchy Chicken Sandwich made with roast chicken breast, nut-seed crumble, salad, pickles, and buttermilk ranch, stacked high on a Slow Dough pretzel bun; and new for Austin is the roasted beef sandwich that shows up on the special's board. "We've been crushing on the roast beef sandwich our chef Zack Sutton created," says Berson. "He's roasting a chuck roll from 44 Farms and serving on toasted ciabatta with Dos Lunas Black Pepper Cheddar and horseradish aioli. It will be around for a while."
Though their sandwiches are the talk of town, Local's all-day soups, salads, sides, and sweets boast the same attention to detail. Good examples are the seasonal Harvest Salad that currently features leafy greens, organic veg, Pure Luck goat cheese, and Texas watermelon—basically a giant bowl of nutrients—and the Classic Chicken Posole, which though hot, soothes with a tangy broth topped with cilantro.
No weekend on 2nd street is complete without a stiff beverage, and Local's booze cabinet plucks the best of local and regional. Wines hail from the likes of Southold Farm + Cellar, Wine For The People, and Pedernales Cellars, while an all-local beer list consists of Fairweather Cider, Live Oak, Hops and Grain, Pinthouse, and Independence Brewing. Those adult bevys can be enjoyed in the comfort of two floors of chic AC'd seating, or out on the streetside patio. "The space was designed by Micah Land, who designed the first few Snap Kitchens and the last couple of Local Foods before the Austin store," says Berson. "We're on an amazing corner surrounded by a dynamic mix of retail and restaurant neighbors, offices, hotels and residential buildings. There's so much energy and activity around us all day, every day."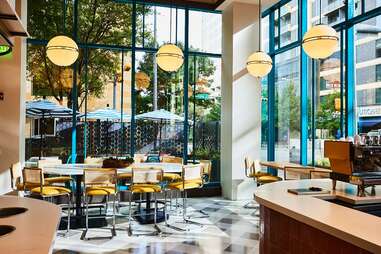 Berson and co. are currently scouting non-profits to benefit local communities. "In Houston, we've been a long-term partner with Pro-Vision Farm," he says. "They're an inner-city community garden teaching sustainable methods to at-risk youth in a self-sustaining business model. They have an amazing track record of helping kids forge a positive path during critical stages of their lives. And the produce is phenomenal."
Local Foods is now open on 454 W. 2nd St, 11am - 8:30pm. Parking is free at the 2nd Street District AMLI garage on San Antonio St, weekdays before 5pm for two hours. A brunch menu and early morning takeout window for breakfast sandwiches, pastries, matcha, and coffee will begin this fall.
James Wong is a Libra who spends his time pretending to be a vegan, watching wildlife clips, and booking plane tickets. Born in London, lived in Tokyo, and now residing in Austin, his greatest achievement is giving Posh Spice a hug in 2016.