Hey Austin: This is the most interesting way to Dos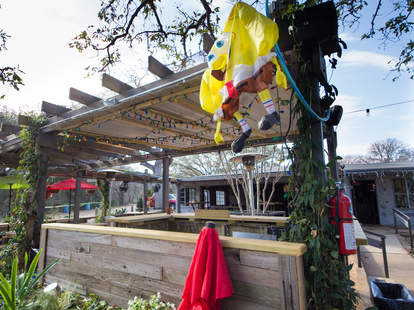 Cinco de Mayo, the best holiday… on the worst day (Monday, you suck, always and forever). That's why we've cooked up Dos de Mayo, everything awesome about Cinco de Mayo, but on a far more party-superior day: Friday. We're not suggesting you call in sick, but if you were to call in sick, we've got an itinerary taking you from breakfast to late-night, ensuring diez times de fun.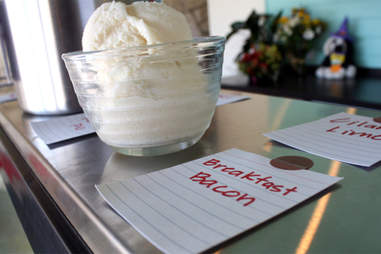 Lick Ice Creams
2032 S Lamar Blvd
Sun up, time for breakfast… get the fainting couch ready…ICE CREAM! Lick's puts the mouthH2Oing deliciousness of swine into their Breakfast Bacon Ice Cream with Blackstrap Molasses. It's pure, unadulterated cereal-shaming.
Curra's Grill
614 E Oltorf St
Time to dig into the self-proclaimed "Mother of All Mex", Curra's Grill, where you'll protein pump taco-style. For a buck fifty you're getting two tacos you can fill with any two of the following: egg, bacon, potato, country sausage, chorizo, machacado, mushrooms, beans, ham, or cheese. Be practical here: try all ten for six bucks.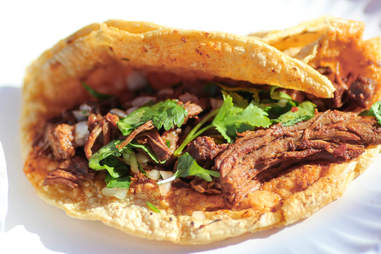 El Chato
1617 East 7th St
Perhaps the only Greyhound where a rusty spork shanking is unlikely, this "bustaurant" serves up authentic Mexican cuisine like the flag-inspired Chiles en Nogada: poblano chiles (green) filled with picadillo, topped with a walnut-based cream sauce (white) and pomegranate seeds (red).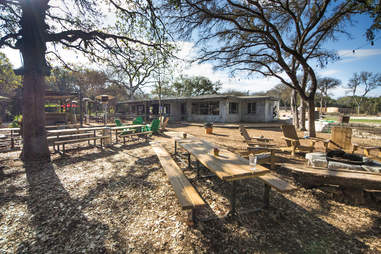 Moontower Saloon
10212 Manchaca Rd
Next up, steer off the beaten path toward the three-acre outdoor food truck depository/bar/park that is Moontower. Packed with trailers full of succulence, it's got everything: alcohol-infused cupcakes; volleyball; firepits; a photobooth. It's basically the trailer-park version of Wet Hot American Summer.
Takoba
1411 E 7th St
Prepare to be an adult-sized grown-up as you make your way back toward civilization and Takoba's sandbox patio, where you can catch mid-afternoon rays while ordering José's Micheladas: Dos Equis Lager, fresh lime juice, and housemade michelada mix with a kosher salt rim.
Bikinis Sports Bar And Grill
214 E 6th St
You can't celebrate Dos De Mayo without celebrating America too, so turn the party up and head to a bar that shares a name with SpongeBob SquarePants: Bikinis Sports Bar and Grill, where, besides the view, you'll enjoy 50-cent wells and wings. Bonus: fried cheesecake and fried Oreos.
Little Woodrow's 6th St
520 W 6th St
Waddle just up the street, because it's turtle time! Starting on Dos de Mayo -- and one Friday every month all summer long -- sit back and watch as six Olympic-caliber turtles (that's not a thing) race their way to the finish line. Can you bet on this awesomeness? Yes. Yes you can. Know what else you can bet on? That the Dos de Mayo party we're throwing there is going to be awesome. RSVP right here.
La Fruta Feliz
3124 Manor Rd
As the sun begins to set, get bold(er) at La Fruta with the Lengua de Res Taco stuffed with beef tongue. Not bold enough? Commit what is probably a stage in a pagan fertility ritual with the Barbacoa de Cabra, a taco stuffed with tender and sweet stewed goat head meat, onion and cilantro.
Dogwood
715 W 6th St
Still hungry, right? Good because it's time for Dogwood's pork roll, which is stuffed with chorizo, japaleños, and Muenster, and then wrapped in bacon. Piggy comes plated with Parmesan potato skins, black bean-corn relish, and country gravy. After all, your gravy levels will probably be perilously low at this point.
Las Cazuelas
1701 E Cesar Chavez St
Open all 24 blessed hours of Dos de Mayo (but best enjoyed late-night, obviously), end your 21st century odyssey by mentioning an online ad offering free chili con queso with a full meal purchase, and receive… the chili con queso! As for that meal, you're not going to go wrong with the Huevos Con Machacado (three eggs scrambled with dried beef jerky, refried beans, and potato in a fresh tortilla). Now pat yourself on the back -- you did Dos like a damn champion.