Sometimes you have to embrace the fact that every awesome night out has to come to an end eventually. Or does it? Whether you're desperately in need of late-night sustenance or looking to keep it going with some late-night karaoke, these late-night joints are here for you.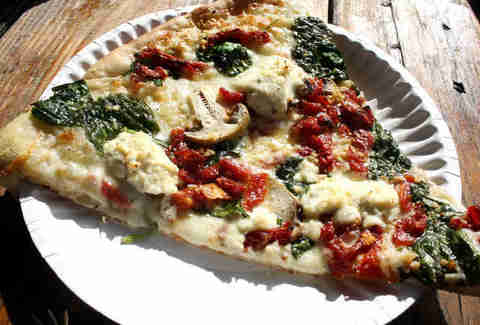 More Home Slice
South Congress
Not just how your middle school self unironically asked for another helping in the mid-'90s, More Home Slice serves up some of Austin's best pies, and the to-go window is open until 3a on Fridays and Saturdays so you can make a quick getaway to feed your face with their perfectly textured thin crust slices.

Justine's Brasserie
East Austin
JB is unabashedly cooler than thou with a bit of a see-and-be-seen scene (say it quickly!), but you'll be hard pressed to find a better late night meal (the kitchen stays open until 130a!), from textbook steak frites to escargot and boozy cocktails you didn't necessarily need, but will gladly accept.
Hi Tunes Karaoke
Crestview
There are several choices in town if you like to pretend you're auditioning for The Voice, but this new-ish pick stands out among the pack. Super clean rooms, and a BYOFood policy (seriously, you can take food or order a pizza), along with the usual BYOB, combined with being open until 5a on weekends ensure that your party resembles the title of that Lionel Ritchie song you're about to butcher.
Via 313
East Austin
Move over New York, Detroit-style pizza rules the night at this much-loved pizza trailer. The crispy-outside, chewy-inside, square pizza deliciousness will soak up whatever you've been doing earlier in the evening. Tip: There is another storefront located on Rainey St.
Las Cazuelas
East Austin
Can you say OPEN (practically) 24 HOURS?! There are -- ahem -- "special cases" in which you might find yourself desperately NEEDING tacos or chilaquiles or enchiladas at 4a. This homey and authentic, bright-orange-painted Mexican eatery is just the ticket. The fresh homemade tortillas and fiery hot green salsa might even drive you to make a return trip in the daylight.
Mrs. Johnson's Bakery
Hyde Park
Mrs. Johnson's is simply a no-frills bakery serving up classic, old-fashioned donuts at weird hours. And by weird hours, we mean awesome hours. Come in after 9p for the freshest glazed doughnuts you've ever had -- your inner fat kid will thank you.
Epoch Coffee
North Loop
If you find yourself dragging but don't plan on going to sleep anytime soon, Epoch is a 24hr coffee shop generally packed with 20-somethings either chatting or laptopping. Try the Dirty Chai, and house a couple of cinnamon rolls while you're at it because, well, they're there.