Over the last five years, Austin has experienced a barbecue renaissance (much tastier than the one with all the paintings!) of momentous proportions, which has included a rapid pace of change in the local hierarchy.
Since Austin BBQ is too momentous a topic for any one man (or lady!) alone, we've taken a different approach. We turned the voting over to a distinguished panel of chefs, bartenders, sommeliers, and service industry pros with discriminating tastes when it comes to food, service, and atmosphere, with each of them giving us their top five selections (places were awarded 5 points for a first-place vote, 4 for a second, and so forth). Below are the panel's meaty selections for your next barbecue pilgrimage:
Recommended Video
The Mexican-Style Grasshopper Tacos You Have to Try When You're in South Beach
What you're getting: The Family Style platter
This is technically not in Austin, but was the favorite of one panel member, so we'll gladly honor the pick. Long a favorite of both tourists and locals, The Salt Lick remains an institution: the scenic drive out, the BYOB policy, and the huge crowds all make it an experience everyone should have when visiting Austin. LaV's Janina O'Leary explains her pick: "The sausage and the sauce at Salt Lick are always consistent. It's an atmosphere we really enjoy."
Seating: Indoor and patio
What you're getting: Pulled pork, brisket
The newest entrant in the poll's top eight, Kerlin's opening window is short -- stop by before 12:45pm on most days, or they'll be shut. This is where Central and East Austin barbecue fans go for great quality without the wait. Many regulars recommend the sides at Kerlin to complement the meal.
Seating: Outdoor only, picnic tables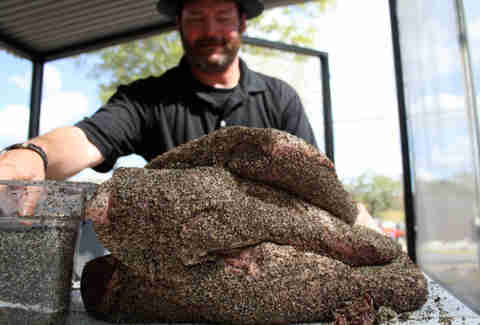 What you're getting: Beef ribs, sausage, brisket
It's not hard to argue that John Mueller is responsible for the current Austin barbecue renaissance. A hard-living, mercurial personality, Mueller has battled through the closure of John Mueller's B-B-Q and a rift that led to his departure from JMueller BBQ (which is now renamed La Barbecue). Barbecue hounds all agree that when Mueller is on his game, he's as good as it gets, particularly with his signature beef ribs. Some days are better than others here, though, which is why JMMC ranks just below the top tier.
Seating: Outdoor only, picnic tables
What you're getting: Pulled pork, pork ribs, brisket
Housed in a historic building near the University of Texas, Freedmen's is firing on all cylinders of late. In addition to great meats, the restaurant scores bonus points for a spacious and welcoming patio and a solid craft cocktail program. Pitmaster Evan LeRoy takes a more chef-centric approach to his menu than most others on the list -- while you do order meat by weight, you can also get starters like smoked beets with chèvre and balsamic, sides of house-made pickles, or smoked and grilled veggies. 
Seating: Indoor and patio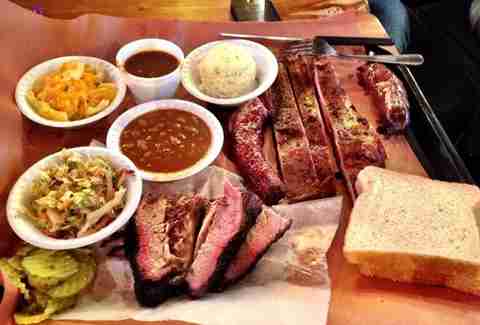 What you're getting: Beef ribs, brisket, pork ribs
The local favorite for convenience and comfort, Stiles Switch has ample air-conditioned seating and little to no line. The quality of the food is rock-solid, as is the thoughtfully curated selection of beers from folks like Firestone Walker. This is a great place to go when you want excellent 'cue without the hassle factor. Service is efficient and friendly, and the location is great for both Central and North Austin residents.
Seating: Indoor and patio
What you're getting: Sausage, beef ribs
Micklethwait stands with the top tier of pitmasters in terms of quality, but also differentiates themselves by focusing on their sausage offerings and taking a more artisanal approach to their menu. The trailer serves homemade bread, and often has off-menu specials like pork chops or esoteric sausages. The trailer has recently expanded their hours -- you can actually get dinner service -- and also sports some excellent side items and dessert offerings, assuming you can find the room.
Seating: Outdoor only, picnic tables
What you're getting: Everything, especially the beef rib, brisket, and sausage
The difference between Franklin and LA is razor-thin: pitmaster John Lewis once worked at Franklin, and also worked alongside John Mueller before the falling out between Mueller siblings. Lewis is a master of his craft, and the word is out: once the "non-tourist" option for quality 'cue, La now sports lengthy lines and a large fan base. It's tough to find any fault with the offerings, which border on the otherworldly at times.
Seating: Outdoor only, picnic tables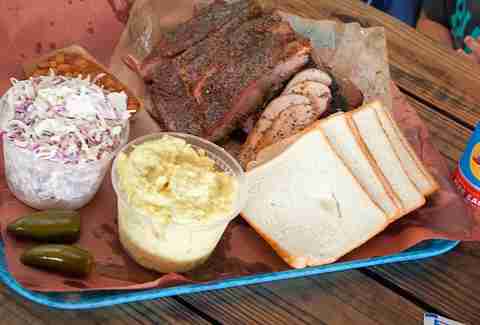 What you're getting: Everything, especially the brisket, sausage, and pulled pork
The winner by the slightest of margins, Aaron Franklin's bellwether continues to attract lines up to five hours long. The restaurant recently closed temporarily to expand their kitchen space, but re-opened just in time for a visit from President Obama. Franklin's brisket is simply one of the best things you can eat in the state of Texas, and his consistency is a model for the craft. Eating here requires planning and patience, but brisket fans should accept the challenge at least once.
Seating: Indoor and patio
Others receiving votes: Live Oak Barbecue, Mann's Smokehouse, Rudy's, Iron Works, Bowie BBQ (Whole Foods Market), Green Mesquite.
Our panel:

Jessica Sanders, drink.well: Jessica Sanders is co-owner of North Loop's popular cocktail bar and restaurant drink.well. She is also the secretary of the Austin chapter of the United States Bartender's Guild.
June Rodil, McGuire Moorman Hospitality: After successful stints at Congress and Qui, June Rodil now heads the beverage programs at MMH, which include popular Austin restaurants like Jeffrey's, Perla's, Lambert's, Clark's, and Elizabeth Street Cafe.
Drew Curren, ELM Restaurant Group: Drew Curren is the executive chef at the ELM group's 24 Diner, Easy Tiger, and Arro. A fourth ELM restaurant focused on Italian food will arrive later this year Downtown.
Janina O'Leary, LaV Austin: Janina O'Leary is head pastry chef at East Austin's acclaimed LaV restaurant. 
Josh Loving, Half Step: Josh Loving is one of Austin's perennial favorite bartenders. After working at Jeffrey's, Weather Up, FINO, and Midnight Cowboy, Loving is currently consulting on the beverage program at Olamaie and developing a bar concept.
Bill Norris, Alamo Drafthouse: Bill Norris is the beverage director for the Alamo Drafthouse. He oversees the drink programs at all cinema locations, as well as the Highball, Glass Half Full, and 400 Rabbits bars. 
Paula Rester, Congress Austin: Paula Rester is the beverage director at Congress Austin. She is also currently working on new concepts with David Bull's La Corsha group, including the upcoming Boiler Nine at Seaholm.
Grae Nonas, Olamaie: Grae Nonas is an alum of Son Of A Gun in Los Angeles and Lenoir in Austin. Along with co-conspirator Michael Fojtasek, he is scheduled to open the Southern-focused Olamaie later this Summer on San Antonio St.
Mark Schmidt, Blackbird & Henry: After a successful run at Cafe 909 in Marble Falls, Mark Schmidt launched the upscale tavern Blackbird & Henry near the University of Texas earlier this year.
Matt Wright, Wright Bros. Brew & Brew: Matt Wright is the co-owner of 78702's new Wright Bros. Brew & Brew, a craft coffee and beer bar in the former Progress Coffee space.
Sign up here for our daily Austin email and be the first to get all the food/drink/fun in town.