How Two Women Are Disrupting the Boys' Club of Texas Barbecue
Not many barbecue joints are covered in cartoon drawings of sausages wrapped in rainbows. Especially in Texas. Especially when there's a third-generation barbecue legacy involved.
But Austin's la Barbecue, known for its yellow trailer outfitted as such, holds a unique reputation in the world of Texas 'cue in that it's both steeped in tradition and boasts a willingness to cut against the grain (except, of course, when it comes to trimming brisket). Owners LeAnn Mueller, 45, and Ali Clem, 36, opened for business back in 2011, originally partnering with LeAnn's brother John Mueller, then renaming it la Barbecue in 2012 with pitmaster John Lewis, who's since started his own operation in Charleston, South Carolina. Now the two women oversee a team of hungry, up-and-coming pitmasters, though they still quality-check the meats daily and receive report cards on what percentage of briskets turn out perfect.
But la Barbecue's story doesn't start in that first dusty, empty lot in South Austin (it's since moved to the hipper east side), but rather in Taylor, Texas, at legendary destination Louie Mueller Barbecue. Founded by LeAnn's grandfather in 1949, Louie's is a mandatory pilgrimage for barbecue lovers; those that ate there in the early '80s might have seen a young LeAnn working the floor.
Matthew Johnson
"I started working at Louie Mueller in middle school. My dad had me cleaning tables, washing dishes, and drying silverware," she says. "I'd dry it and my grandpa would roll it. My grandpa loved it; it was a Zen thing."
Like most children whose parents work grueling trades, Mueller originally wanted to get as far away from barbecue as possible. Stints at a handful of colleges eventually led to a career in photography; she's now one of the most well-known photographers in Austin and regularly shoots covers for Texas Monthly and works around the world.
Unlike Mueller, Clem wasn't born into the barbecue trade; before she learned the ins and outs of a smoker, she was bartending in downtown Austin. Mueller stepped up to her bar one day and ordered a non-alcoholic O'Doul's, which caught Clem's attention, and the two have now been a couple for nearly a decade. So when Mueller decided to get back into the family business, Clem came along for the ride, learning to slice brisket and soaking up smoky knowledge from the other pitmasters.
Matthew Johnson
When I arrived at la Barbecue a few minutes early for my 2pm interview with the pair, hungry meat lovers were lined up 25 deep waiting for slices of brisket and chipotle sausages. Their trailer habitually handed out free beer from crafty Austin labels to people waiting in line; fittingly, Clem came toting a six-pack of white ales from local brewery Friends and Allies, while Mueller clutched a tumbler of ice water for battling the 98-degree heat.
Despite a few notable female figures (Tootsie Tomanetz of Snow's BBQ in Lexington, Laura Loomis of Two Bros BBQ Market in San Antonio), women are rarities in the world of Texas barbecue. And the newly-wed Mueller and Clem might be the only same-sex couple in the industry.
"When we first started, we got picked on," Clem says. "But I cook a damn good product. Just because I'm married to a woman, that has nothing to do with the food."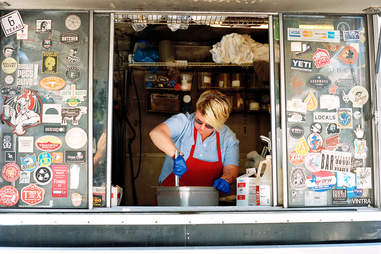 Matthew Johnson
La Barbecue proudly states its female-owned status on its website, and when it comes to their food, they're earning raves from even the toughest critics. The restaurant has cracked Texas Monthly's quadrennial list of top 50 barbecue joints in the state in its past two editions, and surpassed Austin's revered Franklin Barbecue (and its four-plus-hours-long line) in some local critics' rankings. Though its offerings are mostly traditional -- moist or lean brisket, pulled pork, sausage links, pork ribs, monstrous beef ribs, and a surprise hit: turkey -- the joint prides itself on consistency. That's a tall order when you consider the three whole-log smokers and 14-hour overnight cook time it takes to turn out 52 briskets, five days a week.
"We're quality-checking at all times, no matter what, even if we're out of the country," Clem says. "And I'm religiously looking at Instagram photos. It's just [served on] butcher paper and trays, but you want to make sure that looks as beautiful as possible."
Matthew Johnson
The other pillar of la Barbecue's success: The quality of its meat. Because of razor-thin margins, the current trend in 'cue is to amplify the flavors of the intense fattiness found in lower-quality cuts of brisket. But they prefer to showcase the taste of the meat itself, and as such switched to all-natural brisket last year.
"In a commodity brisket, the flavor is coming from the fat. In all-natural, it's from the muscle. You're actually getting to taste the grass," Mueller says. "From all the processing in fast food, we forget what meat is supposed to taste like."
Though la Barbecue's menu is relatively constant, Mueller and Clem's cooking interests extend well past combo-plate staples. Their smokers, crafted by Austin Smoke Works, are surprisingly versatile; the pair have used them to experiment with dishes such as smoked paella, pizza, and homemade hot dogs at private events for friends and family. Though given the deodorant-destroying, 120-degree heat in front of the smokers, la Barbecue jumped at the chance to move from its trailer to a cooler (and bigger) locale.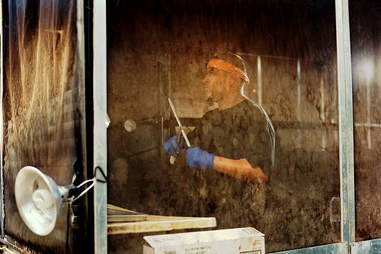 Matthew Johnson
In early August, the business shifted across E. Cesar Chavez Street to operate out of the Quickie Pickie, a hip convenience store/coffee shop/beer bar. They still cook meat in three pits outdoors, but now prep sides out of Quikie Pickie's kitchen and share their indoor/outdoor seating. (The addition of A/C should help the sting of their new location ending the trailer's free-beer tradition for those in line.)
Later this year, la Barbecue plans to expand to even more temperate climates, taking the yellow trailer out to Los Angeles, where Mueller already works out of a photography studio six months a year. With the exception of a few upstarts, LA is still a relative barbecue desert, priming it to be the next city to fall for the couple's low n' slow brisket.
"Sometimes I wonder why I cook barbecue, but it's the people you meet and the friendships you build," Mueller says. "It's friendships and love and good meat."