Austin's Most Romantic Restaurants for a Date Night
Whether it's for an anniversary, Valentine's Day, or something in between, date nights can bring equal measures of hope and horror. There's a particular kind of "no pressure!" pressure to do something amazing with your partner, even if everyone insists there shouldn't be; fortunately, Austin is brimming with low-lit bistros and intimate dining rooms where romantics can reaffirm their interest in one another over forkfuls of chocolate. If you're forced to book on Valentine's Day itself, The smart money is to book before (or after) the big day but we're also here for some of the beautiful one-of-a-kind prix fixe menus that talented chefs are whipping up.
West Austin
From the tiny arrangements on the tables to the perfect little escargot swimming in garlic butter, everything feels carefully thought-out at Fabi + Rosi. Sit outside, and you'll be treated to an adorably lit patio beneath two big trees; inside, and you'll have a moodier evening beneath blown glass chandeliers. Treat yourselves to lobster risotto with pea shoots and champagne, and follow it up with some chocolate mousse and salted caramel. For Valentine's, they're offering a $75 per person prix fixe menu.
South Lamar
El Naranjo finally moved off Rainey, and we're glad they did; the vibrant new space is welcoming enough to make it feel like an everyday option, but fancy enough to have date night appeal as well. James Beard-nominated chef Iliana De la Vega keeps upping her game by leading culinary expeditions to Mexico City; start with one of their incredible cocktails, like the Mezcalina (mezcal, serrano, basil, agave, pineapple), and then get right into it with mole negro with duck or the banana leaf-wrapped redfish.
East Austin
One of the things that makes Justine's so appealing is its dimensionality. Yes, it's French cuisine… but it's also not just French cuisine. It's a place where old soul songs are played on vinyl, where they put up a yearly "Winter Tent" and throw a party for in its honor, and where you can sip espresso martinis on a light-strung patio at 1am. Order some steak frites (with a side of extra frites), and allow yourselves to soak up the ambiance.
Fonda San Miguel

| Paul Bardagy
Brentwood
Between the Saltillo tile, the soaring ceilings, and the vividly colorful artwork, Fonda San Miguel has all the trappings of a memorable night. Sip a couple of top-shelf margaritas at the bar before slipping over to a corner table. Crowd favorites are the Aguachile, the angels on horseback (bacon-wrapped shrimp), and the ancho chile relleno San Miguel, but definitely make sure you leave room for the Oaxacan chocolate creme torte.
South Lamar, Cedar Park
The South Lamar Union complex has traditionally been hard on new restaurants, but this contemporary Japanese spot managed to swoop in from Cedar Park and stick the landing. Executive sushi chef Andy Chen brings unexpected flavors together to make the perfect bite; think sea bream with citrus ponzu, orange, chili oil, and shiso, or a house-made potato chip with salmon belly, fresh truffle, lemon aioli, and chives. If you can time it right, swing by the daily happy hour from 5-6:30pm for deals on cocktails, appetizers, sushi, and makimono. During Valentine's, both locations will be running an omakase menu.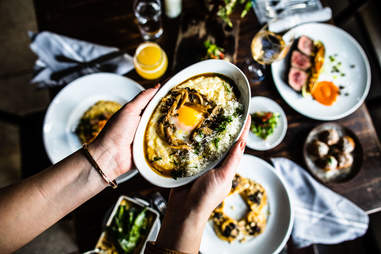 Courtesy of Olive & June
Central Austin
A lush backyard with an enormous oak tree, an upstairs terrace, and a dining room bathed in natural light all add up to make Olive & June a retreat away from the busy street corner on which it sits. Pick from the largest Italian wine list in Austin, and then dig into the San Daniele prosciutto with pickled texas strawberries and the Agnolotti with preserved lemon and parmesan.
East Austin
Inventive pan-Asian dishes backed by an outstanding music selection make Old Thousand a playful and delicious date night option. Everything on the relatively short menu is tempting, from the brisket fried rice (house-smoked brisket and Chinese sausage) to the Mala fried chicken (Szechuan spices, chili oil), and they have a number of vegetarian and gluten-free dishes as well. Settle into two glasses of wine and some dumplings while a Biggie throwback echoes over your heads.
Downtown
This intimate, casual bistro feels like a little slice of France in Austin, and has been serving couples on Sixth Street since 1982. While you can order a la carte if you wish, Chez Nous has one of the most compelling three-course prix fixe dinner menus in town, with dishes like salmon rillette, pate, roasted ruby trout, seared scallops, creme brulee, and mousse au chocolat. Whatever you do, always heed the wine pairing suggestions.
South Austin
This massive house-turned-restaurant is about as opulent it gets, thanks in no small part to the peacocks that roam the grounds. Date night is a genteel affair, whether you're sitting inside or outside under the spreading trees, and the mostly Southern menu is peppered with decadent items like shrimp and white cheddar grits, tender belly grilled pork chops, and andouille and duck gumbo. If you skip over the biscuits, you've made a huge mistake.
South First
The menu may change every week, but Lenoir's ambiance remains the same. It's a spot where friends can laugh over a shared bottle and some snacks, or leisurely lovers can spend hours sampling the four-course daily menu. Every plate is a profusion of flavors, with charred brassica sharing space alongside coconut rice socarrat, whole roasted fish complementing goan crab curry, and habanero vinegar embracing a black sapote caramel pork shoulder. For V-day, they'll be offering a $85 prix fixe + wine pairing option.
Sign up here for our daily Austin email and be the first to get all the food/drink/fun in town.