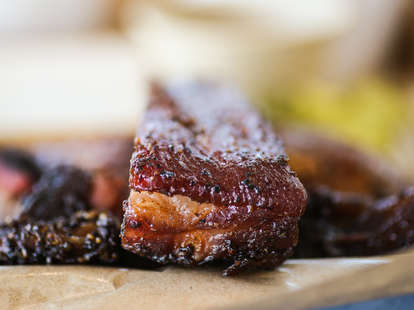 Even after 100yrs of serving the central TX area, Howard E.'s still got some tricks up his Butt. The evidence: the totally-friggin'-amazing new H-E-B at Mueller that will shock and awe you in the following 15 ways:
1. Starchitecturally designed
The hot-shot San Antonio architecture firm behind Hotel San Jose, the Texas State Cemetery (!!), and the Livestrong Foundation are behind the design. Also, they had a little help from NASA on the energy-efficient roofing.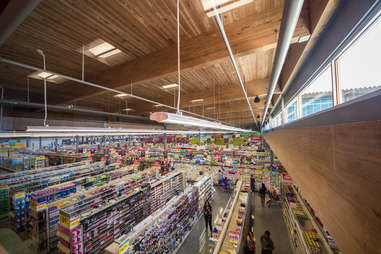 2. Chill out
Pro: The state-of-the-art air-conditioning system runs chilled water underneath the flooring to cool from the ground up, letting the heat rise. Con: Hanging out in the rafters is really, really uncomfortable.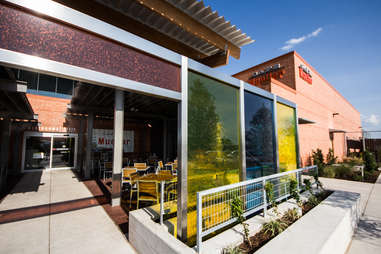 3. Through the looking glass
This cascading water feature is made of transparent colored glass that a) took six months to acquire, b) makes everything look yellow, and c) or blue!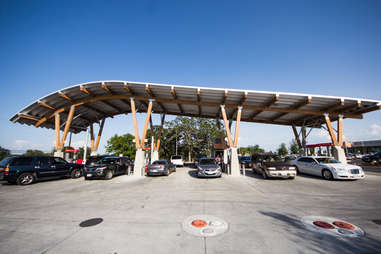 4. Fill up
The gas is some of the absolute cheapest in town.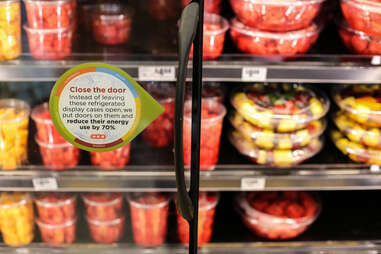 5. Behind closed doors
Nearly everything cold in the store, from fruits to meats, is behind sliding glass doors. This lowers energy usage by 70% and also keeps you from having to wear a sweater in the meat department. Also, the lights in frozen cases are on motion sensors for even further conservation -- so if a frozen pizza falls and no one is around to see it, no one will see it.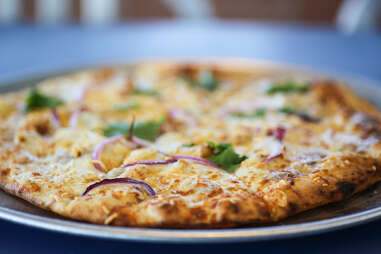 6. Pizza party
The cafe is a totally new concept for H-E-B, which's tapped a chef formerly at Asti to design a menu that's entirely under $12. Also: the outdoor patio's got TVs for sports-watching in between bites of this BBQ chicken and smoked Gouda pie.
7. Primetime
These adorable wittle Brie-topped sliders are made with certified prime beef.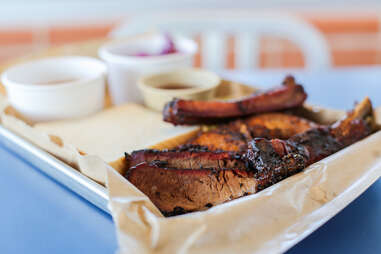 8. Where's the beef
They're serious about their BBQ, cranking out roughly 50 briskets a day, each smoked for 12hrs and given a traditional salt and pepper rub.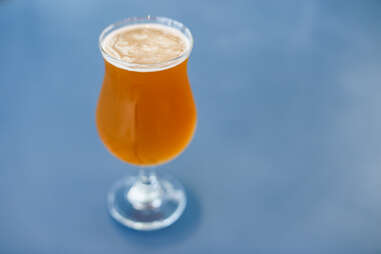 9. The devil's in the details
Real Ale's Devil's Backbone is on tap/very difficult to rollerblade down, as well as more local craftiness like Adelbert's Naked Nun and Circle Envy Amber.
10. Grassy Knoll
The Mueller location has upped the ante at their meat market with the chain's largest selection of grass-fed beef. You go Noe!
11. Sushi-ya!
If you like it raw, H-E-B does sushi catering plates that are affordable, delicious, and make a much better pot-luck contribution than your 4-pack of Zimas.
12. Cooking connection
They've got a chef on hand who's always whipping up a signature recipe for the sampling (usually something that's got free coupons involved), as well as offering general cooking advice for the clueless.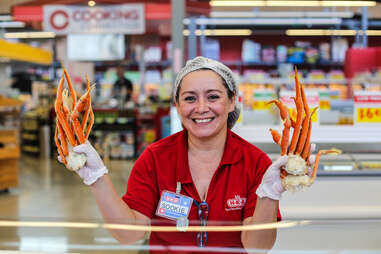 13. Claws out
At the time of our visit, these king crab Legs were on special for a measly $4/lb.
14. Pretty bomb
They sell the entire bomber fleets of Jester King, Adelbert's, and South Austin Brewing Co.
15. And finally...
Butter. Tortillas.