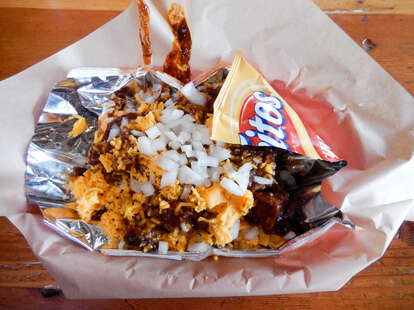 Mattie Bamman
Mattie Bamman
You only have to look at #Austin's Instagram to see that we take our unhealthy obsession with consumption to a whole other level. If you're to call yourself a true Austinite, there are certain food and drink hurdles you have to, well, hurdle. You can't complain that the city is changing so fast before you've got these items under your proverbial belt. Here's a mix of old and new iconic items, as befits our city in flux.
Frito pie
"Take a bag of Fritos, add hot chili, add cheese, add onions, shake, enjoy." That's the simple recipe. There are places that try to make it more complicated, but it boils down to a classic American snack food plus a bunch of things that will make or break your gastrointestinal system. Suck it up, buddy. Take the true test at Texas Chili Parlor or Lambert's. Veggie Frito pie can be found at Billy's on Burnet.
Queso
Yes, it's the Spanish word for "cheese," but it's so much more. You can barely set foot inside Austin's city limits before you're bombarded by that ultimate cheese, meat, avocado, and whatever-else-we-can-fit-in bowl of melted magic. Top contenders for best queso are always Magnolia's Mag Mud, Kerbey Queso, Matt's Bob Armstrong, and Maudie's. Oh, and we order this by the bowl, not the cup.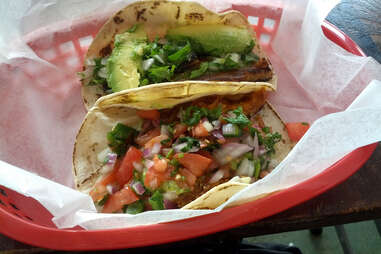 Tacos, tacos, tacos
Looooong before there was an emoji for it, we had a total taco obsession. Austin knows anything wrapped in a tortilla is instantly better. Taco game is strong all over town, and debate rages over everything from the best breakfast to the best bistek. There's even a Taco Cleanse for crying out loud. OG Austinites love Juan in a Million, while newer transplants find themselves at Veracruz All Natural. And you're truly not a local until you've firmly planted yourself on one side or the other of the divide between Tacodeli or Torchy's.
Topo Chico
It's the water from Mexico that you can drink without being concerned about Montezuma's Revenge. There's something about this sparkly, slightly acidic water con gas that brightens up any beverage. It has somewhat magical healing properties for a hangover, and its iconic bottle is the base for many a craft night or succulent planter. Vodka and soda is a newbie's game. Tito's and Topo, on the other hand -- that's a real Austin drink.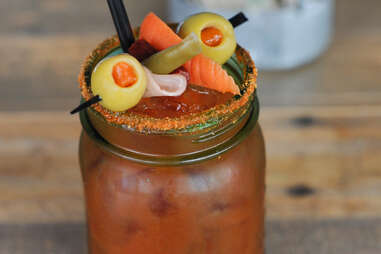 Bloody Mary meals
The Bloody Mary is a sacred Austin Sunday beverage. As with all things, we like to go big. Chances are you'll be served one in a tall glass with spicy, savory house-made Bloody mix and a bounty on top. Shrimp, olives, okra, beans, summer sausage, cheese cubes, a club sandwich... you should never be surprised to see the actual drink play second fiddle to the toppings. Don't get us started on building your own...
Brisket
This basic beef cut inspires more loyalty than some football teams. Though it began as a Jewish specialty, brisket has long reigned as king of the Texas smoke ring. Order it fatty or lean, sliced or chopped, on a bun or bare. Everyone has an opinion about the cut, color, and consistency… but we can all agree on one thing: it better be on the plate. Find the best brisket at La Barbecue, Micklethwait, Franklin, and Freedmen's.
Ramen
Given that it's typically hotter than the sun in Austin, thick, steaming noodle soup wasn't exactly on our radar. But once we figured out what the West Coast was already way into, we leveled it up. Ramen Tatsu-ya opened its little shop on Research Blvd, and we were instantly smitten by the slurp. You can also find great stuff at Daruma, Kanji, Jinya, Michi, and Kome if you're ridin' that ramen train.
Pizza, pizza!
There was a time in the not-so-distant past when Austin had one respectable pie: Home Slice. While our old pal Home Slice still holds up, it's got major competition, including the wood-fired oven and house-made mozz at Bufalina, the unassuming but perfectly balanced flavors at Unit-D, the hand-kneaded BackDraft, and the crispy, melty Detroit-style Via 313. If you don't have an opinion about pizza in Austin, you're not doing it right.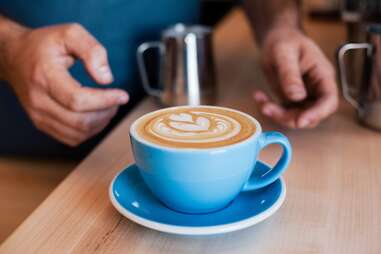 Coffee snobbery
Coffee -- that necessary (and legal) drug of productive people everywhere. It seems like every week there's a new spot that offers a new style of blend and barista. You'll never go wrong with a Jo's Turbo or an early morning at Mozart's, but take a tour d'caffeine around spots like Cuvée, Medici, Brew & Brew, Fleet, Patika, Radio, and Vintage Heart to get the full bang for your beans.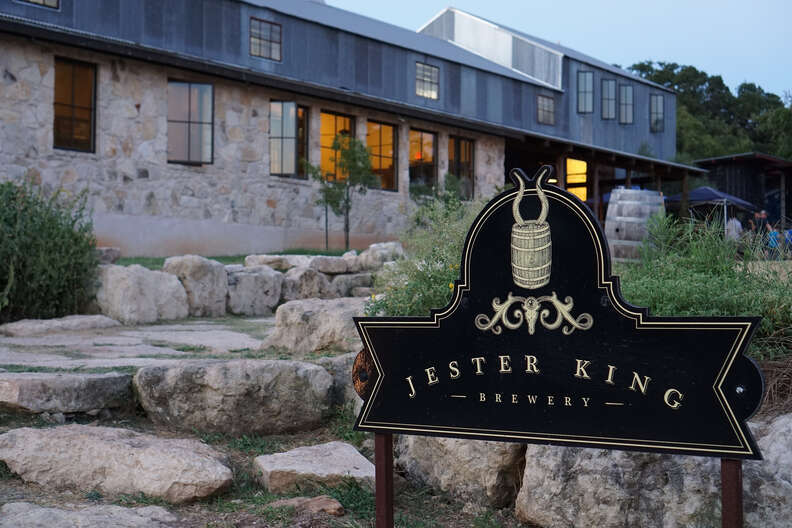 Craft beer
Regardless of what the advertising purports, order a domestic "lite" beer and you'll be pegged right off. Austin's applied its non-mainstream vibe to the craft beer scene in a way that's as fanatical as it is fantastic for local brewers. The most mainstream we want to get here is Independence, Real Ale, or Austin Beerworks. In order to be a true Austinite, you'll need to be able to wax poetic about Jester King, Blue Owl, Zilker, Live Oak, Thirsty Planet, and Hops & Grain. Belly up your tastebuds, because this beer's for you.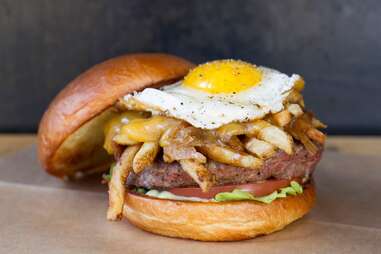 Burgers
Hut's, Dan's, and Top Notch ruled the roost for many years when it came to the almighty burger. They've since had to share some space with whippersnappers like Hopdoddy, Cow Bells, and Wholly Cow. It's hard to try and compete in a world where everyone is a burger expert. Texans like their burgers, and you aren't the real deal until you can argue for your charbroiled contender.
Brunch
There's nothing so sweet as a sunny day, a mimosa, and a big damn brunch. It's basically a cure-all. Feeling hungover? Brunch. Feeling bored? Brunch. Feeling frisky? Brunch. It stands alone, or can lead to an all-day extravaganza. Spots like Luke's Inside Out and Jack Allen's serve up an incredible buffet. South Congress Cafe and Chez Zee are our original staples, but Snooze, Counter Cafe, and Enoteca Vespaio all do a beauteous Benedict.
Ice cream
You scream, I scream. Mostly because of the heat. Trying to cool down from the inside out is not only strategic, it's satisfying. Amy's Ice Cream has the most compelling story, Lick Ice Creams' flavors are the most creative, and Sweet Ritual is the most vegan. That's not to mention Cow Tipping Creamery, SPUN, Gelateria Gemelli, or any of the numerous spots looking to keep us cold as ice (cream).
Margaritas
It doesn't have to be Cinco de Mayo to order a margarita during lunch. We love to drink these cold concoctions any which way -- frozen, on the rocks, salted or non-. The lime margarita is by far the most common, but places have gotten fancy: blood orange Chilanga at El Alma, the avocado margarita at Curra's, the many flavors at La Fuente's, the watermelon at Lucy's Fried Chicken, the pitchers at Polvos. Pro tip: always eschew the sweet & sour. Fresh juice is where it's at.
Sign up here for our daily Austin email and be the first to get all the food/drink/fun in town.
Kelly Stocker wasn't born in Austin, but she got here as fast as she could. She's eaten all the things on this list several times, but purely for the purposes of research. If you want to follow her adventures around town, find her @kellyjstocker on Twitter and Instagram. You can read additional writings at KellyStocker.com