Move over pho (though not too far, you're still pretty tasty), because these five stand-out, ramen-centric eateries pack houses -- much to the delight of those who prefer a broth that has been simmering for 30hrs with fresh ingredients over a 14-cent noodle brick and an "Oriental flavor" MSG packet.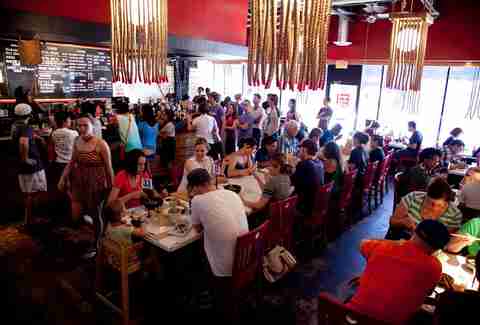 North Austin
RT packs ravenous ramen junkies into its small, bustling space daily. There's always a line out the door, but fear not, it moves along quickly. The amazingly rich broth of their Tonkotsu Original sets the foundation for encouraged add ins, like a Spicy Bomb or extra garlic (or more noodles if you're extra hungry). The only thing audible over the upbeat soundtrack and slurping are the consistently happy patrons exclaiming, "Omigod, this is SO good". Tip: try the Sweet and Sour Yodas (Brussels sprouts). Disappoint you they will not.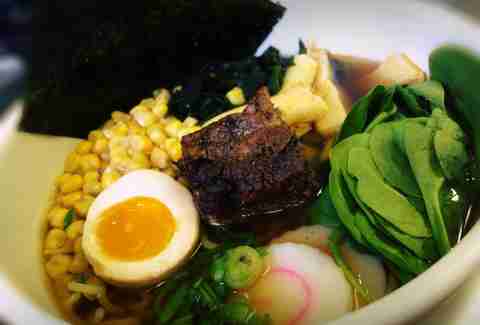 Hyde Park
The Japanese mainstay gets its ramen on during lunch hours, ensuring that you're much more inclined to nap than work for the rest of the afternoon after you maul a bowl of their spectacularly porky tonkotsu swimming with pork belly, corn, spinach, fish cake, ginger, egg, and bamboo shoots.
Downtown
The folks at Kome wisely anticipated your need for more ramen and bestowed Daruma on Sixth Street. The broth here is chicken-based and has a light flavor and texture -- go for the Miso Ramen if you want a little more bite. The seating is communal, so besides having a warm, satisfying bowl of ramen, you'll end up with a couple of new friends -- or at least the opportunity to eavesdrop if you have nothing left to say to the person you're eating with.
Brentwood
What began as a super-popular food truck (conveniently located in the Hobby Lobby parking lot) has become a super-popular actual building (still close to the Hobby Lobby parking lot!). The main draw of Michi Ramen is their large selection of ramen types, add-ons, and the choice of broth thickness -- light, original, or stout for badasses/ stout people. Don't miss the Michi Ramen with a marinated soft boiled egg. Bonus -- they have a large selection of both Austin-y and Japanese-y beers.
Campus
Top Chef winner and local golden boy Paul Qui's collab with iconic campus bar Hole in the Wall to create the first non-East Side location in the ESK empire delivers the goods (with the help of the talented Yoshi Okai). They're not only serving the standards that made ESK famous, but have a great little selection of next-level ramen dishes including Kimchee Pork Ramen and Sapporo Beer Miso Ramen served with a dollop of beer foam, which you often add to meals just due to general clumsiness.
Sign up here for our daily Austin email and be the first to get all the food/drink/fun in town.