These are the most under-the-radar noodles in Austin
These days, Austin just can't get enough noodles, be it the kind that helps you float in a pool, or the kind that makes you sink to the bottom of one. For Vietnamese noods that're so underground they might as well be called submarinoodles (trademark!), venture out to 123 at the Hana World Market food court.
The store's helmed by this charming ex-pat from the Hue province (and her even charming-er niece) who's re-entering the ATX noodle scene after a 30yr hiatus -- her last spot was so old it was actually next to a Montgomery Ward.
Using fresh ingredients pulled from the neighboring Asian supermarket, they're aiming for a build-your-own-bowl concept where you choose the broth, meat, veggies, and toppings. Should you not be a mad noodle scientist (or, madletist), they've also got a handy list of suggestions, including the Mi, which tops these thin egg noodles with shrimp, char siu (pork), quail eggs, and veggies.
The owner's hometown lends its name to these thick rice noods, served in spicy beef broth with shank, tendon, and lemongrass. And for the animal eaters who're also animal lovers, rest easy: the bones used for all the broths are donated to a local dog shelter.
Oh, and yes, THEY HAVE RAMEN! It's a thicker, pastier noodle than most other local varieties, and served in a combination pork/chicken broth with the aforementioned quail eggs.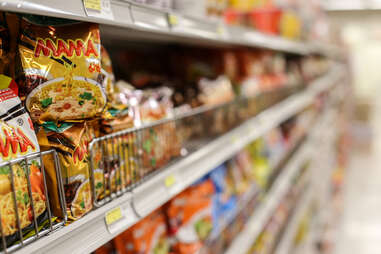 Mama's boy? Lucky for you, there's an entire aisle in the supermarket devoted to the noodle-of-the-moment.
Lastly, 123 wants to remind you that, despite the rock-bottom prices at Hana World Market, they don't use MSG, aka "the essence of umami".