The Oldest and Most Historic Restaurants in Austin
Get weird at these old-school haunts.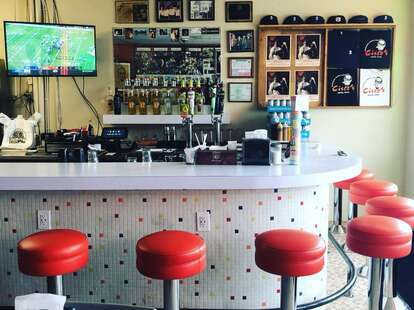 In Austin, it can be really easy to get caught up in what's new. Between the surge of startups, the droves of people flocking here and the ever-expanding new build neighborhoods, the city is flush with evidence of its current moment as a lightning rod for development.
Those who have been here for a while can tell you how much things have changed, especially in the last decade or so, and the jury is still out on how much of it's truly for the better. But, fortunately for those in search of some classic Austin weirdness, there are still plenty of old-school joints hanging around that helped create the city's undeniable vibe in the first place.
So, whether you're feeling a little nostalgic or just want a glimpse into the Austin that used to be, you can start by hitting up some of the spots that have stood the test of time. From dive bars to drive-thrus, these relics still serve up some of Austin's most unique and authentic experiences, and we don't expect them to go anywhere anytime soon.
Hyde Park
Opened: 1909
Avenue B Grocery has been around for over 100 years, but its doors were shuttered until very recently with an extended COVID-induced break. It holds the title of Austin's longest-running grocery store, but the real showstopper here is the sandwiches. You honestly can't go wrong with the whole menu, but the King Combo and the Veggie Wonder are two of our favorites.
How to book: Stop by for first-come, first-serve service.
North Loop
Opened: 1938
From its humble beginnings in 1938 as a simple stall on Congress, Quality Seafood Market has evolved and changed hands a bunch of times yet it still churns out some of Austin's best Gulf-born menu items. With 10 different types of po' boys to a wide variety of oysters, you might quickly forget that Austin is landlocked.
How to book: Call in for reservations; stop by for first-come, first-serve seating; or order takeout via Toast.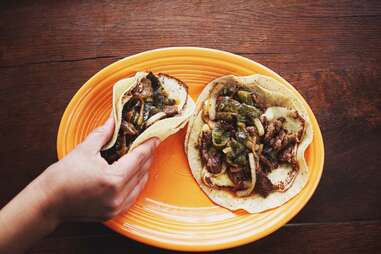 South Lamar
Opened: 1952
Matt's is a South Lamar staple, and its massive stadium-esque parking lot is almost always near capacity. Opened by the Martinez family, who originally cooked basic blue plate specials until their Mexican dishes started to catch on, Matt's has garnered a wide roster of fans over the years from Lyndon B. Johnson to the Food Network. The menu is massive, so if you get overwhelmed feel free to play it safe with the award-winning Asadero Tacos.
How to book: Stop by for first-come, first-serve seating or order takeout via Toast.
Barton Springs Rd
Opened: 1946
The kitschy yellow-and-brown building at the intersection of Barton Springs and Riverside has served its mustard- and pickle-heavy burgers and frozen custards to multiple generations. Miraculously, it's kept its old-school prices. Former Governor Rick Perry is a fan, so there's that.
How to book: Stop by for counter or drive-through service.
East Sixth
Opened: 1943
Solely a breakfast and lunch spot, Cisco's has long been the meeting place for Austin's politically inclined. The restaurant recently went on the market for sale, so whether the Cisco's brand will remain or be put to rest is unknown. But what we do know is that you should get in there and have the legendary migas breakfast plate right now.
How to book: Stop by for first-come, first serve service; or order takeout via Toast.
Clarkville
Opened: 1951
Located in historic Clarksville, Nau's is a pleasant reminder of bygone days, having maintained the feel of a small-town malt shop. This old-school spot still operates as a pharmacy and gift shop, so you can stock up on essentials after you eat. Take a seat at the counter, and order a hand-spun shake or malt and one of its famous burgers—and always add bacon.
How to book: Stop by for first-come, first-serve service.
West End
Opened: 1933
Erected in 1916 to mimic classic German architecture, The Tavern as we know it now was originally a grocery store (rumored to have operated as a secret speakeasy and brothel). When Prohibition ended in 1933, The Tavern was born. Today, it boasts 46 HDTVs, cold draft beer, and a menu of classic bar food.
How to book: Stop by for first-come, first serve service; or call for pickup.
West Sixth
Opened: 1934
This old-school restaurant opened its doors in 1934 at the same time Prohibition was repealed. Brothers Robert and Tom Hamby started serving cold cuts and keg beer for a nickel, as most people couldn't afford to eat steak during the Depression. Fast-forward 82 years, the Hoffbrau is still serving huge steaks with a no-frills vibe, and has added classic cocktails to its menu.
How to book: Stop by for first-come, first serve service.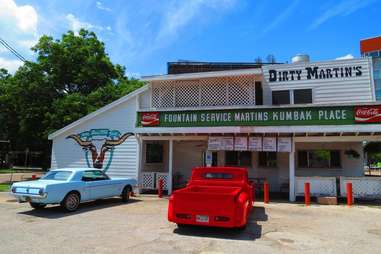 Campus
Opened: 1926
Dirty Martin's—originally named Martin's Kum-Bak—got its current moniker on account of the original dirt floors. This burger joint has long been a part of campus culture. On any given day, you can find both hardcore regulars and T-shirt and flip flop-clad students eating one of its legendary burgers. Try the best-selling "O.T. Special", a double-meat bacon cheeseburger with mayo, lettuce, and tomato, served with ridiculously delicious tots.
How to book: Stop by for first-come, first serve service; or order takeout via Toast.
Downtown
Opened: 1866
Scholz Garten, the oldest operating business in Texas, was founded by Civil War veteran and German immigrant August Scholz in 1866. It was a gathering space for the newly arrived Germans in Austin at the time, and served traditional German food and beer, both of which can still be found here today. Order the giant Bavarian pretzel, the bratwurst, and potato salad, and wash it down with an ice-cold draft "bier" (our favorite is the Spaten Optimator).
How to book: Stop by for first-come, first serve service.
Sign up here for our daily Austin email and be the first to get all the food/drink/fun in town.
Chad Rafferty is a Thrillist contributor.