At a time when "hip" restaurant concepts are shuttering left and right, you have to appreciate the places that have stood the test of time. Not only are they near-ancient, but people continue to flock to these places. Join us for a little history lesson, one that will start in the 19th century and end somewhere around the time your parents were born.
Recommended Video
The Fasties: Kat Thompson Mukbang
Burnet Rd
Opened: 1953
Harry Akin (owner of the Night Hawk chain) established The Frisco in 1953 and was a trailblazer in his business practices. He hired women and minorities in a time when that was not the norm, and he was also the first restaurant owner in Austin to integrate his businesses. Today, The Frisco continues to serve homestyle comfort food; try the Chop't steak, and finish off your meal with Key lime pie.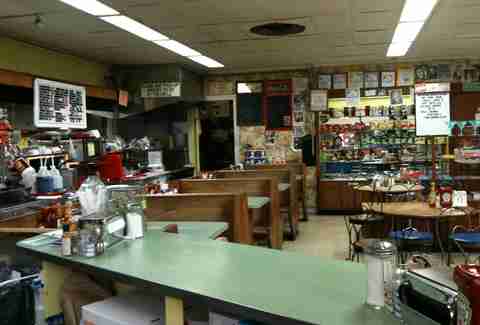 Clarkville
Opened: 1951
Located in historic Clarksville, Nau's is a pleasant reminder of bygone days, having maintained the feel of a small-town malt shop. It also operates as a pharmacy and gift shop. Take a seat at the counter, and order a hand-spun shake or malt and one of its famous burgers... and always add bacon.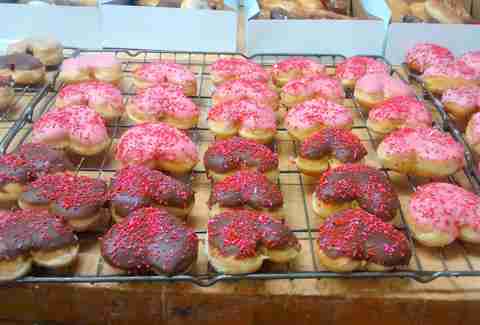 Airport Blvd
Opened: 1948
8:45pm: that's the time Mrs. J's starts serving donuts each night. Then come the regulars, the tipsy, the night owls, and the early birds, and the cycle repeats itself. This is how it's been since 1948, although the recipes have recently been overhauled by Freddie Lee -- owner of Michi Ramen -- the nostalgic integrity remains intact. Try a Bavarian cream-filled donut, a kolache, but never skip the O.G. glazed variety.
Barton Springs Rd
Opened: 1946
The kitschy yellow-and-brown building at the intersection of Barton Springs and Riverside has served its mustard- and pickle-heavy burgers and frozen custards to multiple generations... and miraculously, kept its old-school prices. Former Governor Rick Perry is a fan, so there's that.
West Sixth
Opened: 1939
At Hut's, nostalgia is served alongside loaded burgers, milkshakes, and yes… those enormous onion rings. Originally located on South Congress, Hut's moved to West Sixth St in 1969. Its current owners added 20 burgers, named after music legends, to the formerly small menu. We suggest you try the "Arnold's Best." We hear it's Matthew McConaughey's favorite burger.
East Sixth
Opened: 1943
Solely a breakfast & lunch spot, Cisco's has long been the meeting place for Austin's politically inclined. The restaurant recently went on the market for sale, so whether the Cisco's brand will remain or be put to rest is unknown. But what we do know is that you should get in there and have the legendary migas breakfast plate.
West Sixth
Opened: 1934
This old-school restaurant opened its doors in 1934 at the same time Prohibition was repealed. Brothers Robert and Tom Hamby started serving cold cuts and keg beer for a nickel, as most people couldn't afford to eat steak during the Depression. Fast-forward 82 years, the Hoffbrau is still serving huge steaks with a no-frills vibe, and has added classic cocktails to its menu.
West End
Opened: 1933
Erected in 1916 to mimic classic German architecture, The Tavern as we know it now was originally a grocery store (rumored to have operated as a secret speakeasy and brothel!). When Prohibition ended in 1933, The Tavern was born. Today, it boasts 46 HDTVs, cold draft beer, and a menu of classic bar food.
Campus
Opened: 1926
Dirty Martin's -- originally named Martin's Kum-Bak -- got its current moniker on account of the original dirt floors. This burger joint has long been a part of campus culture; on any given day, you can find both hardcore regulars and T-shirt & flip flop-clad students eating one of its legendary burgers. Try the best-selling "O.T. Special", a double-meat bacon cheeseburger with mayo, lettuce, and tomato, served with "mmm"-worthy tots.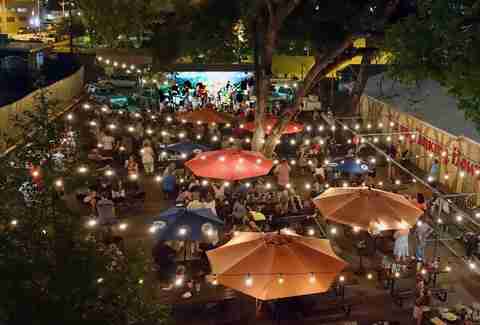 Downtown
Opened: 1866
Scholz Garten -- the oldest operating business in Texas -- was founded by Civil War veteran and German immigrant August Scholz in 1866. It was a gathering space for the German immigrant population in Austin at the time, and served traditional German food and beer, both of which can still be found here today. Order the giant Bavarian pretzel, the bratwurst, and potato salad, and wash it down with an ice-cold draft "bier" (our favorite is the Spaten Optimator).
Sign up here for our daily Austin email and be the first to get all the food/drink/fun in town.
Anastacia Uriegas is a writer at Thrillist who also feels nostalgia for certain restaurants, and is fantasizing about a Showbiz Pizza reboot. Follow her animatronic obsession: @anaurie.