These Austin Restaurants Have Thanksgiving Dinner Covered
All of the stuff(ing) with none of the cooking.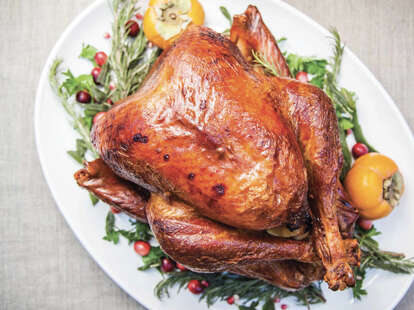 Fresa's

| Fresa's
Fresa's

| Fresa's
Considering food and football are already sacred in Texas, it follows that Austin is bound to come through on everyone's favorite holiday of overindulgent eating and game-watching. However, your plans for loafing away Thanksgiving day can often run up against that whole "make a multi-course meal for a large group of people" thing. Never fear, we are here to save the day with a collection of restaurants in the city that will cover the cooking for you (a perfect alternative for any Postmates devotee who's mystified by the settings on their stove). Better yet, most places even offer a pick-up option, so you can gobble it all up in the comfort of your own home—a place where sweatpants are not just acceptable, but encouraged.
While many of us may consider the ideal Thanksgiving Day attire to include pants with an elastic waistband, there are also those who can't imagine celebrating such an adored holiday without a degree of distinction—one that requires fall finery and a classier setting than the couch. Elevate your holiday at recently opened high-dining spot, Nido, located in new South Austin hotel, The Loren at Lady Bird Lake. It's offering a four-course meal that includes chestnut soup, a fall salad, savory Heritage turkey, stuffing, and honey-roasted cranberries, alongside various family-style sides and pumpkin tart for dessert. Nido's rooftop location provides a stunning view of the Austin skyline, which is bound to give you a buzz on its own—that'll only be amplified after downing the complimentary glass of sparkling wine included with your feast.
Cost: Meals start at $85 for adults, and $35 for children ages five to 12 years old.
How to book: Call 512-580-1183.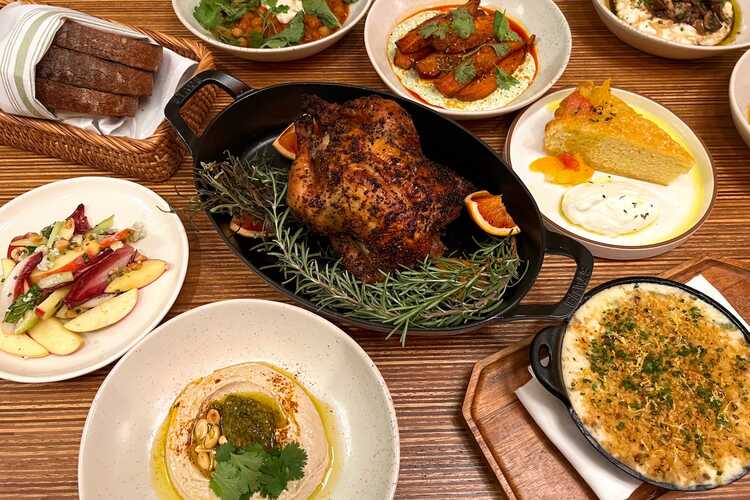 Wax Myrtle's

| Wax Myrtle's
Your most stylish friend has probably already dragged you to hip culinary spot, Wax Myrtle, to capture a bar-side selfie for their grid (along with a bite of their whipped feta appetizer). But its Thanksgiving Feast For Two (To-Go!) will give you the opportunity to sample the buzzy restaurant's fare, without the embarrassment of having to hold your homegirl's ring light. The menu includes two entree choices, a spiced turkey breast and confit leg with white chocolate mole or ora king salmon served with field pea salsa verde. The package also has multiple options for every course, akin to an edible version of the Choose Your Adventure books. Your final decision (and dinner) will include one of their signature spreads, a dessert, and two seasonal sides—all of which looks so tasty, you won't stop to take a pic before digging in.
Cost: Meals run $120 and serve two.
How to book:Order online by November 21 for pick-up on November 23.
If you want to pull a fast one on your friends and relatives, there's no better option than picking up a Thanksgiving to-go pack from TLC—and pretending you made the meal yourself. Not only can you impress your crew with the centerpiece of a honey-sage whole roasted turkey, but they will rave over such sides as rosemary garlic mashed potatoes, mac 'n cheese, citrus-vanilla cranberry sauce, and giblet gravy. Be sure to emphasize how you "slaved in the kitchen" over perfecting the pecan pie. Should your poker face be less than exceptional, you can skip the charade and take your Thursday crew directly to the source instead; the South Austin restaurant will also be open on Thanksgiving Day for dine-in.
Cost: To-go meals run $299 and serve eight to ten people, while dine-in plates run $38 per person.
How to book: Order to-go packs online for pick-up on November 23. For dine-in, seating is first come, first served.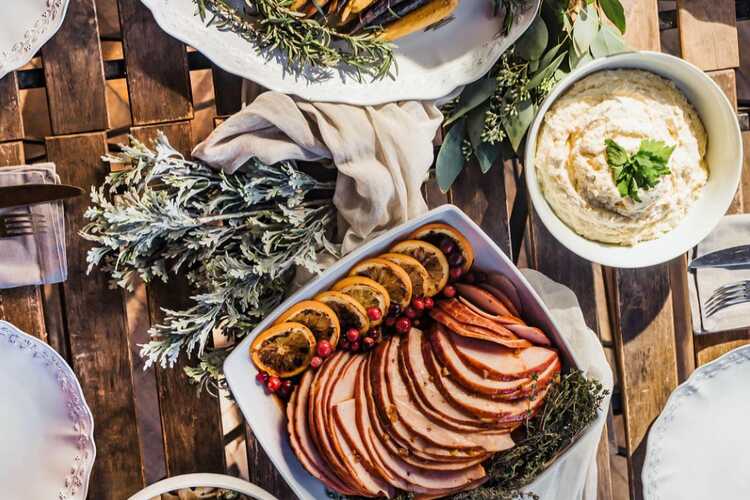 Walton's Fancy & Staple

| Walton's Fancy & Staple
Who better to trust on an American holiday than one of America's sweethearts herself? That's Academy Award-winning actress and rom-com legend, Sandra Bullock, owner of Walton's Fancy & Staple. The charming spot, which also boasts a bakery and flower shop, is offering a Classic Thanksgiving Feast To-Go, filled with enough food to serve a crowd of ten. Dishes include cajun spiced airline turkey breast with turkey gravy, garlic mashed yukon gold potatoes, and brown sugar and rosemary carrots with the option to add on an apple crumble or pumpkin pie to your order. The only thing you'll need to prepare yourself are the midnight margaritas.
Cost: Dishes run from $18-$65 dollars depending on what is ordered.
How to book: Pre-order through the 21st for pickup on the 22nd and 23rd, call 512-542-3380, or email catering@waltonsfancyandstaple.com.
Everyone deserves to experience the button-busting, overfed sensation at the end of this holiday's meal—and, at the Carpenter Hotel's in-house restaurant, Carpenters Hall, you can make a reservation to satisfy all stomachs. For the purists, there's a smattering of the tried-and-true fare, including carved roast turkey, roasted green beans, and pumpkin pie, up for the picking, either a la carte or in a three-course prix-fixe. However, the kitchen will also be offering up a smaller section from their regular menu on Turkey Day, letting those strongly opposed to fall harvest flavors to, not only have something to eat, but grub down hard— just as our forefathers intended.
Cost: Runs $55 per person for the three-course prix fixe menu, with individual menu options varying based on what is ordered.
Bring one of the knock-your-socks-off desserts from bakery and ice cream shop, Gati, to your Thanksgiving celebration and your whole crew might be tempted to skip the savory portion of the meal altogether. The sweets at this East Austin spot are so deliciously decadent that, the fact they are also gluten-free and often vegan, will fly over the head of even your most proudly-carnivorous uncle. It offers standards, like pumpkin pie and whiskey pecan pie, alongside a variety of other autumnal-inspired cakes and ice creams for those who want to switch it up. Don't sleep on the pumpkin roll with cream cheese filling, which is so unbelievably tasty you'll dream of having another slice in your post-dinner, tryptophan-induced snooze.
Cost: Desserts run $12 - $72 each
How to book: Order online for pick-up.
Offering its take on the adult lunchable, bake shop and beer garden, Easy Tiger, is offering a holiday grazing board as part of its Thanksgiving pick-up menu. This snackable wonder includes an assortment of cheese and cured meats from the experts at Antonelli's, dried and fresh fruits, dipping condiments, and fresh baked slices of walnut cranberry sourdough and baguette straight from the Easy Tiger ovens. For those who prefer sweet to savory, there are also various kinds of pies, holiday cookie tins, and pastries available, as well as the spot's famous giant pretzel—which will let you bring a delicious hint of Germany to the traditional American holiday spread.
Cost: Offerings run from $7 - $140 each.
How to book:Pre-order online for pick-up from November 4th onwards.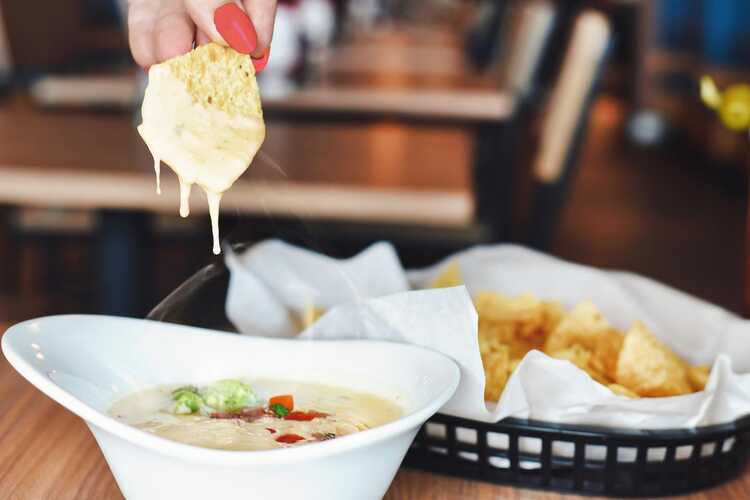 Kerbey Lane Cafe

| Kerbey Lane Cafe
Kerbey Lane Cafe is serving a Thanksgiving special that includes oven roasted turkey with gravy, as well as such sides as cornbread stuffing and mashed potatoes, along with classics like its famous queso. You can even enjoy this feast without having to worry about doing the dishes—almost all of the locations, excluding Westlake and Central, will be open for dine-in on Turkey Day itself. For those who prefer to release their gluttonous spirit in private, snag a Thanksgiving Family Package, plus extras like a carafe of mimosas, for pick-up instead.
Cost: Dine-in menu prices vary; take-out packages run $125 each.
How to book: Stop by for first come, first served seating or call your nearest location for pick-up before November 18.
When it comes to Thanksgiving, this Chicago-based Mediterranean hotspot hasn't left their loyal hummus fiends unattended. The takeaway Thanksgiving Feast features both a classic and a pumpkin-spiked version of the aforementioned hummus, as well as beef tenderloin kebab, crispy brussels sprouts, and sticky date cake. With flavors that are more Mykonos than Massachusetts, the dishes up for grabs at Aba may not be the customary holiday fare—but, we bet, even the pilgrims wouldn't fault the unconventional after a spoonful of black truffle orzo.
Cost: Meals run $128.95 and serve two.
How to book:Order online via Tock before November 20 at noon for pick-up on November 23.
Fresa's facade, marked by a huge neon sign of a chicken, is an obvious giveaway that this place knows its way around a bird. However, considering the star of Thanksgiving is undoubtedly turkey, Fresa's holiday spread highlights their ability to apply their honed techniques to a protein of a different feather. Opt for the full monty of whole roasted turkey with all the fixings for a large group or zero in on a roasted turkey breast meal for a more intimate affair. Both picks come with turkey pan gravy, citrus-serrano cranberry sauce, chorizo stuffing, and additional pan sides of your choosing. Considering their excellent use of seasoning, you should probably run, not trot (get it?), to insure your second helping.
Cost: Menu prices vary
How to book: Order for pick-up online by November 22 at noon.