12 Austin Restaurants That Have Thanksgiving Dinner Covered
It's all gravy.
Photo courtesy of Laundrette
Since the moment the clock struck midnight on November 1st, it seems we've been bombarded with displays of Christmas lights and memes of a thawing Mariah Carey. While we have nothing but love for the upcoming December holiday rush, the instant transition from Halloween spooky to winter cheer completely discounts November's hard-hitting event: Thanksgiving. This disregard seems even more preposterous considering all the major pros of the day itself—the top one being, of course, the chance to gorge yourself into a yam-induced stupor. Luckily for those who know their way around the PostMates app better than their kitchen, some of the best spots in Austin are taking all the guesswork out of how to baste a turkey. Here's everywhere you can dine-in or take-out on Turkey Day—so you can guarantee a great meal, as well as no Beer Can Turkey-related trips to the emergency room.
Holly
Bring one of the knock-your-socks-off desserts from bakery and ice cream shop, Gati, to your Thanksgiving celebration and your whole crew might be tempted to skip the savory portion of the meal altogether. The sweets at this East Austin spot are so deliciously decadent that the fact they are also gluten-free and often vegan will fly over the head of even your most proudly-carnivorous uncle. They stock standards like Pumpkin Pie and Whiskey Pecan Pie alongside a variety of other autumnal-inspired cakes and ice creams for those who want to switch it up—namely the Pumpkin Cheesecake, which is so unbelievably tasty you'll dream of having another slice in your post-dinner, tryptophan-induced snooze.
Cost: Desserts run $12 - $72 each
How to book: Order pick-up via Toast before November 18.
St. Johns
Chalk it up to Lunchables' hold on Middle School if you want, but no matter how you slice it, our generation loves a charcuterie board. Bake shop and beer garden, Easy Tiger, not only understands this addiction but is supportive of it—case in point, the four (!) options they're offering up this Thanksgiving. The selections include a meat-heavy Butcher Board, the vegetarian-friendly Cheese Board, the brat-bountiful Sausage Bites Board, and the Thanksgiving Grazing Board, which is a mix of it all. And, while the portion size is enough to serve six to eight people, there's no shame in hoarding a full one for yourself.
Cost: Boards start at $125 each (serves 6 - 8)
How to book: Pre-order via Toast for pick-up on November 23 - 26.
11 Street & Burnet Road
Foregoing a traditional holiday spread for Chinese take-out has almost become as customary as the old roast bird itself. And if you equate all things pumpkin with the word "basic," one of the Lucky Family Thanksgiving Meals from General Tso masters Old Thousand might just be your perfect alternative. The meal gives you all the classic cuisine you crave, including Xiao Mian Noodles, Beef and Broccoli, Egg Rolls, and, of course, the previously mentioned fan-favorite General Tso's Chicken. With Old Thousand's powerful use of spices, you can bet this spread will blow your aunt's grainy mashed potatoes straight out of the water.
Cost: Menu prices vary (serves 4)
How to book: Call 737-222-6637 to pre-order for pick-up on November 24.
Holly
Anyone lucky enough to have crushed a serving of their Pork Ribs or licked every ounce of chocolate off a plate of their Devil's Food Dirt Cake knows that East Austin's Launderette simply does not play when it comes to big, bold flavor. This Thanksgiving, pass off their delicious dishes to your family as your own by ordering one of their take-out specials. Choose between two proteins: Roasted Bone-in Turkey Breasts for the traditionalists, or Beef Tenderloin for those who prefer their meat red. Both options come with tasty sides like Herbed Sourdough Stuffing, Ginger Cranberry Sauce, and Honey Butter Pull-apart Rolls. And with desserts like Chocolate Pecan Tart and Rosemary Ice Cream, you can fake your pastry skills as well.
Cost: Packages start at $190 each (serves 4 - 6); additional sides and desserts start at $14 each
How to book: Order pick-up via Tock before November 23.
South Congress
You have to love a place that understands the importance of approaching each and every mealtime with equal gusto. South Congress Hotel is such a place—a one-stop location with a variety of restaurants and a motorcycle shop, to boot. On Thanksgiving Day, resident cafe Café No Sé is open for reservations and walk-ins from 7 am to 8 pm, which means early birds can grub on breakfast versions of holiday favorites like Biscuits with Turkey Sawmill Gravy while night owls can fawn over dinner items like Roasted Turkey and Pumpkin Tamales.
Cost: Menu prices vary
How to book: Reserve via OpenTable or order take-out via Toast.
Various locations
Put a Texas spin on Thanksgiving by theming your meal around the state's staple cuisine: barbecue. Southside Market & BBQ—which operates locations in Austin, Bastrop, and Elgin—has options for pick-up that will not only satisfy the meat-lovers at the table, but also all but guarantees the necessity for a nourishing post-meal nap. Fill your gullet with Sausage Dressing, Garlic Mashed Potatoes, Green Bean Casserole, Turkey Gravy, and Rolls, which you can then round out with the option of either a 12- to 14-pound whole Smoked Grade A Turkey, a four- to five-pound boneless Smoked Turkey Breast, or a four-pound Smoked Pork Loin Half. All meats are slow-smoked over Texas Post Oak and all sides are handmade because that's the Lone Star way (duh).
Cost: Packages start at $105 each (serves 4 - 6)
How to book: Order pick-up online before November 21.
Various locations
The casual atmosphere of Austin diner chain Kerbey Lane Cafe is a perfect place for anyone seriously committed to multiple plates. Not only can you get their Thanksgiving special, which includes Oven Roasted Turkey with Gravy, as well as such sides as Cornbread Stuffing and Mashed Potatoes, but you can take it a step further by topping it with a side order of their famous Queso. For those who prefer to release their gluttonous spirit in private, snag a Thanksgiving Family Package plus extras like a carafe of mimosas for pick-up instead.
Cost: Dine-in menu prices vary; take-out packages run $100 each (serves 6)
How to book: Stop by for first come, first served seating or call your nearest location for pick-up before November 24.
Various locations
Fulfill your childhood dreams of ice cream for dinner by picking up a Thanksgiving ice cream pie from Lick Honest Ice Creams. Started in 2011, Lick has become a favorite among Austinites with a sweet tooth thanks to their one-of-a-kind flavors like Goat Cheese, Thyme, and Honey, all made with locally sourced ingredients and hand-packed into pints. This year, they're offering three limited-edition, sugar-filled holiday specials. The first, Hazel's Pumpkin Ice Cream Pie, which has a buttery crumb crust filled with ice cream made from roasted pumpkin and topped with housemade caramel sauce, is a tribute to the time-honored Turkey Day dessert. Another option, the Chocolate Brownie, is a vegan and dairy-free treat that still retains all the rich indulgence the name implies. And don't sleep on this year's newest selection, the Caramel Apple, which lets you get all the flavors of the classic confection without risking losing a tooth.
Cost: Pies run $25 each
How to book: Order pick-up online before November 16.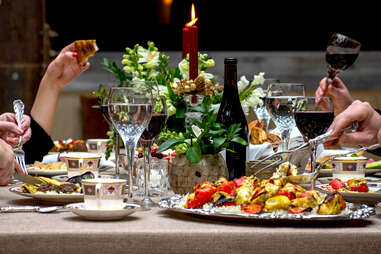 South Congress
Austin only acquired their very own outpost of this Chicago-based Mediterranean emporium a little over a year ago, but it's constantly packed patio is a testament to its overwhelming local success. And, when it comes to Thanksgiving, they haven't left loyal hummus fiends unattended. The takeaway Thanksgiving Feast features both a classic and a pumpkin-spiked version of the aforementioned hummus, as well as Black Truffle Orzo, Beef Tenderloin Kebab, Crispy Brussels Sprouts, and Honey Pie. And, get this, your order fills more than just your own belly—customers who reserve through Tock have the opportunity to throw some cash at the Central Texas Food Bank at check-out, with Aba matching every donation made.
Cost: Meals run $59.95 per person (serves 2 - 6)
How to book: Order pick-up via Tock before November 22.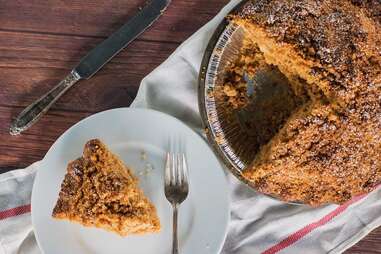 Domain Northside
Is there any better part of the Thanksgiving feast than pie? The mere fact that, after stuffing ourselves with the main courses, we still make room for one or two slices speaks volumes about this festive dessert's significance. And award-winning San Antonio-based Bakery Lorraine definitely agrees. Their Dutch Apple Pie, made with five different apple varieties and decorated with a delicate lattice design, evokes the warm-lit nostalgia of a platonic Grandmother's kitchen. Other offerings include Pumpkin Pie made with pumpkins roasted in-house, as well as Whiskey Pecan Pie for those looking for more than just a sugar buzz at the end of the meal.
Cost: Pies run $26 each
How to book: Order pick-up before November 23 online or stop by on November 25 for first come, first served take-out.
North Side
Considering the epic beauty of Hotel Ella's white marble Greek columns and large wrap-around porch, get ready for your mom to delay the Thanksgiving meal until she gets the perfect photo for the holiday card. This boutique hotel's exterior fashionings are somewhat misleading though—the decor inside feels contemporary yet approachable, accented with the artwork of Texas Modernists. This intersection of old and new is best experienced at onsite eatery Goodall's, which is offering throwback Thanksgiving dishes alongside the very current requirements of social distancing. The menu, which is also available for pick-up, includes not only the standard Roasted Turkey, but also an alternative Candied Ham, plus creative sides like Challah Stuffing and Grilled Caulilni. After a round or two of their Green Tea Mojitos, you won't even mind the family photo shoot.
Cost: Dine-in reservations run $75 per adult, $25 per child; pick-up orders run $100 each (serves 4)
How to book: Reserve a table or order pick-up before November 21 via Tock.
North Lamar and South First
Fresa's facade, marked by a huge neon sign of a chicken, is an obvious giveaway that this place knows its way around a bird. However, considering the star of Thanksgiving is undoubtedly turkey, Fresa's holiday spread highlights their ability to apply their honed techniques to a protein of a different feather. Opt for the full monty of Whole Roasted Turkey with all the fixings for a large group or zero in on a Roasted Turkey Breast meal for a more intimate affair. Both picks come with Turkey Pan Gravy, Citrus-serrano Cranberry Sauce, Chorizo Stuffing, and additional pan sides of your choosing. Considering their excellent use of seasoning, you should probably run, not trot (get it?), to insure your second helping.
Cost: Menu prices vary
How to book: Order pick-up via Tock by November 22.