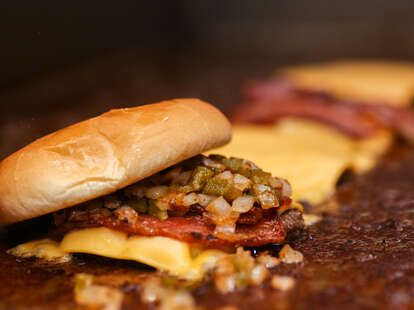 Where we're going, we don't need... menus! That's because this is a roundup of Austin's five most must-get off-menu options in all of Austin-dom, from secret Frito pies to bleu cheese-slathered Cajun spicy waffle fries...
The Hipster, Torchy's
Various Locations
From the deepest, darkest depths of the Internet (so, Reddit), stories have foretold of a treasure trove of secret Torchy's goodness. The most heralded of them all, though? The Hipster, featuring panko-breaded fried tuna, bacon, green chiles, black beans, cilantro, cotija, and avocado sauce.
Frito Pie, Yellow Jacket Social Club
Central East
There's no comfort food quite like a Frito pie, and the gastronomers over at Yellow Jacket will make you one of the city's best if you pinkie swear you won't tell millions of people about it on your men's interest site. Whoops!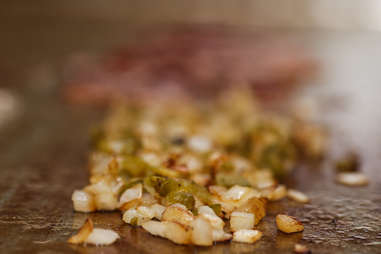 Grilled Onions and Jalapenos Burger, P. Terry's
Various Locations
Level up Thrillist's No. 1 burger in Austin with a heaping helping of grilled onions and jalapenos, which combine with the melting cheese to create one of the city's purest pleasures.
Secret Fries and Poutine Dogs, Frank
Downtown
The venerable dog-slingers at Frank will whip you up either a) Cajun spicy waffle fries with bleu cheese, b) loaded nacho fries (cheese, beans, onions, tomatoes, jalapenos, cilantro, sour cream), or c) a Vienna beef Poutine Dog (aka the Canadian Tuxedo) smothered in gravy and cheese curds.
Breakfast in a Cup, Tacodeli
Various Locations
Because eating a breakfast taco while driving is just begging for a chorizo stain, the fine folks at TacoDeli will kindly make any of their morning delights in an easy-to-transport vessel that's much less likely to ooze juice all over your wrinkled Oxford.