How to get full at South Lamar's new tapas bar
A Spanish retreat in the Tex-Mex war zone that is South Austin, Barlata boasts a 60+ item menu filled with enough tildes and upside-down exclamation marks to make you say, "Ay dios mio, estos son mucho tildes y signos de admiración." To ensure you successfully tapas that ass, we've laid out 10 sure-fire moves that'll help you fit right in (and get awesomely full) without having to grow a Euro-mullet.
The 1st Commandment: Thou shalt pull up a stool
Don't just stare at the bar menu; sit underneath it and order at the bar to dodge long wait times.
The 2nd Commandment: Thou shalt not not order this cocktail
Wet your whistle with the Pesta de Sol: lavender honey, lemon, Rittenhouse rye, and tempranillo.
The 3rd Commandment: Thy shouldest smoke some green
Pack your bowl with Barlata's tuna- and cod-topped Xato salad. Yes, salad.
The 4th Commandment: Thou shaltest pig out
That's four types of chorizo. FOUR. TYPES. OF. CHORIZO.
The 5th Commandment: Thou hast got-to-est octopi your appetite
Don't miss the tentacle with fingerlings and adobo sauce.
The 6th Commandment: Honor thy pumping of iron
Score your daily iron intake with a plate of vitamin-rich mussels in sofrito tomato sauce with peas and pancetta.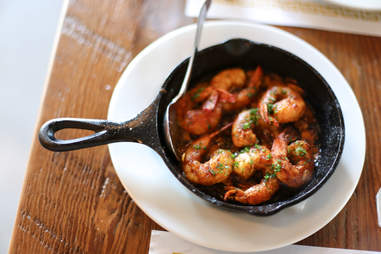 The 7th Commandment: Thou damn-better-est also get some tail
Definitely a don't-miss item, the Gambas ajilo is a sizzling shrimp dish that's one of the more filling on the menu.
The 8th Commandment: Runneth with the bulls
When you name a drink after a bullfighter, you know it'll be bloody. The Torero's loaded with sotol, lemon, tomato, Worcestershire, and dried peppers.
The 9th Commandment: Honor thine holy anchovies
Of course you know that boquerones is Spanish for anchovies, and of course you know that they're surprisingly delicious with pears to contrast the salty flavor and savory slivers of Idiazabal cheese.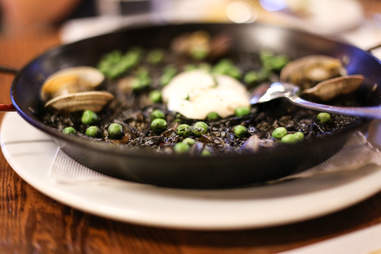 The 10th Commandment: Once thou go black, thou'll never go back
And finally, the king of the menu is without a doubt the Arros Negre, a cast-iron paella with black rice made even darker by a dose of squid ink, then topped with peas, clams, even more squid, and a creamy lump of garlic Spanish alioli.