Austin's frankenpastry version of the Cronut is real and delicious
This Summer, a single pastry managed to capture the hearts, minds, and gluttonous appetites of the American people. It's called the Cronut, and it's half croissant, half donut, half amazing. Until now, you'd have to travel to Fort Worth to get your fix (...it's just not worth it), but thankfully, South Austin pastry shop La Patisserie has come to the rescue with its own version: the CroBrio.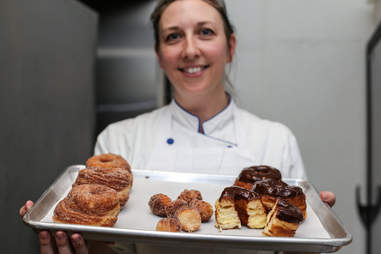 Meet Lezlie! She's the mad genius behind the pastry, which La Patisserie will only be serving on Thursday, Friday, and Saturday until she gets some reinforcements. And yes, those things in the middle are CroBrioHoles.
Her version tastes pretty similar to the original, but uses brioche dough that rests either for just a few hours or overnight (just like you!). It's then sent through this sheeter three times, until it looks like a piece of... sheet?
Each CroBrio is packed with a whopping 27.5g of butter that's beaten Teddy Roosevelt-style (big stick!) and then flattened into the dough.
Whereas the official 'nuts have three layers, La Pat's have two larger diameter layers (no copyright infringement to see here!).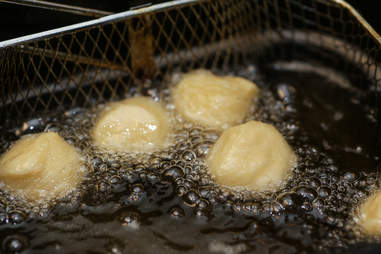 The leftover dough is used for those absolutely adorable CroBrioHoles.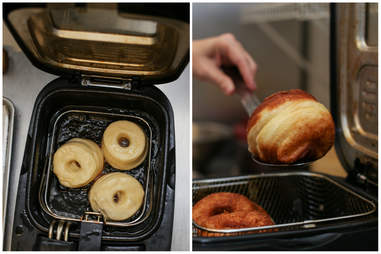 While the not-leftover dough is used for THIS.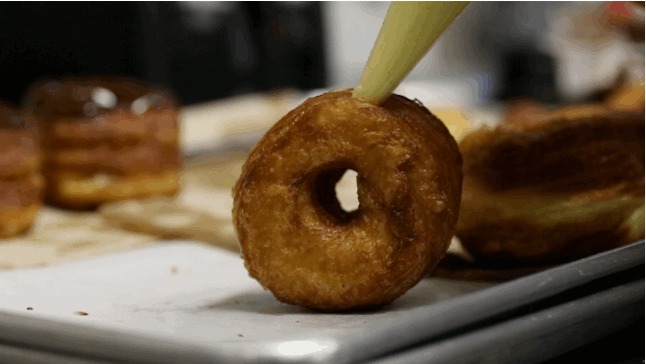 It's then stuffed with the same vanilla pastry cream that goes into La Pat's eclairs.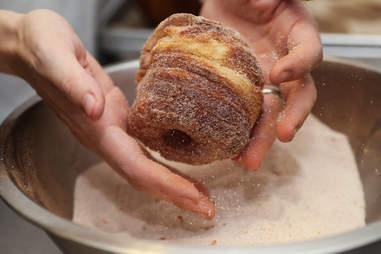 The cinnamon/sugar spin cycle.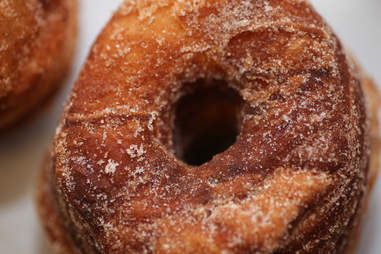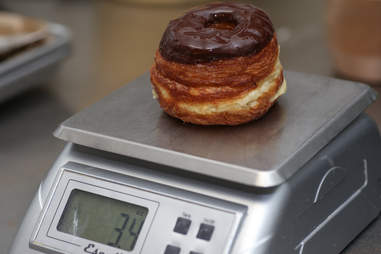 Finally, it's topped with chocolate and weighed. "Yes, I'll have an eighth of CroBrio, please."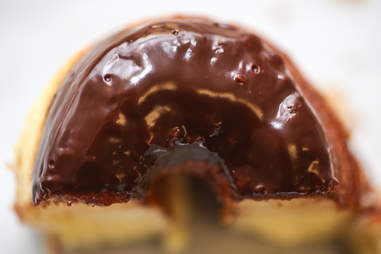 We know where you'll be Thursday, Friday, and Saturday.