South Lamar is a neighborhood that doesn't get much as much recognition as more heralded locales like East Austin or North Loop. But it should! Bordered by Oltorf St, and South Lamar and Ben White Blvds, the area is booming with new restaurants and bars, with more places popping up every day. To keep up with these new changes, here's a complete guide to all your current food and beverage needs in South Lamar.
Coffee
Patika (address and info)
What started out as a Downtown coffee cart (that still runs) is now the newest coffee shop in South Austin. On the menu are pleasant coffees and espressos made with Austin coffee roaster Cuvee's beans, along with beer and wine for the more alcohol-inclined. Rotating pastries are made in-house. Try to catch the orange-rosemary scones if you can. 
Breakfast
Kerbey Lane (address and info)
Breakfast all day is always a good thing, and Kerbey Lane understands this. There are the basics, like the breakfast tacos, biscuits, eggs, gravy, and sausage, but opt for the Kerbey Lane creations, like the baked potato omelet or Paris Texas platter (French toast + migas!), for a more fulfilling morning meal.
Brunch
Red's Porch (address and info)
Brunching properly is something the South knows how to do, and Red's Porch does the region proud with their weekend brunch. On the menu is everything from the beignets baked New Orleans-style, to shrimp & grits, to fried chicken & waffles. The multi-level space provides many nooks and crannies to set up shop for however long you'd want to linger.
Lunch
Black Sheep Lodge (address and info)
Lunchtime is for the basics: burgers, sandwiches, and hot dogs -- all of which are considered Black Sheep Lodge's specialities. Wash 'em down with one or two of the 26 beers they have on tap (along with more than 125 bottled options). Take advantage of the daily drink specials, like on Thursdays when all draft pints are $1 off. 
Happy hour drinks
Maria's Taco Xpress (address and info)
Fun and wacky decor (and tequila) is just what you need post-work, and Maria's Taco Xpress doesn't fail to deliver, if the giant bust of the taco queen out front is any indication. Go straight for the giant cheap margaritas for only $2.25.
Dinner
East Side King (address and info)
The only brick and mortar iteration of Paul Qui's popular East Side King series still offers up the chef's unique mix of Asian and Austin flavors. It's where you can find his take on tacos, and the standbys like Thai chicken karaage, Poor Qui's Buns, and beet home fries. 
Dinner & a show
Broken Spoke (address and info)
The Broken Spoke has two claims to fame: it's Austin's most historic honky tonk dance hall, and they have the best chicken fried steak in the state. Pop into the dancehall and try both.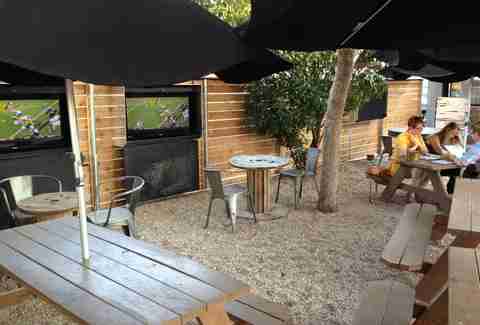 Sweets
Gourdough's Public House (address and info)
Donuts are so much a part of Gourdough's that the salads don't come with croutons, they come with donut holes. Bypass the lunch and dinner menus that could actually pass for sweets, and go straight for the epically loaded donuts, covered and smothered with all things sugary.
Late night drinks
Casino South Side Lounge (address and info)
Late nights are for bad decisions, but grabbing a drink before last call at Casino South Side Lounge isn't one of them. A spin-off from its more famous brother, Casino El Camino on East 6th Street, this lounge has a killer jukebox as well. And sorry, don't expect any burgers here, just a good late night drink before you head home. 
Hangover solution
Veracruz Taco Truck (address and info)
Grab a water, coffee, and some hair-of-the-dog beer inside at Radio Coffee and Beer, and then step outside to your hangover savior: the migas at the celebrated Veracruz Taco Truck. Whatever you do, don't forget the salsa.
Sign up here for our daily Austin email and be the first to get all the food/drink/fun in town.