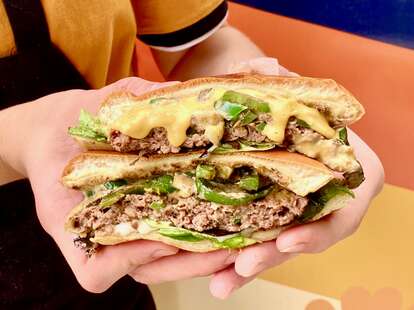 Hot stuff baby burger

| Photo courtesy of Sunny's Backyard
Hot stuff baby burger

| Photo courtesy of Sunny's Backyard
Texans sure love their meat. Big juicy BBQ slabs, tacos with more brisket than tortilla, salty-sweet candied bacon strips… and that's just lunch on a Tuesday (#meatsweats). And while that might lead some to assume that the Lone Star State is a veritable plant-based dining desert, Austin is on hand to prove even the fiercest naysayer wrong. Thanks to local herbivores and omnivores alike, a rising tide of vegetarian and vegan ventures are not just surviving throughout our fair city, they're flourishing—Vegan Nom, Counter Culture, Arlo's, Bouldin Creek Café, and Next Level Burger represent just some of the many beloved leafy hotspots.
So it only makes sense that new kid on the animal-free block, Sunny's Backyard, would choose this exact moment to make their grand entrance into Austin's ever-popping culinary landscape. What's more, the hardworking and innovative team is shaking up the scene with a distinct selling point: vegan pub grub with an Asian spin, all served out of a colorful food truck kitchen parked in the former Hard Luck Lounge space in Govalle. And with just over two weeks of full, liquor-licensed operation under its belt, Sunny is already seeing crowds of loyal customers (both of the two-legged and four-legged variety) congregating on the spacious patio, clinking bottles and downing delectable dishes with post-pandemic twinkle in their eyes.
Husband-and-wife team Merritt and Charrissa Vaughn returned to Texas amid 2020's unrelenting turmoil after running a similar concept in Downtown LA. "We wanted to do a 'meat centric' vegan menu with a fun vibe and full bar and Austin seemed like the perfect place to do that," explains Charrissa, echoing the joint's 'fun dining, not fine dining' motto. "We want it to feel like you're at your buddies' backyard BBQ on the 4th of July drinking cold beer and eating heart-warming comfort foods. We try to put a 'fine dining' culinary twist on a lot of our dishes, but the price point and atmosphere is very laid-back. That's what we mean by 'fun dining'."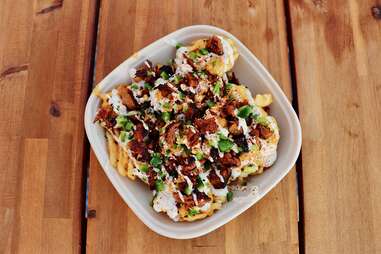 The menu has all the 'meat' and 'cheese' you'd expect from traditional bar fare, but minus the cholesterol. It's served up Asian street vendor-style (think: finger food-friendly preparations plopped on brown cardboard plates), which Merritt hopes will help Sunny's Backyard stand out among the city's vibrant and varied vegan scene. "I grew up with Korean best friends and the food we shared has been a big influence on what we're offering," says the restaurateur. Expect bulgogi tacos with a crispy wonton shell topped with pickled cabbage, carrots, and cucumbers; Street Dog, a Seoul-inspired veggie 'Frankfurter' topped with Gochujang aioli, sesame seeds, and green onion; and shareables like loaded fries smothered in cashew-based quesco and dotted with chewy 'spare rib' chunks. And there's more where that came from: "We're going to be introducing a wonton play on chips and queso and some tempura battered Portobello fries, soon," Merritt promises.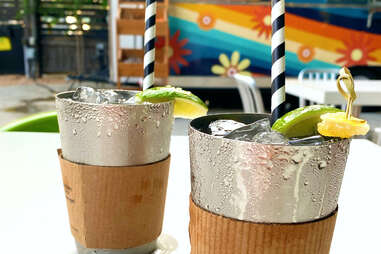 The beverage lineup adheres to a locally-focused 'Texas on Tap, Craft on Draft' mentality, showcasing the best in Texas-brewed offerings like Twisted X, Pinthouse, and Real Ale, alongside a cocktail menu that revises the classics with cheeky success. Take the show-stopping Mai Sharona, a fruity spin on the tropical standard featuring Mezcal and rum and sweetened with a banana liquor instead of triple sec; The Wanna, an Old-Fashioned that replaces whiskey with a barrel-aged gin; and the minty No-Jito, a teetotalling concoction chock full of herbs and bubbles but devoid of booze. Frozen editions are also in the works for summer.
As for the venue itself, you're looking at a vintage lounge area (oh-so-Austin), inviting indoor bar, and of course, the eponymous backyard spanning a 3,000-square-foot patio, mobile kitchen, and additional corner bar called Huey's. And the whole shebang is dog-friendly—the place is, after all, named after the owner's precious pups, Sunny and Huey. "We love animals and plan to have a treat station and do some charity events to benefit animal rescues," adds Charrissa.
If you couldn't already tell, it's all about the community here. As COVID restrictions ease, the team hopes to get people back together, face to face, with live music, trivia nights, and post-run socials. As the Vaughns explain, "We're easing back into it, of course, but very excited about getting back to normal."
Sunny's Backyard is located at 3526 East 7th Street. They're currently open Thursday to Sunday, with food from 5 pm to 10 pm and drinks until midnight.