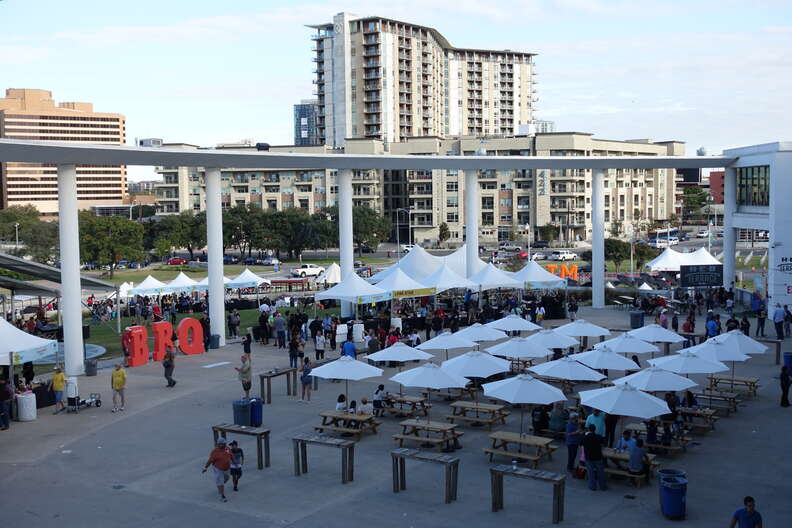 Texas Monthly BBQ Fest

| Dan Gentile
Texas Monthly BBQ Fest

| Dan Gentile
Aside from a designated napping zone, the Texas Monthly BBQ Fest had everything a meat lover could ever want.
Thirty of the very best pitmasters from across the state congregated at The Long Center on Sunday, serving thousands of hungry patrons in a three-hour marathon of gluttony that ensured no one in attendance will run an actual marathon anytime soon.
Like most everyone at the festival, I was on a quest to try everything -- and like everyone else, I fell laughably short due to logistical hurdles like long lines and the waistline of my jeans (note to self for next year: sweatpants). Regrettably, I missed some old favorites like Snow's and Micklethwait as well as buzzed newcomers like Bodacious Bar-B-Q and 2M Smokehouse, but still managed to eat enough fantastic bites of barbecue to inspire a 24-hour fast.
Here are my 11 favorites, in no particular order, along with the city they hail from (so you can get out there and try 'em for yourself).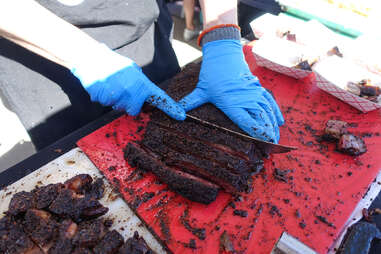 Dallas
Pastrami Burnt Ends
Cattleack's moist brisket is a full body experience, sending lightning bolts of fat into arteries you didn't know existed. It was one of the day's most powerful bites, but what stood out more was their pastrami; capped with a squishy ring of fat, it would've made any deli owner blush, with a firmer texture than the brisket that helped amplify the cured flavors.
Taylor
Pork ribs
The ratio of beef to pork at the festival was roughly the same as attendees to protesters (whose well-meaning signs convinced literally no one not to go vegan). Even though it was the minority meat, pork was repped hard out there, with one of the best bites coming from Taylor legends Louie Mueller. There was nothing fancy about them: classic pork ribs that clung to the bone just enough, while still bursting with enough tenderness that you'll want to leave no nibble... unnibbled.
Austin
Chili Cheese Fry Sausage
Lamar Boulevard staple Stiles Switch is one of the few places you can get a truly exemplary plate of barbecue after 2pm. Instead of just bringing a classic Texas Trinity, though, they went the extra mile with a bonkers chili cheese fry sausage that actually tasted true to form and arguably wins best in show for creativity.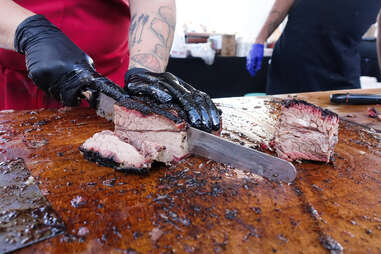 Austin
Brisket
In 2018, cooking brisket is a fatty arms race. There were some truly insane bites to be had this year, but as much as I love a sopping wet sinew bomb that will take a day off your life expectancy, there's something to be said for a moist slice of brisket that isn't too moist. That's where La Barbecue really shines: their brisket tastes like beef, not candy (no disrespect to candy!), and was worth the long line. And it might've just been a meat hallucination, but I swear I saw perpetual firebrand John Mueller lurking behind the booth…
McKinney
Texas Twinkie
It's been said that Twinkies might survive an atom bomb. What would they look like after the blast? Probably Hutchins BBQ's Texas Twinkie, a mutant bite of bacon-wrapped jalapeno pepper stuffed with cream cheese and a ring of brisket that somehow cuts through the savory explosion.
Abilene
Mexican street corn
Abilene's Stillwater earned a place on Texas Monthly's "new and improved" midterm 2015 list before cracking into the Top 50, and although their meats weren't quite best in show, they brought one of the festival's most flavorful sides: a scoop of Mexican street corn that deserves top billing alongside any protein.
Brenham
Pork and brisket sandwich
Given the length of the line outside Truth, you'd think that Aaron Franklin might be making a cameo appearance. The festival's longest wait didn't disappoint, though, thanks to a potato roll sandwich packed with a juicy slice of Duroc pork and speared with one of the festival's best bites of brisket.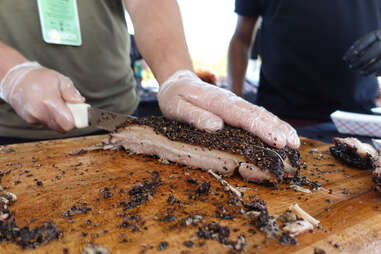 Houston
Pork belly
Pork belly had its moment in the sun in the mid-2010's, jiggling onto the menu of every fine dining restaurant in the country, but it seldom sees a proper Texas barbecue treatment. The salt and pepper rub mimicked a classic brisket and gave a perfect punch to the milder pork flavors, which tasted like a breath of fresh air compared to the beefy smoke bombs served by most other pitmasters. It was such a pleasant contrast, I couldn't help but eat the whole slice, despite the protests from my belt loops.
Mathis
Barbacoa sandwich
Smolik's Smokehouse made the three-hour drive north from Mathis and brought nearly their entire menu with them. It felt a little wasteful to receive two combo plates worth of meat, especially when they were serving such a knockout wildcard dish: a barbacoa sandwich on charred flatbread with a bright layer of guacamole that delivered some much-needed acid in a day otherwise drenched in fat.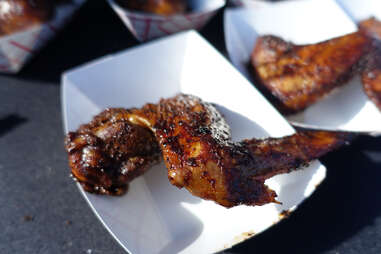 Belton
Coffee-rubbed wings
Although the caffeine probably disappeared in the cook, Miller's earns big points for one of the most creative ingredients at the festival. The Belton-based restaurant has just begun roasting their own coffee beans, and used their Colombia variety in the rub on a crispy-skinned chicken wing that deserves a spot on the menu of any barbecue joint (or coffee shop for that matter).
Whitney
Habanero pickles
Whitney, Texas, knows how to pickle. Their meats were great, but the bite that stuck with me the longest at the festival was undoubtedly their pickled habanero pepper. Not pictured because the pitmaster dared me to eat one after I'd put away my camera, it was the spiciest thing I've tasted all year. And although it required two refill trips to the water tank, that burst of heat shocked my system so severely that it unlocked a new corner of my appetite, and in the process added an extra hour to my post-festival meat nap.
Sign up here for our daily Austin email and be the first to get all the food/drink/fun in town.