10 facts we learned (and re-learned) at this year's Texas Monthly BBQ Festival
Each year, Texas Monthly magazine throws a raging meat fest and invites their top 50 favorite barbecue restaurants to participate while the rest of the country lets out a wistful collective sigh (looking at you, New York). Don't worry -- we ate all the succulent meats so you didn't have to. Read on for our research-based findings.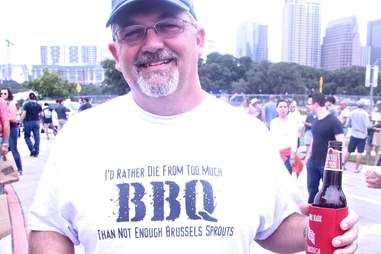 Veronica Meewes
1. Barbecue is its own food group in this state
And everyone has a strong opinion on which joints are the best. Tread lightly.
Veronica Meewes
2. Texans will stand in hopelessly long lines for smoked meat
Oh, thought you might be able to buy an $80 ticket to this festival and skip the epic wait for
Franklin Barbecue
? Not a chance! This is just one tiny segment of the crowd that lined up for Aaron Franklin's notorious brisket.
La Barbecue
also had its own winding snake of humans for most of the fest, as did
Snow's BBQ
. At one point, I thought I was waiting for
Louie Mueller
's famous beef ribs, then discovered I was actually in the line for the port-a-potty.
Veronica Meewes
3. This much meat requires multitasking
Three hours to visit 25 pitmasters -- you do the math. Plus, the lines move faster if you're constantly eating and drinking in them. Meat, eat, repeat. Got it?
Veronica Meewes
4. Women can smoke with the best of 'em
The barbecue scene is undoubtedly male-dominated, but 79-year-old Tootsie Tomanetz is showing the world that it's not just a boy's club. She learned the art of meat-smoking in 1966 at City Meat Market in Giddings before running a meat market in Lexington, where she'd smoke her freshly butchered meats on Saturdays. In 2003, she and her husband opened Snow's and carried on the Saturday tradition, which is the only day of the week her coveted brisket can be obtained -- if you arrive before it sells out. Texas Monthly named Snow's the Best Barbecue in Texas in 1998, and they are now tied with Franklin for the title.
Veronica Meewes
5. The best barbecue families are not without drama
In 1999, The Schmidts made headlines with a family quarrel that resulted in
Kreuz Market
moving and Smitty's opening in its original location. The Mueller family is almost as famous for their smoked meats as they are for their barbe-feuds through the years. Wayne Mueller carries on his Dad's tradition as the pitmaster of Louie Mueller Barbecue, while LeeAnn Mueller owns La Barbecue (where John Lewis is pitmaster) -- their brother, John Mueller (owner and pitmaster at
Mueller Meat Co.
), was sadly missing from this year's fest. And most recently, Black's Barbecue has been drawing media attention for their own meat squabbles concerning the family name. The original (helmed by Kent Black) represented at the fest, while just a stone's throw away on Barton Springs Rd his nephews slung their own 'cue from
Terry Black's Barbecue
, which they just opened last month.
Veronica Meewes<br /> &nbsp;
6. You snooze, you lose
The famous tater tot casserole from Opie's Barbecue didn't last past the first hour. I took consolation in their butter beans, but vowed to make a drive out there soon for the raved-about tot creation.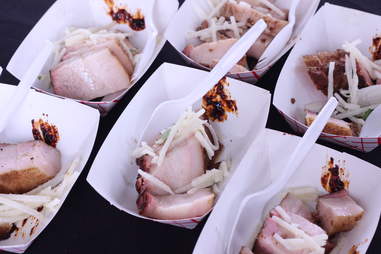 Veronica Meewes<br /> &nbsp;
7. Smoked meats can clean up real nice
While there's nothing like a perfectly smoked brisket or a snappy jalapeño sausage, several smokers got deliciously creative. Louie Mueller served saucy lamb pops, while The Granary 'Cue & Brew plated dressed-up coriander and cumin-rubbed pork belly with jicama slaw & smoky salsa negra.
Veronica Meewes<br /> &nbsp;
8. Everything IS bigger in Texas (including the smokers)
Smoldering smokers encircled the site like some kind of carnivorous Pagan ritual, bathing us all in an oaky perfume.
Killen's
giant contraption really stole the show though: barbecue fans snapped photos in front of the thing like it was some sort of beefy hot rod.
Veronica Meewes<br /> &nbsp;
9. There is endless potential for double-meat-entendres
... as proven by the shirts at
Lockhart Smokehouse
, as well as all the "that's what she said" jokes floating around this sausage fest.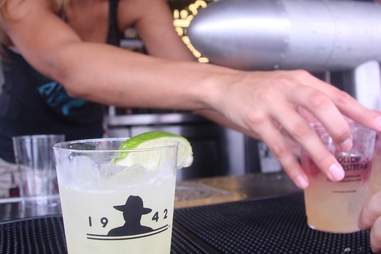 Veronica Meewes
10. Beer goes down real easy with barbecue, but so does tequila
Don Julio's mobile speakeasy served four different cocktails on draft, including a subtly floral Lady Bird Iced Tea (Don Julio Blanco, lemon, ceylon tea, house pomegranate hibiscus soda) and the Lil' Smokey Sour (Don Julio Reposado, lapsang souchong, lemon, cabernet sauvignon), which was much like a Texafied sangria.
Sign up here for our daily Austin email and be the first to get all the food/drink/fun in town.