If eating burgers in Austin has taught us anything it's that eating burgers in Austin is really, really fun. If it's taught us two things, then it's that the beef-wich scene here changes at an alarmingly rapid pace. Never fear though, because we did the tasty research to bring you a fresh, updated rundown of the best burgers in the city right this moment...
Big Mouth burger
Burger Bar (address and info)
Downtown
The towering new JW Marriott offers a lot more than sweet digs for out-of-towners. It's home to the street-level walk-up Burger Bar (in addition to the fantastic Osteria Pronto and Corner Restaurant) and we're loving the Big Mouth burger with double meat, blistered peppers, candied jalapeños, bacon, and cheddar.
K-Town Belly burger
Hopdoddy (address and info)
Multiple locations
Inspired by LA's Koreatown, the delicious K-Town Belly burger features gochujang ketchup-glazed, grass-fed beef, topped with braised pork belly and Korean rice crispies, and nestled on a bed of homemade kimchi and fresh basil. Then, it's finished off with an egg bun and gochujang mayo. It's only available through September 6th, so go now!
Wagyu brisket burger
Vince Young Steakhouse (address and info)
Downtown
Vince Young Steakhouse is serving a burger that lives up to its reputation for quality. The Wagyu brisket burger is made with high-quality beef cooked to a perfect medium rare that's topped with cheddar cheese and house-made pickles, and served on a brioche bun alongside hand-cut fries. What else do you need to know? The burger is half off during happy hour, Mon-Fri, 5-7pm.
Moroccan burger
Billie Jean's Burger Pub (address and info)
South Austin
Family-friendly burger spot Billie Jean's opened its doors this spring much to the delight of South Austin residents. We can't get over the Moroccan burger, an 8oz Angus patty cooked medium, baby spinach, an over-easy Vital Farms egg, goat cheese, and harissa sauce, all on a fresh-baked semisweet bun! It's about time South Austin got some love.
Thrashed at Maverick's burger
Liberty Kitchen ATX (address and info)
West Sixth
One look at this burger is enough to incite extreme hunger. Liberty Kitchen's Thrashed at Maverick's burger comes with mustard-sizzled onion-jalapeño-pickle, bacon jam, Stubb's-RO hickory sauce, and…(ready for this?) pimento cheese! Oh boy.
Lunch menu burger
Odd Duck (address and info)
South Lamar
If you get the chance to hit up Odd Duck for a weekday lunch, try the burger. It's made with brisket/chuck eye roll from Richardson Farms, bacon pimento, and heirloom tomato on a house-made bun, and it is delicious.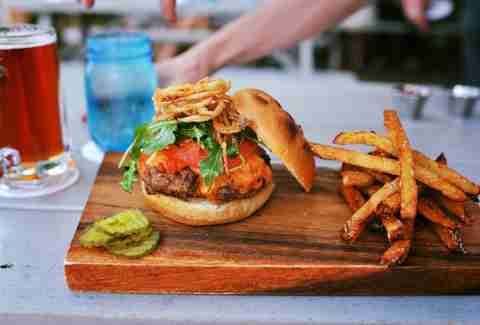 Pimento cheese burger
Jacoby's Restaurant & Mercantile (address and info)
East Cesar Chavez
Jacoby's Restaurant & Mercantile (which recently celebrated its one-year anniversary) is open for lunch Tuesday though Saturday from 11am-2pm. The new menu has five standout burgers made with the resto's own dry-aged Jacoby Brand beef. We're really into the pimento cheese burger right now; it's a half-pound beef patty stacked with house-made pimento cheese, roasted tomato, crispy shallots & arugula.
Chipotle burger
Hot Mess ATX (address and info)
East Fourth
New food truck Hot Mess opened recently at the Historic Scoot Inn and it's got a killer munchie-worthy menu. We've got our eye on the chipotle burger -- in addition to bacon, fiery chipotle sauce, and secret sauce, it comes with a unique griddled cheddar cheese for a nice crunch.
Buffalo burger
Lonesome Dove (address and info)
Warehouse District
Lonesome Dove is the restaurants's second flagship location by the very charismatic, Chef Tim Love. Aside from a nostalgic name, and a menu full of wild game, it's offering a mean buffalo burger. It's made with house-ground buffalo (bison) meat and topped with Muenster cheese, butter lettuce, and tomato.
El San Antonio
El Sapo (address and info)
Manor Road
So this burger isn't new or available for a limited time, BUT it is delicious and incorporates always-delicious Tex-Mex flavors. El San Antonio is a black Angus beef patty topped with refried black beans, fire-roasted jalapeños, lettuce, tomato, red onion, mayo, mustard, AND crunchy tostadas.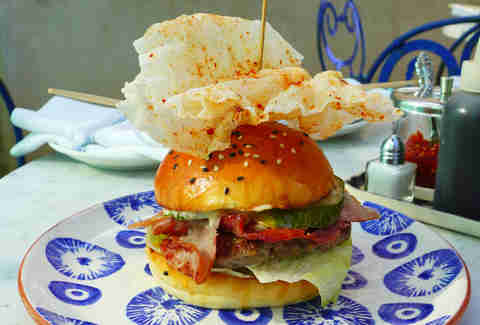 Secret brisket burger
Elizabeth Street Cafe (address and info)
South First
Elizabeth Street Cafe is known for its stylish atmosphere and modern take on French Vietnamese cuisine, but... it has a killer off-menu burger. The super Asian-inspired secret brisket burger comes with griddled ham, cucumber kimchi, iceberg lettuce, Kewpie mayo, a sesame-seeded brioche bun, and a shrimp chip.
Sign up here for our daily Austin email and be the first to get all the food/drink/fun in town.