Comfort food is delicious, and well, comforting -- but it can only do its job and briefly make you forget how much stuff sucks if you know where to get the best dishes. So we've put together a round-up of the tastiest, most comforting menu-fillers in the city...
Migas tacos
East Austin
For all of us who didn't grow up in Mexico, Veracruz is here to adopt you as one of its own. Its "migas" taco is a breakfast scramble of eggs, cheese, pico de gallo, and tortilla chips, all with some avocado on top. It's so good you'll be nostalgic for a home you never knew.
Tomato soup grilled cheese
East Austin
Toaster puts a gourmet touch on all of your favorite comfort foods, but the tomato soup grilled cheese is unmatched, boasting gooey mozzarella, Muenster & swiss cheese, and some bonus sun-dried tomatoes. This is everything you wished you were able to put in grilled cheese as a kid, if only you knew you could.
Honey-rosemary fried chicken thigh w/ biscuits & fries two ways
Manor Road
Few things say 'comfort food' like fried chicken, and few places do fried chicken better than Salty Sow. Add in a honey-rosemary glaze, crusty biscuits, and fries covered in cheese and duck fat, and you're into stratospherically good comfort food... which is convenient, as you can get this item on their extensive happy hour menu from 4:30pm to 6:30pm everyday for $5 off standard price.
Apple pie boozy milkshakes
South Congress
Apple Pie. Milkshake. Booze. When you put an adult twist on a childhood favorite and teen movie, you end up with an unbeatable comfort combo spanning life phases. At Hopdoddy you're welcome to throw some booze in any of their craft milkshakes, leaving you cozily reminiscing about your past.
Brussel sprouts
East Austin
Whoever is responsible for making brussel sprouts cool should win some type of award. Who would have ever thought they would ever be eaten voluntarily, and even end up on a "comfort foods" list! Before you reward yourself for being too healthy, know the sprouts at ESK are lightly fried, tossed in sweet and sour sauce, and served with shreds of a deep fried bun.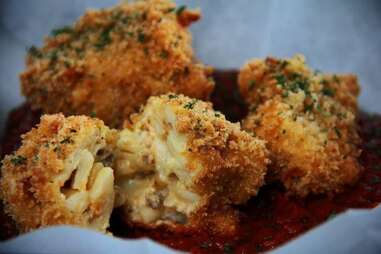 Three Little Pigs
Central Austin
"Deep fried mac and cheese balls with bacon." These are some of the most beautiful words ever spoken, and this is what the Three Little Pigs at Lard Have Mercy is. Don't let the name fool you though, these pigs are anything but little. They're hefty fried goodness that is more than enough to put you comfortably into a food coma.
Frito pie
Downtown
At Texas Chili Parlor you can add your old friend chili to anything -- chili nachos, chili dog, chili cheeseburger, chili queso, or throw a bunch on top of corn chips and call it a meal. Cheap, easy, bad for you, the Frito pie covers all the bases for comfort food. The chili is much better than what your parents poured out of a can, and this spot give you a real bowl, not just the chip bag to eat out of.
Chicken pho
East Riverside
Soup is good for the soul. And the chicken pho at 888 is good for the tastebuds, too. It isn't the chicken soup you had as a child, but it is the perfect balance of reassuring familiarity and surprising newness. As a bonus, you may actually feel better physically, as this comfort food is one of the few on this list that isn't deep-fried.
Sign up here for our daily Austin email and be the first to get all the food/drink/fun in town.
Brent Underwood is the founder of HK Austin and Partner at Brass Check, a 16-bed co-living and co-working space in the heart of Austin. He can most often be found roaming the streets of East Austin with a variety of foreigners in tow."