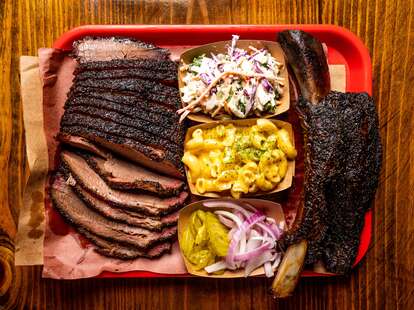 Photo by Bethany Ellen Ochs, courtesy of Terry Black's
Photo by Bethany Ellen Ochs, courtesy of Terry Black's
Many portrayals of Texas are dated stereotypes. While the lack of horses may disappoint first-time visitors to Austin, there is one cliche they can count on to be true: the Lone Star state's love for barbecue. Whether you're in the mood for the simply spiced traditional Texas style or want to get funky with the flavors of new-school fare, we've got the details on the best barbecue joints in Austin.
In cinematic depictions of Texas, references of our state's soft spot for smoked meat are as common as actors who can't properly nail the twang. Two examples of this trope include the questionable gas station brisket in the iconic 1974 horror film The Texas Chainsaw Massacre, and the meat cookout that ends with a football to the face in 1999 sports classic Varsity Blues.
We can't give James Van Der Beek all the credit for our 'cue reputation. That notoriety was built by generations of pitmasters who spend countless hours at the smoker. Cooking "the Texas Trinity"—pork ribs, sausage, and brisket—is an art practiced both in the kitchens of big-name Austin culinary stars and in the backyards of neighbors across Austin.
For the state's born-and-bred locals, every spread served on butcher paper can evoke beloved memories. This statement rings true for Austin local, Alex Reichek whose love for food inspired her to create the super-popular Instagram, Chekmark Eats, as well as her own hospitality-focused marketing company. Growing up in Houston, Reichek recalls "eating barbecue every Sunday with her family"—an experience which seems to echo throughout many Texan's childhoods.
However, you don't need a past with pulled pork to hog out (sorry, we had to). Natives and transplants alike can dig into the messy-fingered joy of the Austin barbecue scene. And, lucky for you, we've tapped the city's top pitmasters and smoked meat experts to help us compile the best barbecue joints in Austin.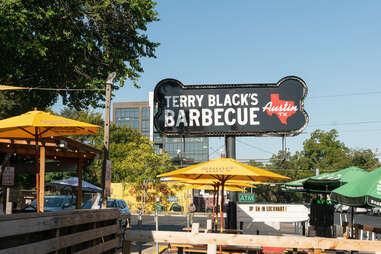 $$
Zilker
The last name "Black" carries some serious weight in Central Texas barbecue history. The legacy began in 1932, when Edgar Black Sr. opened Black's Barbecue in Lockhart, a spot which helped establish the small town, 40-minutes south of Austin, as a smoked meat epicenter. Fast forward to the 21st century, when control over the business' ownership divided the family. Later, disputes over the ownership divided the family. What results from this beef: Terry Black's Barbecue, where owners and Edgar's grandsons, Mark and Michael Black, deliver the kind of grub you'd expect from a lifetime spent around the pit. Their brisket is a pure taste of Texas, with no frills, but full of flavor. The smell of the meat alone, which smokes over post oak right outside the restaurant, is enough to trigger any passerby's salivary glands. They don't just cook their proteins with tried-and-true techniques, though, they also stick to the customary sides, such as mac and cheese, green beans, and coleslaw. Terry Black's stacks this all up on a cafeteria-tray, and serves it to you by the pound in a setting inspired by an old-school roadhouse.
What the experts say: According to Reichek, the barbecue at Terry Black's is "probably the most consistent and classic in town." While she digs the spot's famed brisket, she can't understand why "no one talks about" the menu's hidden gems —"it's the giant beef rib and the corn muffin that keeps me coming back!"
How to book: Stop by for first come, first serve, or preorder online for pickup.
$$
Anderson Mill
The basics: Cue the jokes about meats that are so good they will launch you into the atmosphere. In the case of North Austin's Interstellar BBQ, however, this isn't so much a witty, name-based analogy, as it is a (figurative) reality. Recently sitting pretty at the incredibly impressive #2 spot on Texas Monthly's list of best 'cue in the state, pitmaster John Bates delivers his customers an incredible one-two rocket punch of smoker-fueled flavor in his offerings. Here, you can find both sensational, foundational barbecue dishes, like pulled pork, sausage, and, of course, brisket, along with more modern options, such as the beer-marinated Tipsy Turkey, and pork belly covered with the sweet hint of peach tea glaze. The only appropriate accompaniment to such otherworldly meats is a side of their refreshing tomato and zucchini salad and the decadent smoked scallop potatoes.
What the experts say: Evan LeRoy, pitmaster and co-owner of LeRoy and Lewis Barbecue says, "John's background as a chef evaluates every single thing on their menu. From the peach tea pork belly burnt ends, to the smoked scalloped potatoes, his execution and balance of flavors is what makes Interstellar BBQ out of this world."
How to book: Stop by for first come, first serve.
$$
E Cesar Chavez St
The basics: Barbecue is often a family affair. Recipes, secret rubs, and cooking techniques are passed down from generation to generation. This takes on an even greater meaning at East Austin's la Barbecue. Co-owner and pitmaster, LeAnn Mueller, can trace her brisket lineage back to her grandfather, who opened the Taylor, Texas institution, Louie Mueller Barbecue, in 1949. Today, alongside wife-co-owner-and-fellow pitmaster, Ali Clem, LeAnn is combining lessons learned from Louie—as well as her own legendary pitmaster father, Bobby Mueller. With modern takes on meat that is so delicious, there's always a line wrapped around the block at la Barbecue. Our personal favorites include the house-made jalapeño sausage that has just the right amount of snap and bite and a side of shells and cheese, their take on mac and cheese, vastly improved by being drenched in smoky queso.
What the experts say: "The jalapeno sausage is the bomb.com," says Micklethwait's Dickey. "I've always been a lean brisket guy and Ali puts the bark on it. As for sides, get the chipotle slaw, it's well worth it."
How to book: Stop by for first come, first serve, or order online in advance for pick-up.
$$
McKinney
The basics: At his truck parked at Meanwhile Brewing in South Austin, pitmaster Damien Brockway cooks mind-blowing dishes that honor the flavors of the African diaspora and their contribution to barbecue's culinary history. From the heavily spiced pork ribs, which are our favorite in the city, to the collards that are so delicious even the pickiest palate will have no trouble eating their greens, it's easy to see why the buzz hasn't stopped since Distant Relatives opened. Don't just take our word for it though. Brockway and his crew have already scored a mention in the unranked section of the Texas Monthly list as well as two consecutive James Beard nominations. It makes sense considering everything at the truck, down to the smoked peanuts, are seasoned to perfection.
What the experts say: "Talk about bringing your own flavor and spice into Texas barbecue," says Carson Dickey, pitmaster and meat cutter at Micklethwwait Craft Meats. "Absolutely love everything they are doing, from the sides to the mains (love the wings and ribs). Anything on special, don't ask, just go for it."
How to order: Stop by for first come, first serve.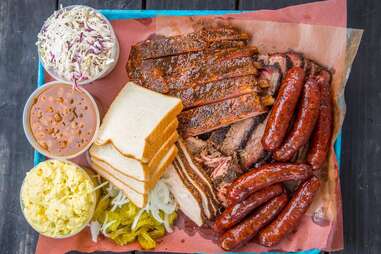 $$
Central East Austin
The basics: No discussion of the barbecue scene in Austin would be complete without Franklin's. Since Aaron and Stacy Franklin opened their original trailer in 2009, the accolades have been rolling in, everything from a James Beard award, to multiple mentions in the Texas Monthly list, an induction into the American Royal Barbecue Hall of Fame, and a New York Times bestselling cookbook. Now, at their brick-and-mortar, the line that wraps alongside their building from 8 am everyday is the stuff of legend—as is their brisket, whose peppery and caramelized crust will make you realize it's actually worth the mythological status after the first bite. Alongside the traditional sides, including potato salad, slaw, and pinto beans, and their award-winning barbecue sauce, Franklin's still stands tall amongst the best food you can find in the city limits.
What the experts say: "The experience is worth the wait," Dickey from Micklethwait confirms. "Amazing customer service and the brisket, either lean or moist, is spot on. Also, they brought back the classic Ruby's BBQ Dang Pie," referring to the now sadly closed Austin barbecue classic, Ruby's.
How to book: Stop by for first come, first serve, or order online in advance for pick-up.
$
E 6th St
The basics:When it comes to eating barbecue in Austin, it's often the early bird that catches the pork rib. Luckily for every night owl out roaming the city, there's the Rollin Smoke BBQ truck, which among East 6th Street's many bars. Not only is it there to fill your stomach with something other than Lone Stars after a night of drinking at nearby Hotel Vegas or The White Horse, it is also open till 9 pm on Friday and Saturday nights. Their wide variety of sandwich and taco options—including sausage sandwiches, brisket tacos, and a to-go tortilla-wrapped version of the Texas standard, Frito Pie—mean you won't have to two-step with greasy hands. And, for the decision-adverse friends among us, the Playboy sandwich is piled high with a quarter-pound of all their meat offerings and topped with a half-link of jalapeño cheddar pork sausage to ensure you won't have order FOMO.
What the experts say: Interstellar's Bates simply says, "The carne guisada tacos are bomb!"
How to book: Stop by for first come, first serve, or order online for pick-up.
$$
Hillcrest
With a menu full of delightful mashups between Texas' two signature cuisines—Mexican and barbecue—there's deep comfort and history in the flavors at Valentina's. At the heart of this South Austin food truck, the smoker is manned by San Antonio-raised pitmaster Miguel Vidal (but he's far from the only Vidal you'll find here). Offerings include tender strips of beef fajita, a savory pulled chicken sandwich, and a queso with a cult-like following. Tacos are filled with Valentina's tender, smoky brisket in which the slices of meat are lovingly wrapped in freshly made, hand-rolled tortillas and topped with vibrant salsa. As an extra bonus, a trip to this spot lets you check off yet another item from the Austin food bucket list: the Real Deal Holyfield breakfast taco is one of the best versions of this essential meal in the whole city.
What the experts say: Reichek describes Valentina's as "super fun…because it marries the two food groups that everyone asks about in Austin." Her favorite there is the smoked chicken fajita taco, a dish that comes in "the fluffiest large flour tortilla [which] keeps all the ingredients together inside like a big hug."
How to book: Stop by for first come, first serve.
$$
East Austin
The basics: All apologies to brisket, but the true cornerstone of Texas barbecue is the communal experience. Friends and family gather around a sheet of butcher paper, and dig in after a Sunday spent by the smoker. Sitting at one of Tom Micklethwait's picnic tables, nestled between the shade of gorgeous live oak trees, you can't help but be reminded of this backyard tradition. The causal, friendly atmosphere is guaranteed to evoke nostalgia for childhood cookouts in both native and non-native Texans alike. And then there's the food. Micklethwait and his crew serve a sensational take on the traditional three-meat plate, piled high with fatty brisket, smoky pork ribs, and their standout Czech-style sausage. The joint's scratch-made sides demonstrate a modern take on the standards. Don't miss out on the lemon poppy slaw.
What the experts say: John Bates, owner and pitmaster at Interstellar BBQ, is a fan of the wide-ranging dishes at Micklethwait. "I love Tom's approach to all from-scratch—the bread is amazing," he says. "I love his brisket and all of his sides."
How to book: Stop by for counter service, call 512-791-5961, or order online for take-out.
$$
South Austin
The basics: The innovative dishes served up at LeRoy and Lewis will make you rethink all your preconceived notions about what barbecue should be. This truck fits solidly in the category of "new school," so much so that the term is proudly part of its official slogan. These mad scientists of smoked meat serve unique dishes you can't find anywhere else, such as bacon ribs, a burnt ends and pork belly you'll dream about for months. Plus, some fantastic burgers. They nabbed the #5 spot on the prestigious Texas Monthly's list of the "Top 50 Texas BBQ Joints" in the state. If you can, attend one of their legendary, whole hog cook out days.
What the experts say: "Best Burger in town. Period," says the chef-owner of Distant Relatives, Damien Brockway. "And succulent Beef Cheeks that, if you can get to them before everyone else gets them, will have you coming back for more." Bates from Interstellar agrees, "I love Evan's creativity, especially the cheddar cheesecake, beef cheeks, and barbacado."
How to book: Stop by for first come, first served patio seating or order take out or shipping through their website.
$$
South Lamar
The basics: It may be located on one of South Austin's busiest streets, but Brown's Bar-B-Que, parked right outside the neighborhood haunt, Corner Bar, is an undiscovered gem for many visitors. However, locals will tell you it's one of the best deals in town when it comes to smoked meats. The solid portions, reasonable prices, and exceptional meat and sides have us hoping that the lack of long lines will actually last. (We doubt it.) And, while the rule of thumb in Texas usually dictates a disdain for sauces, Brown's is the exception. The sweet and tangy mustard sauce will have you contemplating siphoning off as many filled-to-the-brim to-go containers as your tote bag can handle. Aside from the sauce, the must-tries here are the brisket and beef ribs, as well as, arguably, the best banana pudding in Travis County.
What the experts say: "My favorite beef rib in town," says Distant Relatives' Brockway. "And never, never forget to load up on sides as well."
How to book: Stop by for first come, first serve.