Austin boasts soooooo much good barbecue. But despite the saturation of old-school salt-and-pepper rubs, not every stack of post oak-smoked brisket is worth waiting in line for. To separate the moist from the lean, we've compiled a list of the 14 best barbecue joints in town. Naturally, these represent a spectrum of different experiences -- from revelatory bites worth 200 minutes of waiting, to late-night sandwiches that are best remembered "in the moment," -- and each of these establishments has been vetted as 'cue worth consuming. Go forth and gorge, but maybe lay off the barbecue sauce.
Govalle
Legacy Eastside businesses are a dying breed. But Smokey Denmark's, a family meat-processing operation, isn't going anywhere. Despite 52 years of sausage-making, it's still largely off the radar of the average diner. But a BBQ trailer out front is making a serious push to turn customers' heads. It took a couple years to hit its stride, but the barbecue has officially cracked the top tier of Austin trailers, thanks to near-perfect execution of all the classics, a jalapeño cheese sausage that's in a league of its own, and a world tour of regional sauces.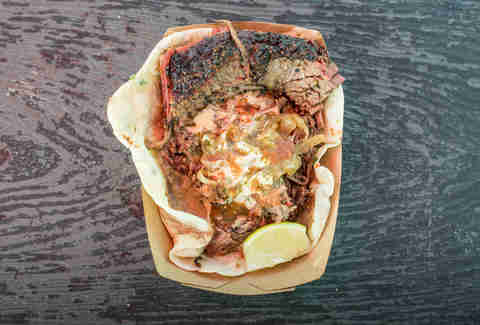 Brodie Ln
In the world of Texas barbecue, going fusion is a dangerous play. Half steps into other cultural cuisines like Micklethwait's barbacoa are one thing. But putting tacos on the menu is another. Valentina's is proof that it can work to wondrous effect. The owner was a fixture at Ranch 616 for years, eventually starting his trailer in neighboring Star Bar before heading south for Brodie Ln, where he's now cranking out arguably the best smoked meat south of Lady Bird Lake. It's worth the trek for the homemade tortillas and smoked corn alone, but we can't get enough of the smoked carnitas taco, or brisket that makes a serious case for the virtues of mesquite. And don't miss the smoked corn.
Rosewood
Arguably the best quality-to-wait time ratio in town, Micklethwait has, over the past three years, found the perfect sweet spot between paying homage to old-school Texas barbecue and innovating enough to turn the heads of traditionalists. The brisket pops with fat and post oak smoke, the pork spare ribs cling to the bone with just the right pull. Beyond the standard fare, you'll find rarer offerings, like pulled goat, barbacoa, and a beef rib that won the Austin Chronicle's "best in town." But (perhaps most importantly) the cheese grits vie for the title of best side in the city.
Second Street District
The last five years of barbecue in Austin have come to be defined by post oak-smoking trailers, salt-and-pepper rubs, and colossal lines. But back in 2006, when Ruby's chopped beef was the best the city had to offer, Lamberts burst onto the scene with something different. It isn't "real barbecue," in the sense that you're not ordering by the pound or eating off a cafeteria tray. But for smoked beef after 2pm, it's hard to beat the coffee-rubbed brisket, not to mention the crispy wild boar ribs, one of the city's best happy hour appetizers. Bonus points for family sides like the baked mac and cheese, plus the ability to wander upstairs to hear a bearded musician any night of the week.
East Sixth
Finding decent brisket after 10pm is damn near impossible. And although you won't find slices of unsauced meat at Rollin Smoke, the smokey pecan and mesquite flavors of its sandwiches make for excellent stomach padding after a revelrous night at neighboring Hotel Vegas. Pork ribs aren't always offered, either, so don't miss them if they're on the menu.
West Campus
Best brisket debates could last longer than the lines at Franklin. But when we tapped expert meatstress Jess Pryles to weigh in for our regional barbecue smackdown, she crowned Freedmen's not only as best in the city, but best in the state. It was a controversial pick, but there's no arguing that this is some of the most meticulous meat in town, especially given that it's available for dinner. Plus, it's the only brisket in town that you can wash down with a forkful of smoked beets and a sip of smoked bourbon cocktail.
East Sixth
Mercurial meat master John Mueller hails from the lauded Louie Mueller family tree (his sister is behind la Barbecue, while his brother runs Louie Mueller Barbecue in Taylor) and might as well have kosher salt and coarse black pepper in his blood. These days, his temperament is anything but low and slow. Becoming one of his devoted followers takes a thick skin, but if you can handle the occasional verbal abuse, it's worth it for a brisket that's dripping with more history than any other in Austin.
East Eleventh St
James Beard winner Aaron Franklin arrives at work every morning at 2am to start prepping and smoking meat. The beef he uses is hormone- and antibiotic-free, and thus, the fat reacts to lower temperatures and maintains juiciness. The fatty cuts are melt-in-your-mouth tender, and the lean cuts aren't far behind. Blackened "burnt ends" are a highly coveted prize -- much like the plastic baby found in a king cake -- so if you get one, make sure to buy a lotto ticket. That way, you can buy more barbecue... from Franklin Barbecue, of course.
East Cesar Chavez
Here you've got either the best or the second-best barbecue in Austin, depending on who you ask. The dry-rubbed brisket at la Barbecue is smoked from 12 to 15 hours at a low temperature. When its sliced, you can see the distinct red smoke ring that indicates it was in the smoker for a very long time. Thanks to a talented pit crew, high-grade beef, and a lot of love, la Barbecue delivers moist, fall-apart tender brisket every Wednesday through Sunday... until it's sold out. Pro tip: free cold beer is often offered to patrons!
Burnet Rd
In addition to standard offerings, Stiles Switch has three types of sausage, all perfectly cooked, with a nice 'snap' to the casing: the Stiles Original (fiery pepper, beef, and pork mix), the Thorndale (mildly spicy beef) and the delicious, no-fail jalapeño cheddar (beef and pork mix). Stiles Switch's beef ribs deliver a blackened, peppery crust that contrasts with the juicy pink-red interior. Pitmaster Lance Kirkpatrick spent the better part of a decade working alongside Bobby Mueller at the Louie Mueller Barbecue in Taylor, and his pedigree shines in these offerings.
Campus (& other locations)
Although everything on the menu is smoked to perfection by fourth-generation pitmaster Barrett Black, we have to recommend the giant beef ribs. Make sure you show up with an appetite; these babies weigh anywhere from 1-2lb. The raw meat is beautifully marbled, and, when smoked over local post oak, renders out to a juicy, beefy, smoky hunk of meat. Boxing legend George Foreman, of the Foreman grill (apparently so good he put his name on it), is such a fan of Black's offerings that he once ordered 200 giant beef ribs to cater a party he was hosting.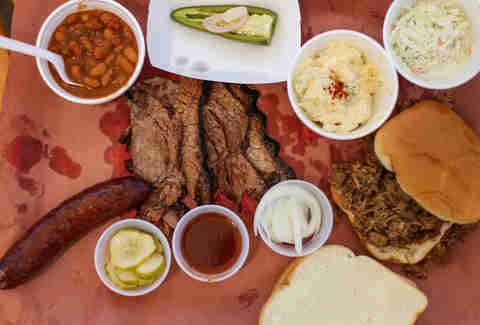 East Cesar Chavez
Bill and Amaris Kerlin, a husband-and-wife team, go against the grain with their approach to smoking brisket. Most pitmasters follow the traditional "low-and-slow" method of cooking the brisket. Kerlin BBQ smokes its meat on high heat for a shorter amount of time. The result is a crispier, darker bark all around, and tender meat that retains its moisture. Find the Kerlin BBQ trailer in East Cesar Chavez and enjoy plenty of outdoor seating.
Campus
Let's be honest: barbecue is not cheap. However, if you live on or near campus, you can grab a chopped beef sandwich at Ruby's (an Austin institution!) for a mere $4.50. Every Monday from 11am - 4pm, it offers a $6.75 lunch special that includes a chopped beef sandwich, one side, and a drink. Each classic white bun is filled with a heaping quarter-pound of lightly sweet, spicy chopped beef seasoned with a vinegar-based sauce for a hint of acidity. If you're feeling adventurous, throw a scoop of the vinaigrette coleslaw in the sandwich for a cool, crunchy texture.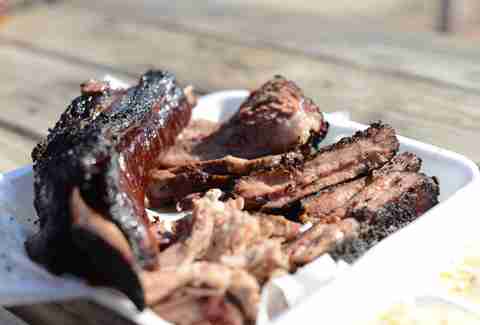 East Cesar Chavez
Situated at a busy Eastside intersection, Scotty's has solid barbecue offerings despite being located off the normal 'cue-enthusiasts' beaten path. Both the pork ribs and the brisket are tender, flavorful, and moist... the holy trinity of barbecue. What sets it apart is the smokiness; each rib is wrapped in a thick, peppery bark that insulates the fat and meat inside, resulting in a moist finish. Try the sweet-and-tangy Dr Pepper sauce as a nice accompaniment to any of Scotty's offerings.
Sign up here for our daily Austin email and be the first to get all the food/drink/fun in town.
Anastacia Uriegas is a writer in Austin who is still trying to master a George Foreman grill. Follow her at @anaurie.
Dan Gentile is a staff writer at Thrillist. He has eaten Micklethwait's cheese grits for breakfast on more than one occasion. Follow him to sides on sides at @Dannosphere.